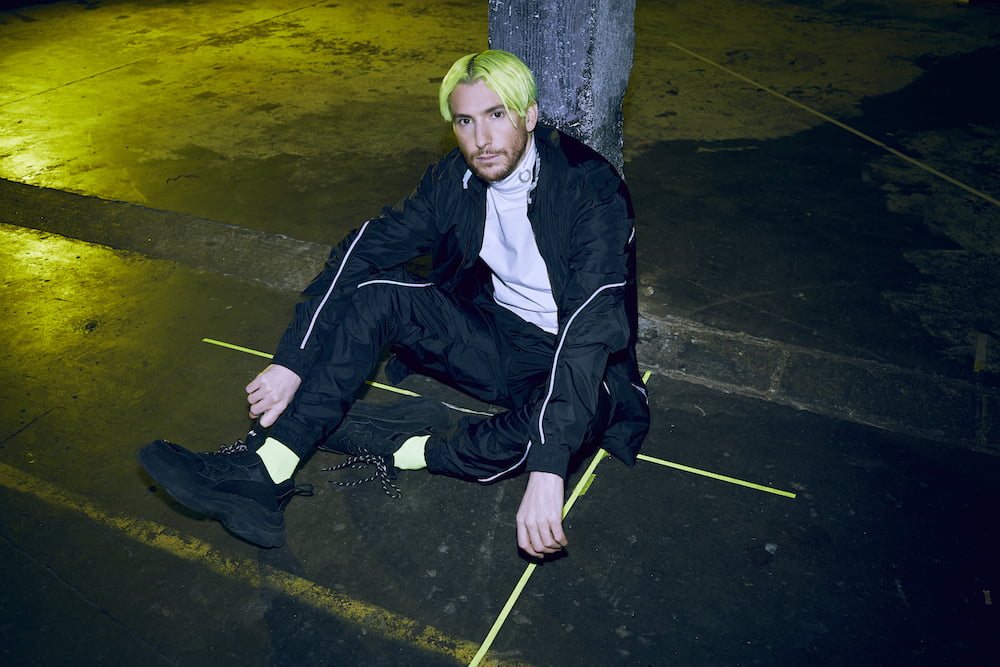 If you're a veteran clubber here in the capital, you'll be familiar with a certain set of neon yellow locks bopping up and down behind the decks. Anthony McGinley – AKA ABSOLUTE. – has been a staple disc jockey across London's queer club scene over the past decade. As the founder of WUT? Club and Super Electric Party Machine, McGinley has packed out dancefloors across the country, bringing a heavenly blend of ravey rammers and floorfiller classics to everywhere from Dalston Superstore to South London's Printworks.
When all nightlife came to a standstill last March, McGinley began looking for something to fill the void. "I wrote the whole mixtape during lockdown, from my bedroom," he says, referring to his debut full-length project, Wonderland, released earlier this month. "I was so deflated, had no creative drive, it felt like the end of the world. Then part of it felt like a blessing, we had this rare opportunity to be in London and take a pause, it was a strange feeling after grinding so hard for years." After writing almost 100 track demos within a two week period, McGinley explains that making Wonderland reignited his love for euphoric rave and hardcore bangers. "I was desperately craving some release from being locked away. I was writing music that made me feel connected or free.
"It was during that period I discovered the exact location I was locked down and writing music from, used to be home to legendary weekly rave space Wonderland Arena, 30 years prior Frankie Knuckles, Carl Cox and The Prodigy were all playing," he continues. "It was such a strange coincidence, it felt like a sign from the universe and why I named the mixtape Wonderland."
Gearing up to play the mixtape's thundering mix of high energy disco, dramatic techno and emotional breaks to thousands of nightlife revellers this summer, we took a trip to Wonderland to ask ABSOLUTE. a bunch of questions. 
1. You're instantly recognisable for your highlighter yellow locks. If you had to dye your hair a different shade tomorrow, which would it be?
"I dyed it bright orange last year because I was filming on a green screen which picked up my hair, I would have looked like a twirling face with no head. Then I found out you can do the same thing with a blue screen, so I won't be changing it again haha."
2. How would you describe life as a small-town boy growing up in Torquay?
"Torquay was actually a great place to grow up in many ways, I would be at the skate park most days or biking, swimming, jumping in the sea. It's filled with beautiful beaches and places to explore. But the obvious downside was it's a small town, I had no queer or musical peers to look up to growing up. But there was one oasis called The Monastery in Torquay which unlike any club in the South West opened at 1am when all the other clubs shut! It was in a converted church and during the full-on cyber era of the hard house revolution. That blew my mind and set my sights on heading up to the bright lights of London town!"
3. What were your favourite clubs to go to when you moved to London?
"When I first moved it was DTPM at Fabric, Trade at Turnmills, then later Boombox on Sundays, Trash, Erol Alkan's night on Mondays at The End and The Joiners Arms any night of the week. I hope London goes back to having incredible underground nights with amazing music any day of the week again when we go back. Sadly a lot of venues are being redeveloped and the lockdown might accelerate that…"
4. If you had to start every DJ set you did with one song and one song only, which would you choose?
"Ah, that's SUCH a hard question as my sets can be so varied! If I had to pick one, Digital Excitation – 'Pure Pleasure (Rave Mix)' as it's in a sweet spot of house, ravey breaks and nostalgia but it's immediate enough to hook people in right away and I could take it in any direction/play it at a variety of BPMs. If I was playing to a predominately queer crowd, I'd play the bootleg version I knocked up which has 'Get Your Hands Off My Man' acapella on top."
5. What was the wildest night that ever took place at WUT? Club?
"I loved the early intimate ones at Dalston Superstore where there would be queens upside down on the dancefloor in the sweaty basement with everyone cheering and screaming, or people death-dropping from the bar upstairs. I love parties that feel riotous, liberating and unsanitised, you only get that kind of energy when everyone feels safe and free, predominantly in mixed/queer parties. Our official London Pride party a few years ago was also total chaos but on a massive scale, or taking 50 performers over to take over the main stage at Milkshake Festival in Amsterdam was also a moment. I loved that I was able to book such a range of artists from Horse Meat Disco and Krankbrother to queer icons like Amanda Lepore, but mainly knowing I created a space where everyone was celebrated and supported, that was the special part, the crowd makes the party."
6. Wonderland is a melting pot of various sounds, what were some of your favourite genres growing up?
"I was always obsessed with dance music, I would listen to rave cassettes at primary school, but also Madonna's Immaculate Collection haha, it soundtracked a generation of LGBTQ+ kids."  
7. What's your cure to a heavy hangover? 
"A bloody mary, decent vegan roast and Horse Meat Disco, or if it's brutal, RuPaul's Drag Race on the sofa with the dog."
8. You're very much into your clothes, which are some of your favourite brands?
"Currently JordanLuca, Vetements, Martine Rose and Patrick Church."
9. Who's one DJ we should be heading to the clubs to see this summer?
"La La from Glasgow who's my girl and one hell of a selector and big personality!"
10. What's your favourite club to play in the UK?
"Fabric or Dalston Superstore in London, I'm excited to play Warehouse Project later this year with Annie Mac and friends, too – watch out!"
Photography by Jeff Hahn. Stream ABSOLUTE.'s 'Wonderland' on all major platforms now and see him perform the mixtape live at Islington Assembly Hall June 19 here.
The post 10 Questions with ABSOLUTE., The Neon-Haired DJ and Producer with a New Mixtape 'Wonderland' appeared first on 10 Magazine.