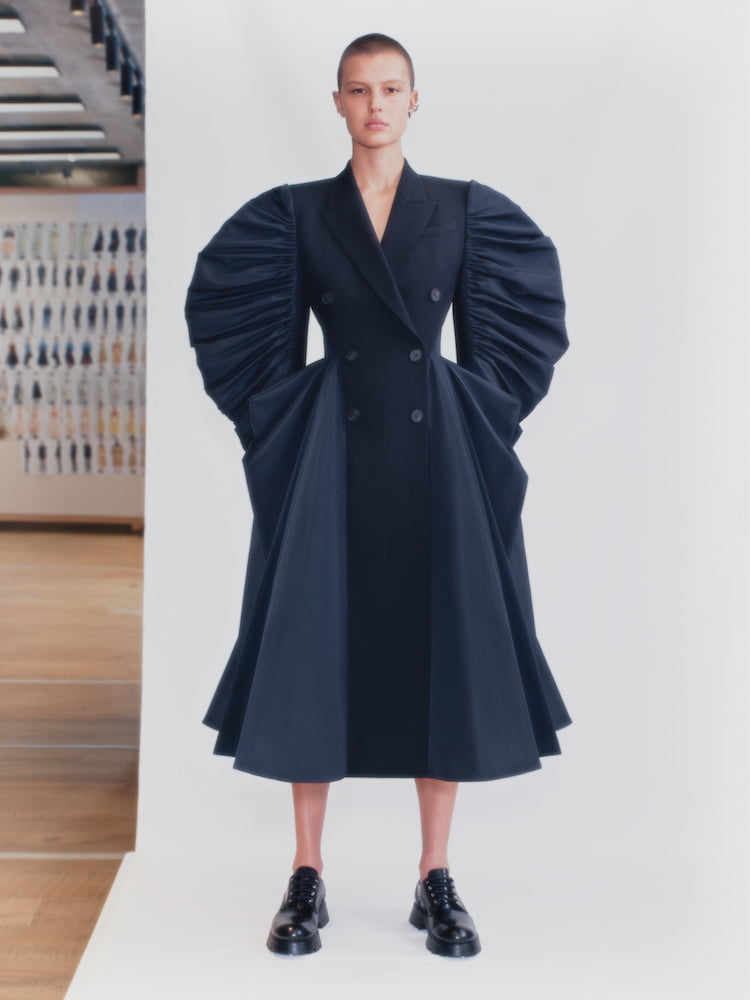 Alexander McQueen is synonymous with shows. Lee McQueen's reputation for emotional storytelling and live, runway drama, has been continued by Sarah Burton. She weaves thoughtful narratives and powerful emotion into everything she does.
But how would she express that in a pandemic, when physical shows are not possible? Burton turned to the British movie director Jonathan Glazer, best known for Sexy Beast and Under The Skin. He'd never done a fashion film before and she was more used to the immediacy of a live runway, but together they created a film set on the beaches and bridges of the River Thames, starring the best-dressed mudlarks you'll ever see.
The film begins with two models wading through the water in their party dresses; lockdown London, empty and eerily beautiful in the early morning light looked stunning. This SS21 collection revisited the roots of the brand. "Back to London, coming home. Shape, silhouette and volume, the beauty of the bare bones of clothing stripped back to its essence – a world charged with emotion and human connection," said Burton of the collection. She focused on strong silhouettes – fashioning curving cocoon-sleeves and butterfly draped skirts from polyfaille, a lightweight fabric which lends itself to stand-out shapes.
Burton also adopted a make-do and mend approach, using metres and metres of deadstock fabric for plump, tulle ballerina skirts and delicate lace dresses. She stripped gowns down to the underpinnings and patch-worked suiting into hybrids – Prince of Wales with twill, denim and leather. The film showed men's and women's collections together for the first time, which only underlined this designer's consistent and singular vision.
Photography courtesy of Alexander McQueen, video directed by Jonathan Glazer.
The post Alexander McQueen: Ready-to-Wear SS21 appeared first on 10 Magazine.