Some people live well, others take it to the next level. Alexander Werz is an overachiever in every respect. The Karla Otto PR Supremo has finessed his art de vivre with an approach defined by elegance and discipline.
The demands of work mean that he rarely stays more than three days in one place, but his heart belongs to Milan, where home is a mid-century apartment just off the Piazza della Repubblica. He has filled it with lush greenery, family heirlooms (including ornate Meissen dinner service tableware displayed on the dining room wall) and choice pieces of design. A De Sede Non Stop sofa curves through the living room, there's a Kai Kristiansen dining set of chairs and table, and his art collection includes pieces by Robert Mapplethorpe, Martine Franck and Henry Moore.
He modelled his walk-in wardrobe, full of chic pieces by Valentino and Extreme Cashmere, on American Gigolo and The Great Gatsby. "I got into fashion because I always wanted to be dressed in a nice way," he says. According to his doctor, he looks just as good inside as out. Werz is 55 but says "my energy levels are still at age 35," which he puts down to his active regime and positive outlook.
Werz grew up in Germany and Switzerland, and credits his can-do attitude to his mother, who had a phenomenal energy for life and was a fantastic cook. He inherited that skill: his pastas and risottos are legendary, but roast chicken is a favourite dish. He often pops to the shops before work to buy fresh ingredients and whips up fantastic feasts for friends, which he serves on his bespoke marble kitchen table. Mama Werz encouraged her son to pursue his many interests, which included tennis, piano, fencing, ballet, swimming and skiing. She also had a finely tuned sense of style. "She gave me my taste of life; taste of life is very important. The table was always well set. Everything was nicely done," he says. "But the best thing she gave me is discipline." Without it, he says, you can do nothing well.
shirt and trousers by AMI, bag by LOEWE, shoes by PRADA
That discipline is evident when he recounts his daily routine. In Werz's world, if you snooze, you lose. By the time most of us roll out of bed, Werz has already ticked off half of his to-do list. Time-poor? Not him. "I always have time because I do not sleep much," he says. Werz wakes up early – 5.30am in Europe, 3.45am in America – does his emails, then spends 30 minutes tending to the lush plants that populate his Milan apartment. He waters and prunes and weeds and feeds them. It's a time for reflection. "I do not pray," says Werz of his morning ritual, "but I think of the people that I love, for one second." It's a habit formed at the suggestion of his grandmother. After that it's time for mocha or an espresso, and a quick look at the news websites, before his trainer arrives at 7am. He does 75 minutes of strength training and stretches ("I am very flexible because I did ballet when I was younger. I can still bring the leg up.") followed by a vegan protein shake and a shower: "I am a full believer in cold showers – they stimulate you and are good for your immune system." His routine remains the same when he travels, "but without the plants". His "real day," as he calls it, starts around nine with a cappuccino at the coffee shop nearby, before he heads to the office.
Werz's role is all-seeing and across all time zones. "It's so nurturing, what I do, because it's not only fashion but also design, architecture, hospitality, beauty…," he says. It's a big job, in other words, but he doesn't feel the strain. "I've never worked in my life. I've always [followed] my passion first and then this became my work. And I wanted to do it like this so that I could say that after 3 years I've not worked a minute, even though I work a lot and I do a lot."
He vividly remembers what set him on his current path. At the age of 10, he saw his first copy of Italian Vogue. His father, who worked in the textile industry, kept a stash of them in his office. Werz was transfixed by the glamorous world within its pages. By 15, he'd decided he wanted to be designer. He got into the prestigious Studio Berçot school in Paris and began working with Romeo Gigli after graduation before moving into production with Bureau Betak in New York. 
coat by CHRISTIAN PELLIZZARI, T-shirt by AMI, trousers by CARUSO, shoes by BIRKENSTOCK 
He joined Karla Otto 12 years ago. "When we started, it was a work relationship," says Werz. "And today I consider [Karla] one of my biggest partners in crime. We have the same approach to life and the same curiosity." The pair sometimes sit together and count their blessings. "We look at each other and say, 'Can you believe where we are today?" Without saying I am spiritual, I believe in things. I don't believe in church. I believe in energy; I really believe in the energy between people."
His approach to wellbeing is twofold. "Look after your brain, look after your gut," says Werz. He doesn't practice restrictive diets or cut out whole food groups and still drinks coffee, eats meat and enjoys good wine. For Werz, it's all about variety and eating local ingredients that are in season. The only thing he avoids is too much raw food because, "for digestion it is actually very rough". He's fastidious about giving him his body what it needs to actually function optimally and doesn't require a lot of sleep, but has perfected the power nap. "I can sleep in a plane so I can relax very quickly. I can sleep in cabs, I recuperate very well." He raves about his favourite massage therapist on Patmos, one of the Greek islands, whole healing hands set him up for six months, and also visits an osteopath in Paris. "He aligns the bones and then aligns the intestines. It's incredible." Mundane domestic routines are also integral to his wellbeing. He does his own laundry and makes his own bed, which he finds therapeutic. "Every day at 6am, the bed is done and it's immaculate," he says with satisfaction.
Werz balances his disciplined daily life with an ability to treat himself. "I'm at the point, after working 35 years in the business, where you do [need] these little pleasures," he says. After the Covid lockdowns he had a yearning to hit the open road in a "new old car", so he bought a gleaming, 1973 Mercedes sports car with a gorgeous red leather interior. "I've always wanted to have that American Gigolo car."
blazer, top, cardigan and shoes by PRADA 
Money helps to oil the wheels of his fabulous life, of course, but it isn't the end goal. "Richness is about seeing, richness is about understanding," says Werz. Staying curious and always learning keeps him young. His Instagram bio reads: "As long as I can buy a ticket to a museum or a new experience, I'm happy." He says he would like to devote his next 35 years to learning and charitable projects: "You need to be open to understand and nurture yourself." (He's currently working on a project to build sustainable urban gardens.)
Werz's model of a well-lived life has no room for negativity. "You have this puzzle of life you put your puzzle together. Some things fit and some things don't," he says. "And as you get older you push away the ones that don't fit." Finally, says Alexander Werz, don't forget to laugh. "It is one of the key elements. Don't make yourself too serious." If today was his last on Earth, he knows what he'd do. "Finish it with a great laugh and say, 'So long. I've done it and I've had a great time!"
Top image: top by EXTREME CASHMERE, jacket and trousers by CANALI, watch throughout by AUDEMARS PIGUET. Photography by Joshua Tarn, styling by Benedikt Huellmayer. Issue 55 of 10 Men – FUTURE, BALANCE, HEALING – is out now. Buy your copy here.
blazer, top and trousers by GIORGIO ARMANI
jacket and trainers by BERLUTI, shorts and leggings by NIKE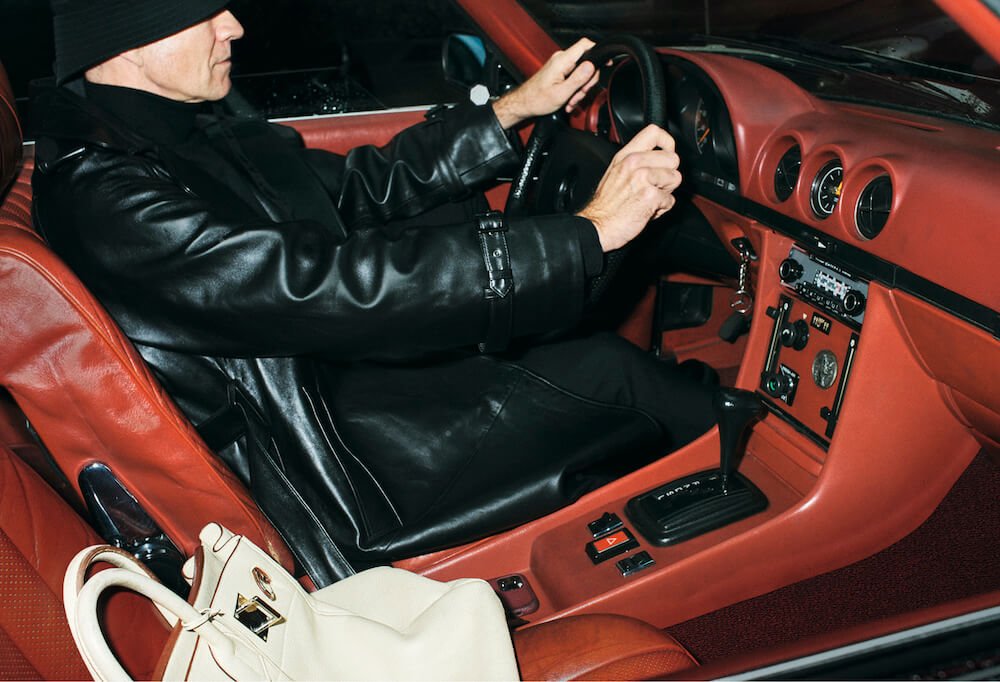 hat by PRADA, top and trousers by BERLUTI, coat by DODO BAR OR, bag by HERMES
shirt by ALANUI, T-shirt by CANALI
The post Art de Vivre: At Home With Alexander Werz appeared first on 10 Magazine.