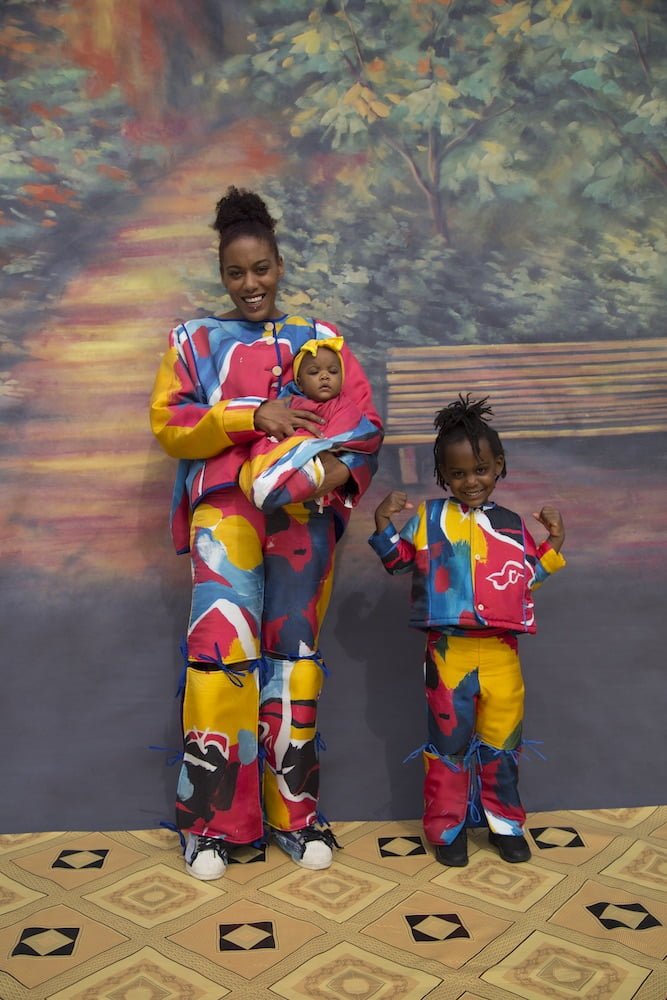 Earlier this year, London-based designer Bethany Williams was commissioned by Somerset House to make a flag for Earth Day. This was set to be a collaboration with the Magpie Project – a Newham-based organisation that works with children and mothers who are homeless or at the risk of homelessness – yet was forced to be postponed in the face of Coronavirus. During lockdown, Williams – who has been working with Magpie Project since 2019 – was offered the opportunity to produce an exhibition to go alongside the flag, which today, towers high on the gallery's roof.
Over lockdown, the designer held a series of digital drawing workshops with the families part of the organisation, who are denied access to this country's welfare system due to their immigration status. Mothers sketched themselves cradling their younglings and the children tried their first hand at drawing stick people. Illustrator Melissa Kitty Jarram then transformed the artworks into the textiles which would shape Williams' SS21 collection, titled All Our Children. 
Having to produce most of the collection from home, Williams was lucky in the sense that her studio manager only lives next door. The team's pattern cutter, who worked remotely, also produces children's clothes – handy for Williams who was able to shrink down the brand's signature knits and sporty twinsets to kiddie sizes, as worn by the children of the Maggie Project in a film by Ruth Ossai and poet Eno Mfon.
Alongside being a champion for social change, Williams is also a sustainability titan – something she was credited for when winning the Queen Elizabeth II Award for British Design last year. Delaying the collection's release from June to now allowed the designer and her team to do extensive research into ethical fabric sourcing and innovative upcycling. Williams developed a series of jackets and accessories, including book bags, from recycled, handwoven children's book waste. Wales-based designer Rosie Evans helped make corsets using boning sourced from Cardiff Fruit Market, and a series of looks were collaged together using deadstock Adidas fabric.
"[Bethany] has been so generous with her spotlight, she's given our mums and minis a voice when they're not usually heard," explains Jane Williams, founder of Magpie Project. "These stories are getting a platform which is just a dream for us, an absolute dream, and she's been an absolute dream to work with. She's incredible."
Despite only establishing her brand a mere three years ago, Williams is a leader in her field – using her collections as a gateway to picture a better, brighter tomorrow. It's a true credit to have a talent of her calibre to be designing on our shores.
Photography and film by Ruth Ossai. You can donate to the Magpie Project here.
The post Bethany Williams: Ready-to-Wear SS21 appeared first on 10 Magazine.