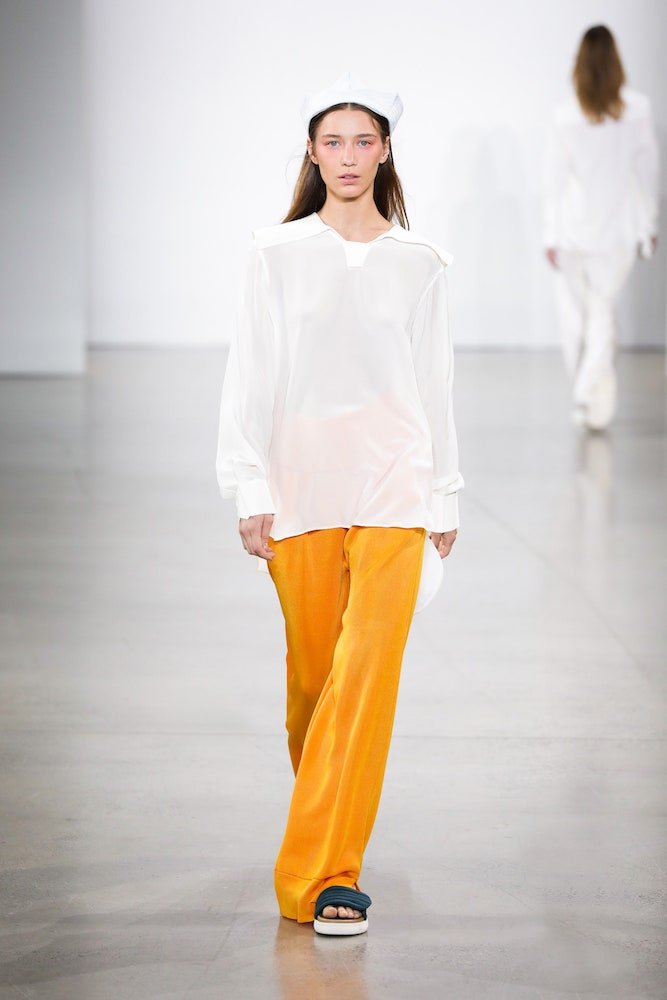 Kyiv-based label Bevza took us to New York's Spring Studios for its latest SS22 presentation. Known for its muted colour palettes, sleek designs and a "less but luxe" brand aesthetic, Bevza's sophisticated and tailored designs are a commonality in every collection. Inspired by archival closet staples and oceanic life, the brand's SS22 collection comes packed full of simple yet elegant satin slip-on dresses and tops accompanied by seashell-shaped bras and sailor hats.
This season's look doesn't just give a slight nod to the marine, but taps into the world's current eco-crisis. Bevza's sustainable mentality has grown each season and now Svitlana Bevza presents boxy sleeveless tops meant to resemble plastic shopping bags and patchwork dresses crafted from old fabric leftovers. This season, Bevza strayed away from its traditional muted tones and sneaked in some bright hues of marigold, turquoise, light blue and baby pink. Small handheld clutches were accompanied by oversized beach bags and paired with open-toed summery sandals and slides.
This collection was a refresh for Bevza, bringing on a more laidback aesthetic and adding bold tones that compliment the overall monochromatic style of the label. Perfect to close off the summer, Bevza's SS22 collection is ideal for those final beach days ahead of those chilly autumn nights.
Photography courtesy of Bevza.
The post Bevza: Ready-To-Wear SS22 appeared first on 10 Magazine.