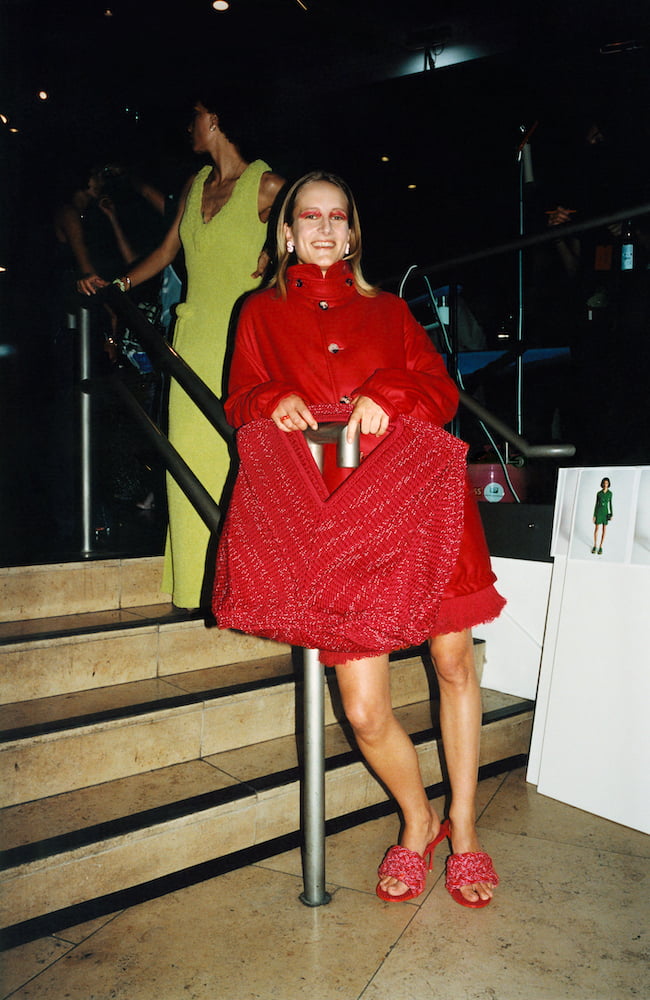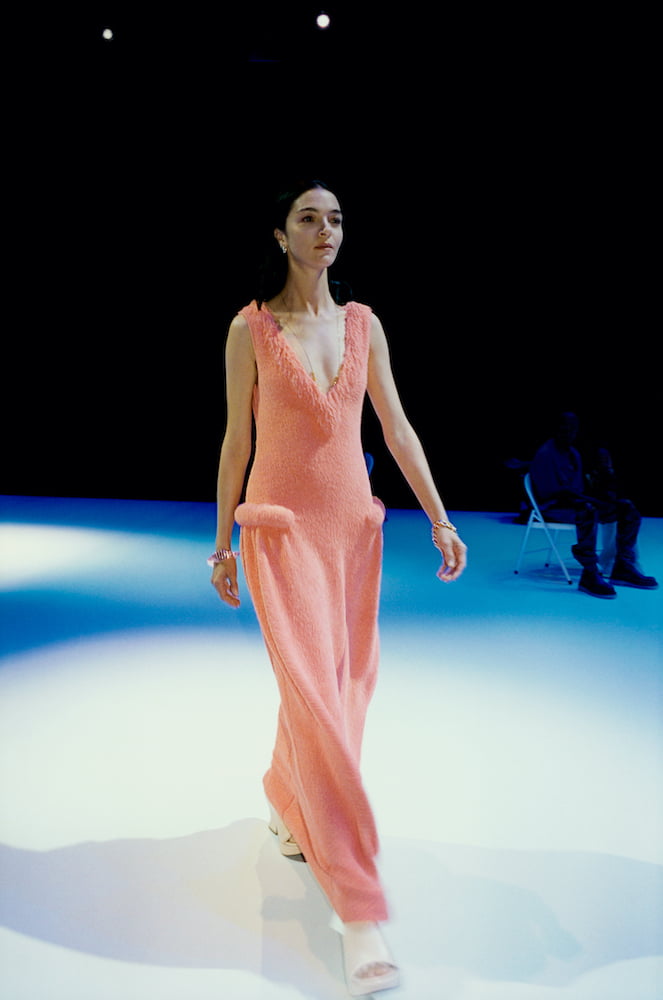 The video of the SS21 show unveiled today was the final piece of Daniel Lee's Bottega Veneta storytelling jigsaw. It started in October with a secret show at Sadler's Wells for a tiny audience (including Kanye West). That was followed up last week with an oversize canvas tote containing look books and visual inspirations (Mick Jagger, PJ Harvey, Tina Chow, a young Edward Enninful, Robert Mapplethorpe, Naomi Campbell in her 'Baby 'Omi' period and Halston were amongst the icons on Lee's pinboard).
It concluded with the film of the Sadler's Wells show, set in an apple green space and narrated by Neneh Cherry. That colour – as crisp and palate-cleansing as a whole crate of Granny Smith's – shot through the collection: from chunky-knit skirt suits (a homespun version of the ladylike classic complete with a carwash fringed hem) to woven bags and the new woolly clogs with their clunky, curvy heels. Every piece in this show was highly crafted, from the optic tweed co-ords (for boys and girls), to the jumbo crochet dresses or the woven dress inspired by those beaded car seats beloved of mini-cab drivers.
Lee took a total immersion approach to colours. Raspberry, sugar pink and highlighter blue, were worn head-to-toe as even the model's nails were painted the exact shade of their look. 2021 aside, references slid between the expensive ease of Halston, the ugly chic of nineties Prada and the leggy silhouettes of Azzedine Alaïa. The flaring skirts and padded hips of the final looks (a new take on hourglass?) were inspired by the court of Henry VIII. It all adds up to how we want to dress now. Comfort, craft, luxury, the fizz of a fresh colourway, the power of a strong silhouette.
Photography by Tyrone Lebon.
The post Bottega Veneta: Ready-to-Wear SS21 appeared first on 10 Magazine.