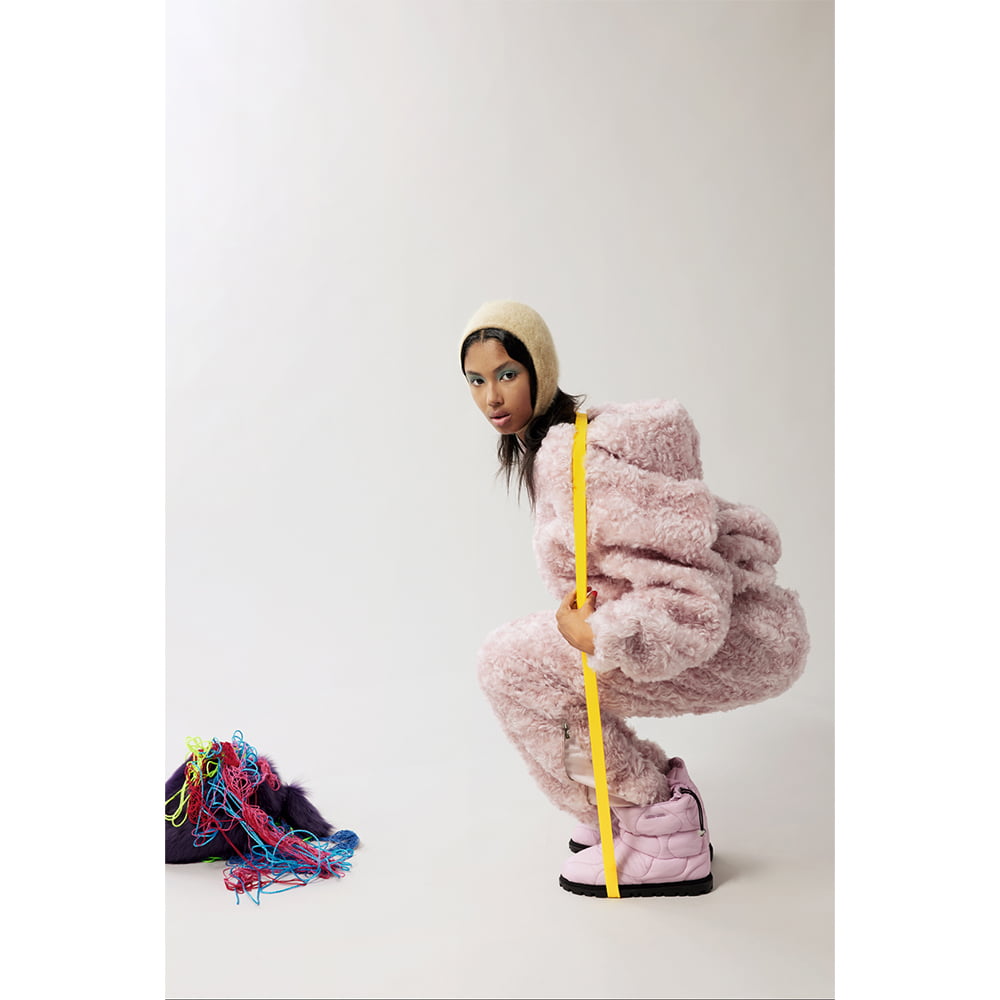 Often, the most beautiful clothes in life are not practical. For this season's Miu Miu show, Miuccia Prada aimed to find a happy medium. "Practicality means strength, but that strength can be combined with dreams," she said.
Mrs Prada's high-altitude, AW21 catwalk took place in the Dolomites, at an imagined Miu Miu mountain club where models trudged through the snow in cartoonish, faux-fur yeti boots. While some wore the sort of garb you'd expect from a winter retreat – Fair Isle knits, slightly swollen ski suits – the collection luxuriated in the kind of sublime contradictions which Mrs Prada does so well.
Whether it was oven glove-style mittens made of teddy bear fuzz, padded leotards, crocheted balaclavas or slip dresses with spiky spaghetti straps – these clothes made Miuccia's army warrior-like. In icy blue, playful green and gentle pink, models marched in unison towards a bonfire. The mood was triumphant – celebratory, even. Brighter times are ahead, and this winter uniform is liberating.
Taken from Issue 67 of 10 Magazine – BOLD & BEAUTIFUL – is out NOW. Order your copy here.
PASTEL PLEASURES
Photographer Fabien Montique
Fashion Editor Rúben Moreira 
Hair Olivier Noraz at Home Agency
Make-up Thierry Do Nascimento Radjou
Talent Jade Nguyen at Elite Paris,
Metta Irebe at Women Management Paris,
and Ndiaye Salvadori at Women Management Paris
Nail technician Jessica Malige
Set design Iviu Torre
Photographer's assistant Marianne Deroudilhe
Fashion assistant Joseph Costes
Make-up assistant Flavie Terracol
Digital operator Richard Andre
Casting Shawn Dezan at Home Agency
Movement Pierre Podevyn
Production Billel Bensalem and
Jonas Farro at Montique & Co
Videographer Leonard Porch 
The post Brave Hearts: Miu Miu's AW21 Uniform is Liberating appeared first on 10 Magazine.