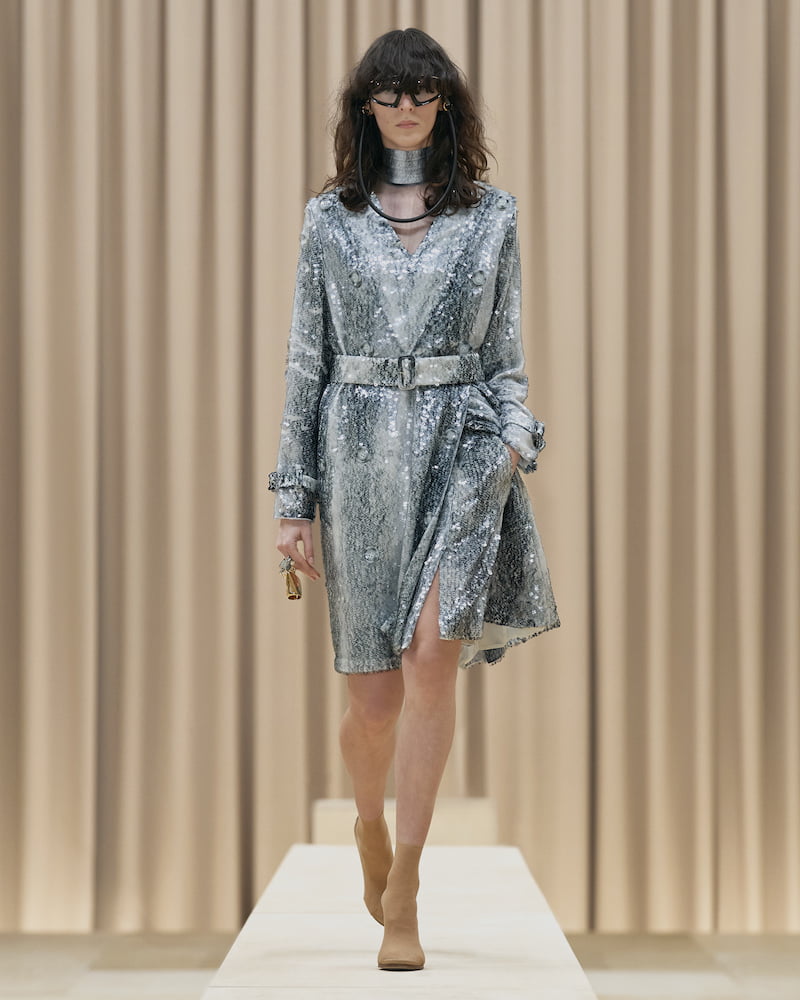 Riccardo Tisci, built up to the big reveal of his Burberry AW21 film with a post on his personal Instagram account, dedicated to his 90-year-old mother, Elmerinda. Her strength, bringing up Tisci and his eight, older sisters, after their father's untimely death, instilled in the designer a love and admiration for all strong women.
He channelled into that emotion for his AW21 collection, creating a collection that tapped into "the power of feminine energy: a modern armour that captures its characteristic fierce aura." Armour? In the 21st century, that starts with a great coat – always a given at Burberry. The outerwear was the star of the show: Stripped-back, tunic-style trenches, came in Burberry's signature beige, bristling fake-fur or a trompe l'oeil fur print. Worn with matching Bermuda shorts and leather hoodies, they offered a new, unstuffy version of the power suit.
Burberry's signature trench came in gilded lamé and was decorated with a bib of metal eyelets which looked at once feminine but tough. There were also pared-back, minimalist duffels, super capes in nylon or house check and ostentatious fake minks hung with a fringe of pelts. Tisci's take on Britishness is often abstracted – he prefers to tap into the idea of British eccentricity rather than drape himself in the flag. That said, a conceptualised take on the Union Jack played a key role here. It came in neutral-toned, shadow and animal print versions, with Tisci using the angular pattern for draped dressed and knits.
Exaggerated hoods, slouchy, oversize bags and sleek nude sock boots completed the look. "There's an underlying attitude to the collection that's very British; of being unique, eccentric and totally authentic in how you express yourself," said Tisci, who leaves the jingoism to Boris. His modern take on Britishness is a mood, an attitude and an emotion. This is British soft power in action.
Photography courtesy of Burberry. 
The post Burberry: Ready-to-wear AW21 appeared first on 10 Magazine.