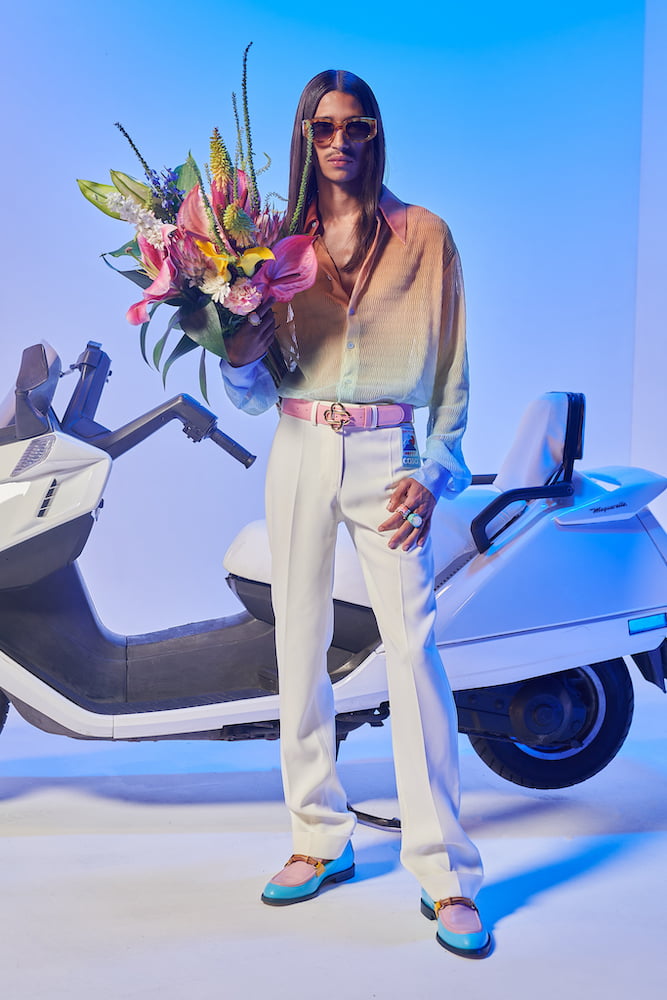 Charaf Tajer knows a thing or two about dressing for an occasion. The designer's lavish Parisian label, Casablanca, looks to archival womenswear of French maisons to inform its collections, which are often inspired by the luscious hues of the French Riviera. SS22 sees the designer set his sights further afield, with the collection being rooted in Tajer's own personal journeys to Japan.
The brand's après sport aesthetic comes informed by bold hues and wave graphics, inspired by the Memphis Milano art movement. Pastel-hued tracksuits and boyish workwear come paired alongside joyous tailoring and knitted twinsets. It's the second time Tajer has shown men's and womenswear together, though his vision isn't driven by gender boundaries. His wardrobe feels fluid and ethereal; the sort of clothes that demand to be seen in. The designer presented the collection in a film inspired by nineties Japanese ads, featuring Casablanca's new luxury bag range and the brand's latest collaboration with New Balance – making for a well-rounded wardrobe for the most lavish of excursions.
Photography by Yannis Meynadier.
The post Casablanca: Menswear SS22 appeared first on 10 Magazine.