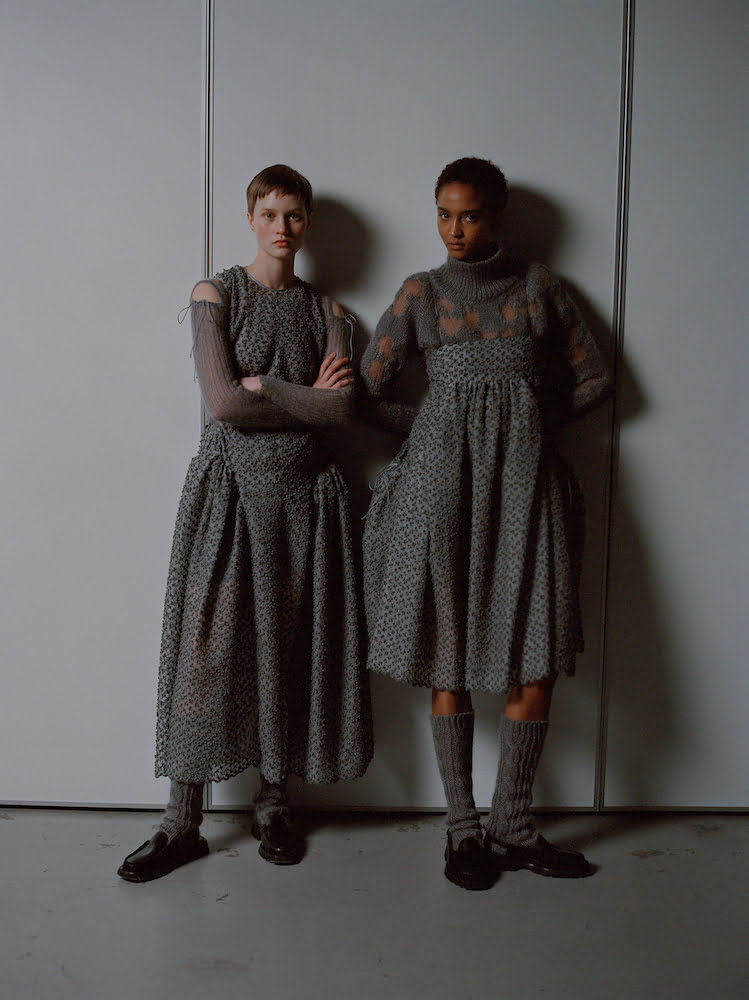 This season, Cecilie Bahnsen took a new look at layering. Where separates were once draped over each other – creating a classic stratified silhouette – they've now been meticulously merged into a single stunning garment. Picture this: a chunky white cable-knit jumper is the foundation of a quilted-silk empire-line dresss, embossed with floral detailing for a sense of romance.
The Danish brand created an enchanting fashion film to present the collection. Inspired by past projects such as Bahnsen's photobook Tokyo Trance and her SS20 runway show, the designer called it The City. Envisioning a wintery journey through the city's dark flickering nights into soft morning light she says, "I was drawn to the beauty of an empty city – with an imposing and industrial feel." The film opens with an alluring animation set by the artist-illustrator Yann Le Bec, preluding the upcoming live-action.
Watch as four models then trudge through a blanched warehouse and a barren car park, before low-key tunnel blasting in a vintage Volvo, and finally arriving at a rocky beach for a dazzling fireworks display. As the narrative transpires, the collection moves from winter-white gowns with belts and elaborate sashes reminiscent of the traditional Japanese obi, to bulbous, balloon-sleeved empire-line dresses and contrasting nipped-in frocks.
There were coats in Nordic winter shades made in collaboration with Mackintosh, stompy rubber-soled loafers made in partnership with Hereu paired with cosy mohair knee-socks, and added, hand-made tinted glass embellishments crafted by the artist Nina Nørgaard. Aside from wisps of dusty pink, pale yellow, and hints of blazing orange, the palette was largely monochromatic. The designer threw in energising electric blue accents for a touch of sartorial splendour.
What's more, Bahnsen explained that it was in fact the film that inspired the colours and spirit of the designs. The metropolitan mood was lifted by the haute couture fabrics which have become synonymous with the brand. Think quilted silks, floral fil-coupé, pleated organza and light yet voluminous matelassé. "It became super important to me how the fabrics felt against the skin – the texture and touch," said Bahnsen. "Our lives are so digital and distant in this moment, I wanted the fabrics to be a contrast. When you put on a piece from the collection, I want you to feel the beauty of the fabric, to be comforted by it. This sense of comfort is my idea of luxury."
Photography by Josefine Seifert. 
The post Cecilie Bahnsen: Ready-to-wear AW21 appeared first on 10 Magazine.