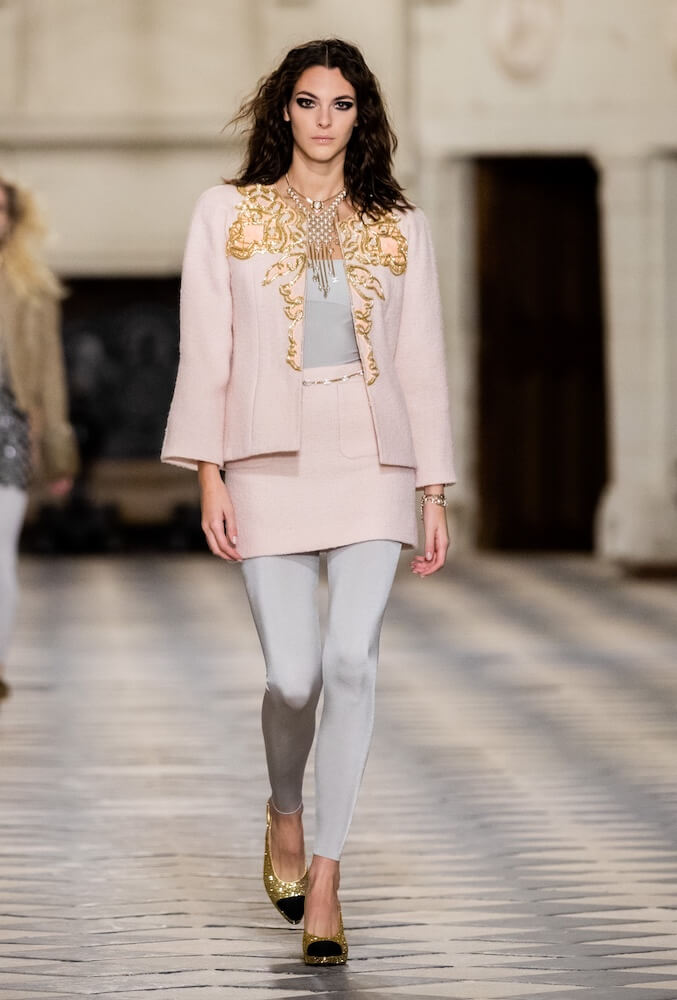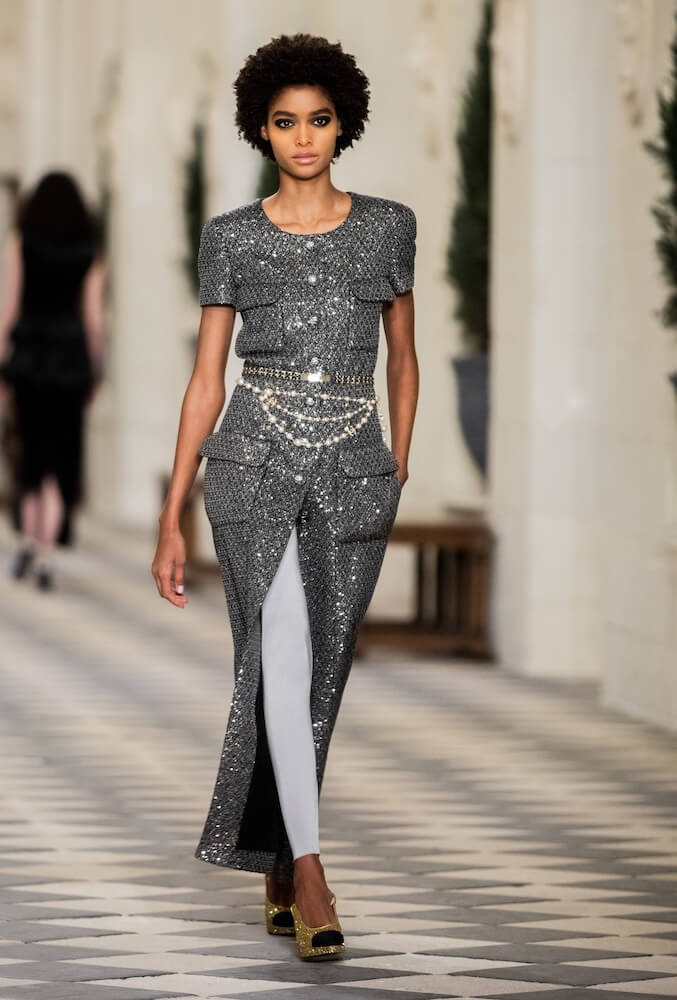 Chanel chose a location of epic beauty and staggering romance, for its Métiers d'Art show, Virginie Viard's first to be held outside Paris. The Château de Chenonceau is a Renaissance architectural masterpiece, located in France's Loire Valley. The castle spans the River Cher and its white turrets and vaulted bridge reflect in the waters below. It's also known as the "Château des Dames" because of the influential women who shaped it.
It was the favourite home of Catherine de Medici, the sixteenth century Queen of France, who's insignia of interlocking C's can be found all over the Chateau. They look remarkably like the famous Chanel logo, which is no coincidence. Coco Chanel was fascinated by the powerful Queen; "I love that Catherine de Medici pushed the concern, to reign as a woman," she once said. They lived four hundred years apart but shared the same fearless approach to life as well as a fascination with chains, astrology and the symbol of the lion.
Both women also loved the drama of monochrome. The black and white tiles of Medici's Royal Gallery made a fitting catwalk for Chanel's show which was produced with a crew of 300 and a VIP audience of only one. Kristen Stewart, who will star in the campaign for the collection, sat on a stone bench to watch as Viard, channelled the renaissance romance of this spectacular location, into her collection. She was inspired by the splendour of Medici, who's portraits hang on the walls, as well as the Musketeer movies she watched as a kid. "The women in them were always quite sexy," she said.
Viard is far too sophisticated to design a costume drama, though. Tiny pearls embellished an off-the-shoulder tweed dress and other regal references were woven (literally) into the collection. Barrie's knitwear came with an intarsia castle motif. Some pieces had a swashbuckling swagger – the quilted leather doublets and caped tweeds – whilst others offered fairy-tale femininity in the form of translucent, bouffant sleeves laced with a delicate gold-leaf embroidery, which Viard found in the archives of Lesage. Having started her Chanel career in 1987, as an intern for the Haute Couture embroidery, she knows the secrets of the metiers better than anyone.
The result? Clothes fit for a Queen. These are some of the most sophisticated Ready-to-wear pieces on the planet. The exquisitely crafted Métiers d'Art collection is a celebration of the small artisan ateliers – from button makers to milliners, embroiderers and feather workers – that Chanel has saved from extinction by buying them. Next year, 11 of them will move into a craft headquarters called 19m – their future secured, their know-how ready to be passed down the generations. It's enough to make a modern Medici swoon.
`Photography courtesy of Chanel. 
The post Chanel: Métiers d'Art 2021 appeared first on 10 Magazine.