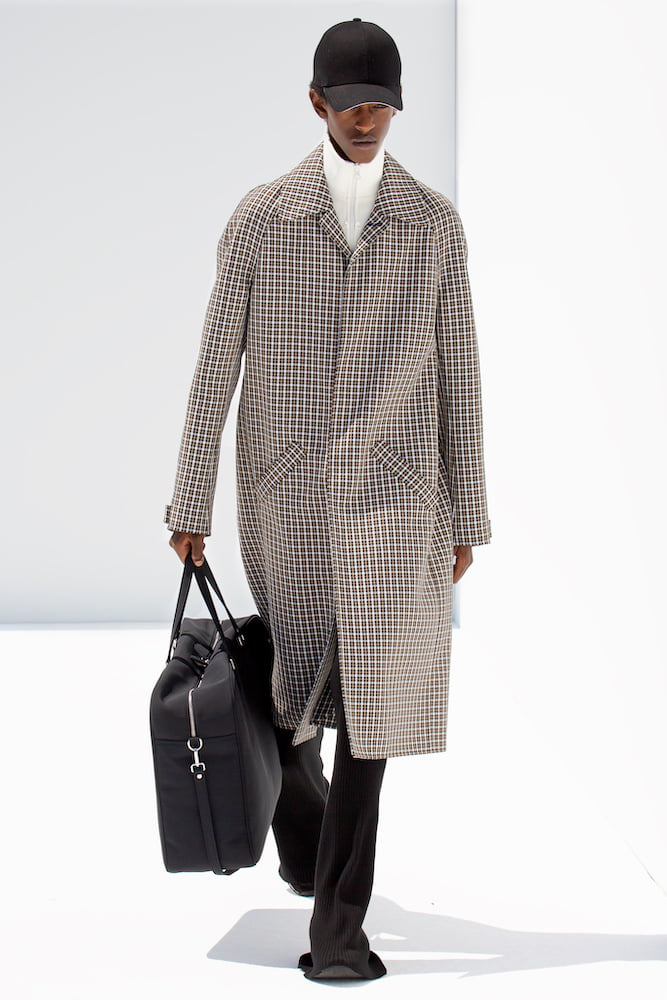 Since taking the helm of Courrèges last year, Nicolas di Felice has been in his total element. After working under Nicolas Ghesquière at both Balenciaga and Louis Vuitton, as well as a stint at Raf's Dior, the designer has been digging into the brand's archive non-stop.
He's an obsessive over the tiniest of details, from the slope of a shoulder to the pocket placement on a jacket, and can reel off his exact reference points, and the years they're from, in a heartbeat. "It was never my dream to become an artistic director of a house and break everything and impose my style," says the designer over Zoom, "it's not really who I am."
Picking up from where his debut collection left off, this is the first time di Felice has ever designed menswear, making for Courrèges' first standalone men's collection in over 30 years.
"My intentions aren't to reinvent menswear," he explains, instead, favouring workwear-inflicted, clean silhouettes. "I am as much in love with a couture piece as with a Dickies jacket. What I love with workwear is that it's to the point: it's the right fabric, the right fit, it has to be useful/ I mean you have to be able to wear it everyday."
In the same stark, white cube which housed his debut, di Felice sent out raincoats with kimono sleeves made from nylon bonded with fine jersey; trucker leather jackets with classic Courrèges rounded pockets; bootcut jeans and ribbed tracksuits; and vinyl trousers with cut-outs up the thigh.
"He wanted to make clothes that look like people are free," says di Felice when discussing André Courrèges, who seeps into the collection directly via a checked check car coat inspired by one the founder wore in the seventies. Though, it's worth noting that di Felice is in no way stuck in the past, and finds himself looking to his clubbing friends just as much as Courrèges' beginnings. "I'm inspired by people I see and what I live," he says.
Photography courtesy of Courrèges.
The post Courrèges: Menswear SS22 appeared first on 10 Magazine.