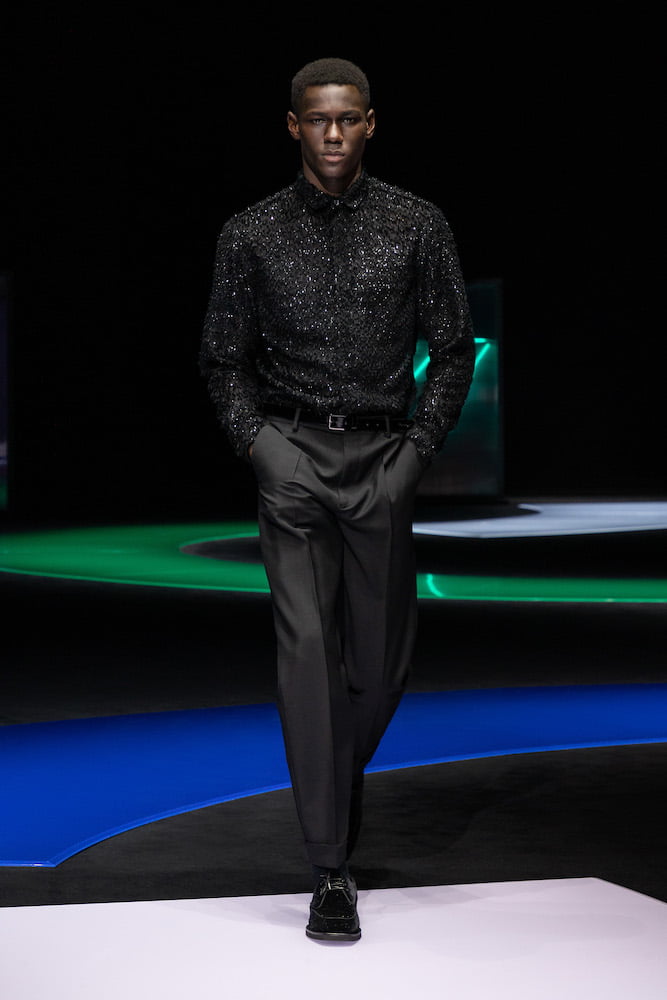 You'd think Mr Armani – a man who's spent the last four decades at the top of the fashion food chain – would find swapping his much-adored physical shows for a purely online experience somewhat of a downgrade. Quite the opposite. "Digital fashion has been a revelation during the pandemic," he says. "It has enabled me to broadcast my fashion shows to the wider public, something I've done for all my collections this past year, including couture."
He believes the pandemic has democratised fashion, where the rarefied, exclusive experience of a fashion show has been "opened up to the world." For this season's Emporio Armani collection, he both deepened and broadened his reflection on the aesthetic codes which have defined the brand since it was founded in 1981. He translated his luxury fabrications into a mammoth co-ed collection with nocturnal, inner-city style at the fore.
Set against a neon-laden backdrop spelling out the brand's name, there was an air of fluidity to these looks, where pops of colour accented soft, grey tailoring and jacquard eveningwear. "I like to use bold colours, especially in Emporio," concurs Mr Armani. "I choose them as notes that catch the eye." Slithers of pink and purple slash through dominating greys and blacks, as a reference to the neon lights of a city skyline – "the ideal scenario that fuels my inspiration for the Emporio Armani woman and man," he says. 
Photography courtesy of Emporio Armani.
The post Emporio Armani: Ready-to-wear AW21 appeared first on 10 Magazine.