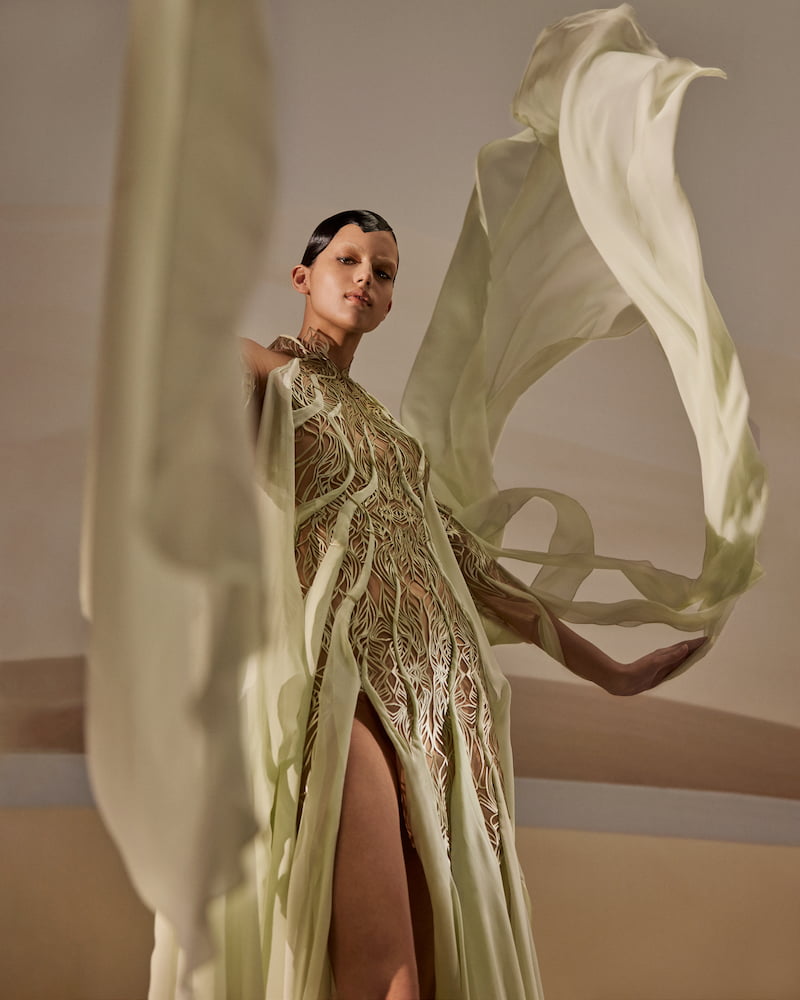 Fortuny for aliens: Iris van Herpen's singular style is otherworldly. Her queenly women float and quiver in exquisite display. They look like undiscovered creatures from a new Atlantis. Her intricate constructions are technical wonders that seem to defy the laws of earthly physics, but not the laws of imagination.
How can something so voluminous move with such fluidity? How does she make her fabrics float like the skirts of a jellyfish? How can a matrix of seams and gathers trace the torso so tightly before exploding into swirling clouds that look like spores on the wind?
This collection, entitled Roots of Rebirth was inspired by the living lace of criss-crossing fungi roots, which van Herpen refers to as the "wood-wide web." The designer uses technology and hand-craft in symbiosis. A spindly ruff might be laser cut but also hand pleated and the designer has applied material made from recycled sea debris to create translucent 3D patterns. Her clothes resemble natural sculptures, but move like ribbons in the wind. If the essence of Couture is to capture that sense of the impossible and make it real, then van Herpen is the Maestra.
Photography by Myrthe Giesbers.
The post Iris Van Herpen: Couture SS21 appeared first on 10 Magazine.