Isabella Burley isn't the sort of creative who likes to focus on one project at a single moment. Alongside her monumental role as editor-in-chief of Dazed – a position she has held since 2015 – Burley has curated exhibitions, both edited and published photography books and, alongside Shayne Oliver, was the driving force behind the successful relaunch of Helmut Lang back in 2017.
Yet, the multihyphenate's latest venture could be her biggest to date. After spending years accumulating rare books, prints and hard-to-find ephemera, this past September, Burley launched her own bookstore: Climax.
The idea for Climax was originally conceived on a trip to New York back in 2016, yet life's everyday distractions – not to mention helming an entire magazine – forced Burley to put plans of a launch on the backburner. That was until lockdown rolled around back in March, giving Burley the apt opportunity to knuckle down and turn her collecting hobby into a fully-fledged business.
Climax is a melting pot of niche Japanese erotica, exhibition posters from the 1980s and the rarest sort of photography books that basically never end up online – until now, that is. Standouts include back issues of Gum, Germany's first rubber fetish magazine that featured women on the cover and an incredibly rare first edition of Yayoi Kusama's cult periodical, Kusama Presents an Orgy of Nudity, Love, Sex & Beauty – first released in 1969.
In between holding down the fort at Dazed and making manic runs to the post office to send off Climax goodies to their new homes, Burley found the time to select 10 rare finds you can buy right now from her bookstore. If anyone wants to treat us to any of these delights, we'd be more than happy to take them off your hands.
1. High Times, #231, November, 1994
"My favourite issue of the cult stoner magazine High Times! Featuring a very cool 18-year-old Milla Jovovich on the cover."
Available to buy here.
2. Yayoi Kusama, An Orgy of Nudity, Love, Sex & Beauty, Vol 1, No. 1, 1969
"The hero piece in the Climax collection – the first copy of Yayoi Kusama's radical self-published art periodical The Orgy. Published at the time of her radical happenings in New York,  it represents the intersection of tabloid pornography, culture publishing, and the art world which formed during the creatively fertile years of the late 1960s."
Available to buy here.
3. Charlie Fox, My Head is a Haunted House, 2019, Karma / Koenig Books
"By far the spookiest book available at Climax! Celebrating all things monstrous and uncanny, it was published to accompany Charlie Fox's first exhibition My Head is a Haunted House at Sadie Coles, and Dracula's Wedding at Rodeo Gallery in 2019. From Chloë Sevigny's spooky Halloween costumes to Winona Ryder in Tim Burton's Beetlejuice, and a young Johnny Depp having birthday cake with John Waters, inside Fox mashes up pop cultures weirdest moments."
Available to buy here.
4. Deana Lawson, Untitled, 2018, Aperture
"My favourite photo book ever! Captured over the span of a decade, this first monograph by Deana Lawson celebrates her intimate portraiture and her highly stylised scenes of everyday life. Taken in America and during her travels in the Caribbean and Africa, Lawson often works with nude bodies, juxtaposing and animating them against domestic interiors."
Available to buy here.
5. Nobuyoshi Araki, Gekisha Joyu Tachi, 1978, Byakuya Shobo, Tokyo
"I miss buying books in Tokyo! Luckily, we've been getting deliveries of rare books from Japan during lockdown. Gekisha Joyu Tachi (Dramatic shooting: Actresses) is an early photographic book from Nobuyoshi Araki published in the late 1970s and his first collaboration with writer and publishing impresario Akira Suei. The book features photographs of over twenty women based on the idea that all women could be actresses, alongside fictional and factual writing by Suei. I'm obsessed with the pink fluorescent obi band!"
Available to buy here.
6. Martine Syms, Boon, 2019, Revolver/Secession
"I'm a huge fan of Martine Syms. This was published on the occasion of her exhibition at the Secession, Vienna, and is composed of found photographs – many taken by Syms' own father – and references the walls of Simpson's Record Shop in Detroit (the subject of her exhibition at the Secession), which the owner Dorothy Simpson covered in photographs brought in by neighbours and community members."
Available to buy here.
7. Richard Kern, New York Girls, Postcard, 1997
"Ephemera, including original invitation cards, flyers, posters and stamps, are a big part of the Climax collection. This original postcard was published to accompany the release of Richard Kern's New York Girls in 1997 is one of my favourite pieces of ephemera that we have right now!"
Available to buy here.
8. Larry Clark, Untitled, 2012, C/O, Berlin
"The best Larry Clark book ever made! I mean look at the cover. It's actually a plastic triptych gatefold record cover containing two large-scale posters and a 24-page booklet and was published on the occasion of his 2012 retrospective at C/O Berlin. I have my copy on display on my bookshelf at all times"
Available to buy here.
9. Grace Wales Bonner, Everythings For Real 2, 1st Edition, 2015, Ditto Press
"The brilliant second zine from Grace Wales Bonner, Everythings For Real 2, which provides a reference point to her SS16 collection Malik. Housed inside a sun bleached Nollywood-inspired slip cover, it also includes a bonus CD that features the soundscape to Malik composed by James William Blades."
Available to buy here.
10. Nan Goldin, Children 1976-1996, Poster, 1996
"We have a lot of great posters. This was one published in 1996 to accompany Nan Goldin's exhibition Children 1976-1996 at Matthew Marks Gallery, New York. The poster features Goldin's photograph of Philip-Lorca diCorcia's son Bruno."
Available to buy here.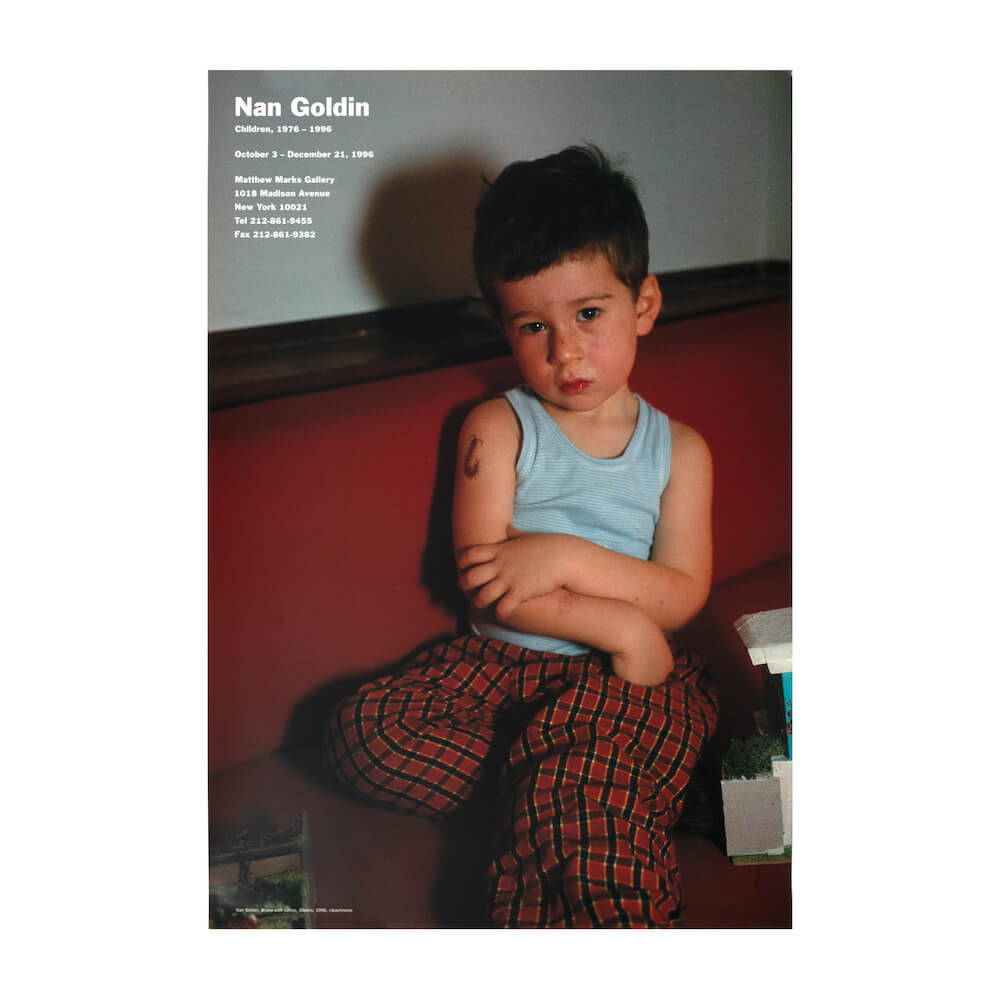 Top image by Deana Lawson. You can shop the full Climax catalogue here.
The post Isabella Burley Selects 10 Rare Finds You Can Buy Right Now From Her Bookstore, Climax appeared first on 10 Magazine.