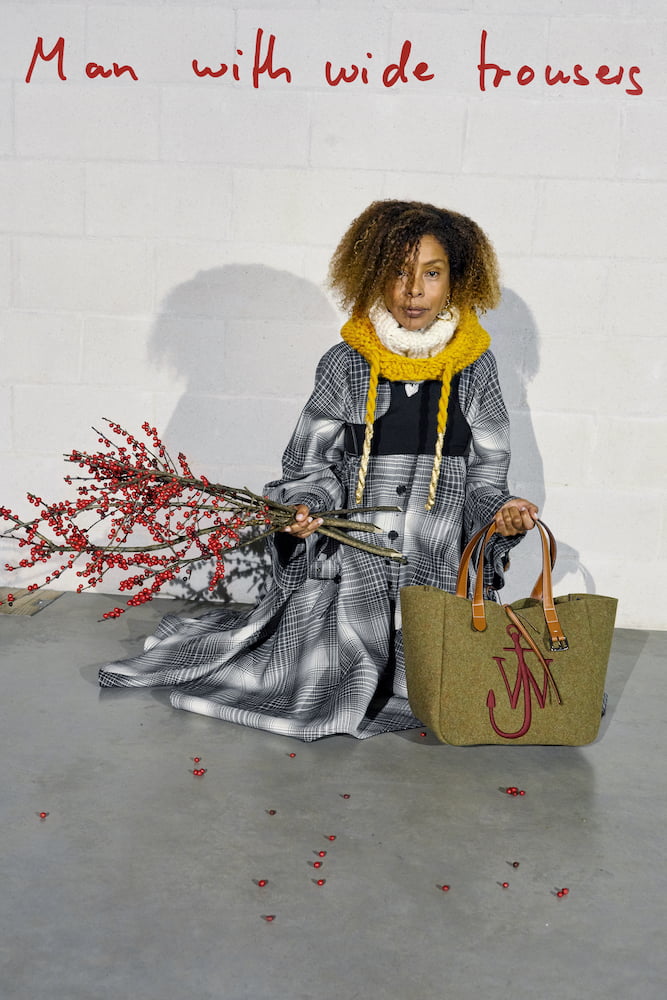 A palette cleanser, a reality check, a bright new beginning. That's how JW Anderson described his new men's AW21 and women PF21 collections. But, let's be clear, when Anderson speaks of reality, he's not envisaging anything humdrum. His reality is alive with bold silhouettes, curving tailoring and asymmetric oddness. He presented the two collections together with poster images shot by Juergen Teller, featuring Ratched star Sophie Okonedo in the women's wear.
The other reality is that despite being nominally men's and women's collections, the result is genderless as Anderson focused on big, clownish shapes and fruit and vegetable imagery inspired by Dutch still lives. The playful posters – Okendedo and co pose with giant gourds, handsome cauliflowers and red peppers – put Anderson's crafty instincts on display. A crocheted radish on a sweater, a hoodie knitted on gargantuan needles, a check coat veiled in silver sequins all suggested a bonkers take on homespun.
As well as the fantastic silhouettes, there's an appealing eccentricity to everything JW Anderson does. Throw in a winning way with accessories (his baguette-toe loafers, felted shoppers and squishy leather totes all look good) and you have to applaud the man. 2021? He's off to a good start.
Photography by Juergen Teller.
The post JW Anderson: Menswear AW21 appeared first on 10 Magazine.