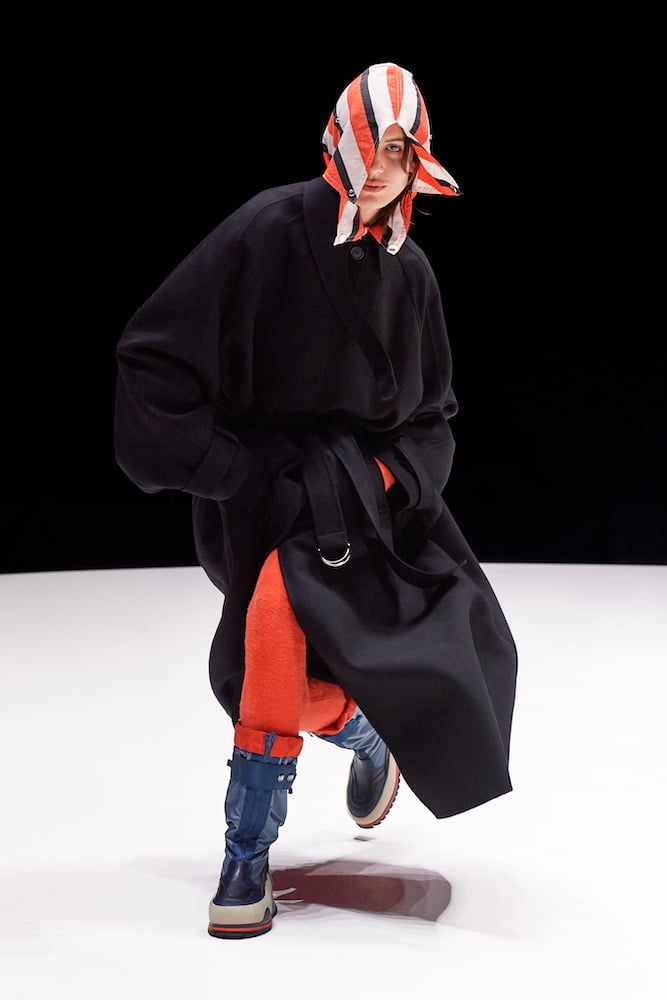 All the world's a rave – at least it is for Kenzo designer Felipe Oliveira Baptista. His energized, AW21 digital presentation had models dancing like there was nobody watching, whilst dressed like psychedelic streetwear-druids.
His models lost themselves in mesmeric beats whilst wearing head-to-toe reversible hooded green blanket coats and matching baggy dungarees or acid green pansy print catsuits with strange padded 'foghorn' hood. One model whirled in a floral quilted cagoule dress, her huge circular skirt spinning out wildly, another grooved in a world of his own, whilst wearing an intense orange floral-print hoodie with matching baggies.
Oliveira Baptista was channelling a primal, pagan, life force as well as the deep human urge to dance, to move, to let go and feel free. Hooded, unisex, baggy, bold, bright and street-inflected, his clothes feel resolutely now.
What's interesting is how he handles the heritage of the house. There's not a scrap of nostalgia in his work. Retro isn't his thing, but with this wild, ecstatic show, he paid tribute to the spirit of the brand's legendary founder Kenzo Takada, who died of Covid in 2020. Takada was famed for his joyful, high-energy, carnivalesque shows, where models like Pat Cleveland and Donna Jordan would dance and twirl and down the catwalk. Oliveira Baptista's 21st-century version proves the rapture is real.
Photography courtesy of Kenzo. 
The post Kenzo: Ready-to-wear AW21 appeared first on 10 Magazine.