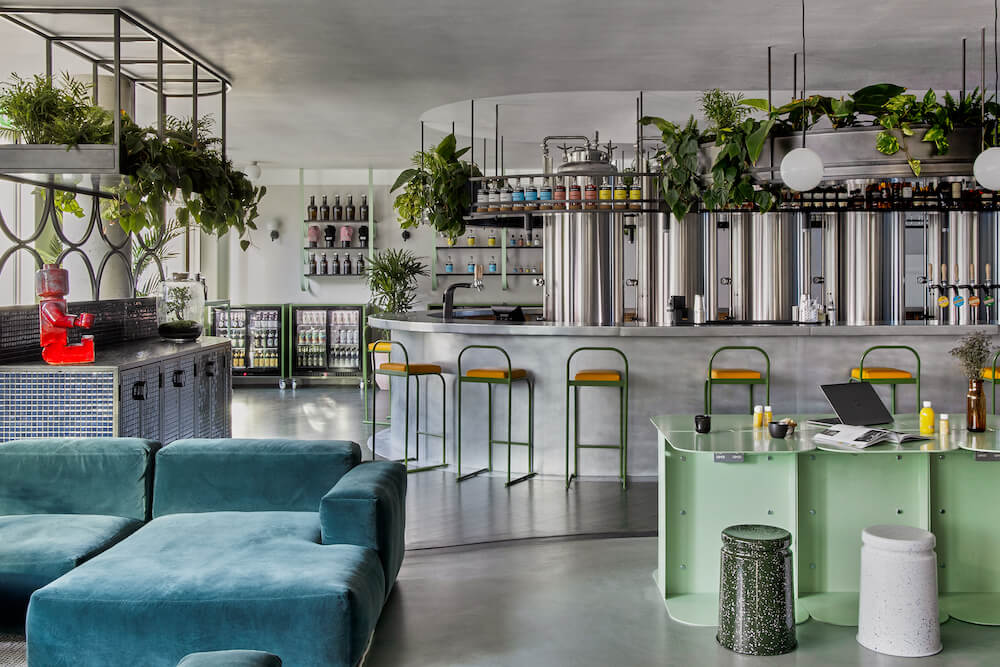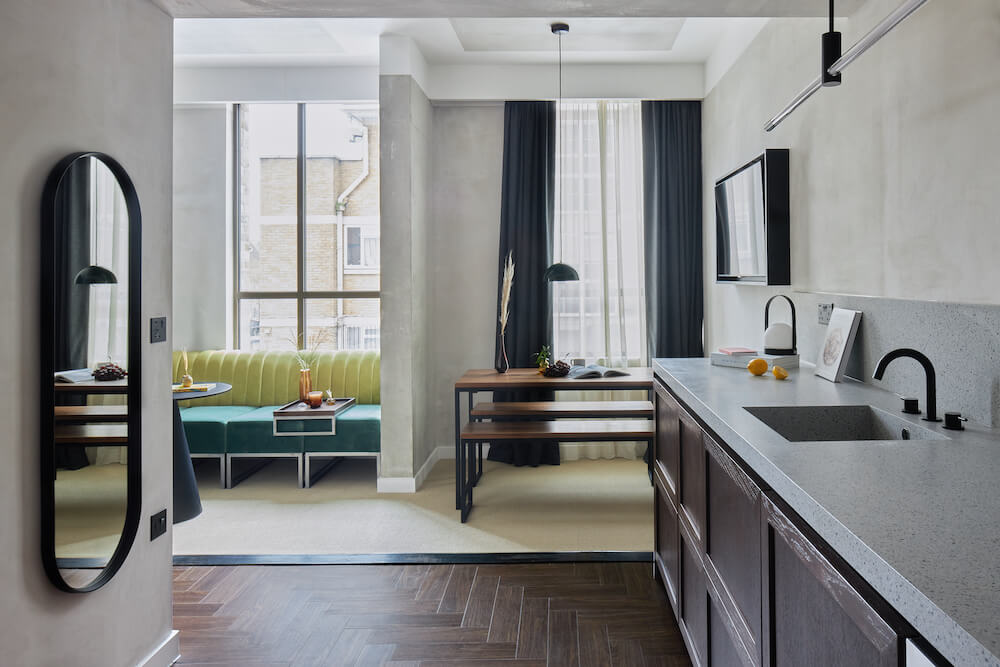 If you've ventured down Kingsland Road as of late, you might've caught a glimpse of Kingsland Locke, the brand new hotel buried in the heart of Dalston. Or you might've gone completely oblivious to its construction entirely. That's because the brains behind the aparthotel brand Locke have envisioned a space that blends seemingly with its surroundings.
Kingsland Locke joins Leman Locke in Aldgate, Tower Bridge's Bermonds Locke and Locke at Broken Wharf to complete the brand's family of aparthotels here in London, alongside further locations in Manchester, Dublin, Cambridge, Edinburgh, and Munich. The buzzy new East London location has opened its doors to leisure and business travelers who are looking to see a different side of the city. With 124 studio apartments available, the Kingsland Locke interiors look as if they've just been pulled from a Wes Anderson flick. Corridors come coated in powdery pinks and each room has plump pistachio green sofas.
These are more than just your average hotel rooms, these are spaces designed to be lived in. Starting at £115 a night, each room comes with elegant workspaces, as well as fully-equipped kitchens. For those who travel for business, you know how important having such facilities are. What else is on offer, you ask? Well, there's an on-site microbrewery and gin distillery which will house KRAFT Dalston; a new food and drink venture between Locke and German Kraft Brewery, Jim and Tonic Distillery and Le Bab (the latter knows how to make one mean kebab).
I tied my stay at Kingsland Locke with a trip to Ridley Road Market Bar, but there's plenty else to do in walking distance. For a night on the town, you're a stone's throw away from Dalston Superstore, Dalston Roof Park and Ruby's Dalston, as well as a slew of excellent pubs; The Hand of Glory and The Shacklewell Arms included. Of a day, if shopping ain't your thing, you're facing the legendary Rio cinema, and a sun-kissed walk to Broadway Market makes for one great Saturday afternoon outing. Looking to explore London the proper way? Stay at the Kingsland Locke.
Photography by Ed Dabney. Book your stay at Kingsland Locke here.
The post Kingsland Locke Is The Swanky New Aparthotel in the Heart of Dalston appeared first on 10 Magazine.