Let's be real, everyone could do with a new piece of arm candy (and we're not talking about a man). Lucky us, then, that Louis Vuitton has just unleashed a trio of timepieces that have joined its Tambour family. 
First revealed back in 2002, the Tambour has since received many renditions, both digital and analogue, some dripping in monogram while others have opted for a Mr Bond-ready finish.
This time around, we have the Tambour Carpe Diem, the party animal of the pack. Not short of tricks up its sleeve, the 21st-century jacquemart watch's timing can be read on-demand with a simple push of the reptile-shaped push-piece. Once activated, the central LV monogram scaled snake's head will lift up to reveal the hour – located in the skulls 'brain', while the rattlesnake tail will become the minute hand.
If you are frantically thinking, 'But how on earth will anyone know this is a Louis Vuitton watch?', don't worry, the monogram flowers engraved on the skull, tattooed on the snake's scales or appearing in blood red on the skull's eye socket are sure to give it away.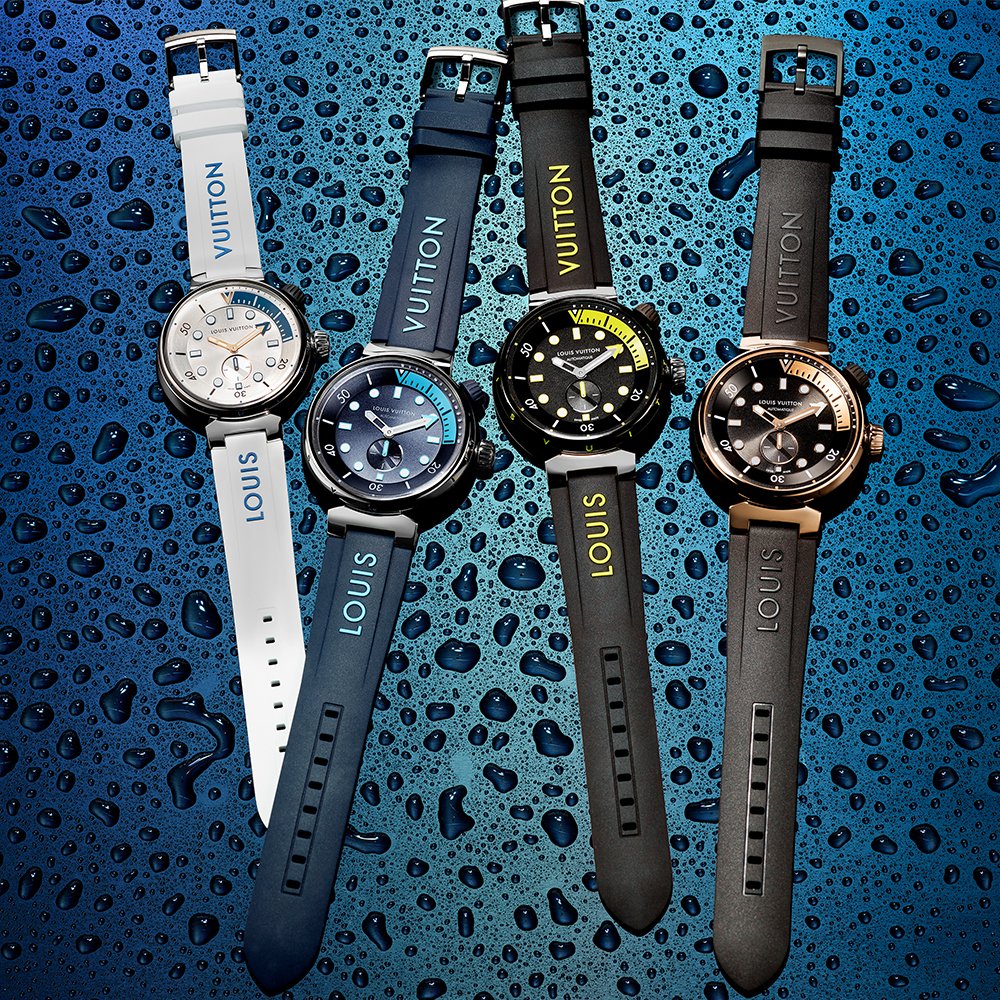 Tambour Street Diver.
Next, we have the Tambour Street Diver, fit to take you straight from the gym to the club. Where usually a traditional dive watch steers away from the weird and wonderful, this Louis Vuitton Tambour Street Diver retains the house's colourful unconventional taste, while its underwater credentials are left uncompromised. 
The last watch begging for a spot on your wrist is the Tambour Curve GMT, the stern headteacher of the bunch – in terms of look. But when it comes to functionality, this one is calling all avid travellers. Under the pressure of your finger, the push-piece moves the transparent disc – stamped with the LV logo – forwards or backwards to reveal a second time zone, ready to accompany its owner on all their adventures.
It's fair to say Louis Vuitton has left us spoilt for choice. So pick your fighter and let us know what time we should arrive for dinner.
Top image: Tambour Carpe Diem. Explore the Louis Vuitton Tambour family of watches here.

Tambour Curve GMT.
The post Louis Vuitton Introduces Three New Timepieces to the Tambour Family of Watches appeared first on 10 Magazine.