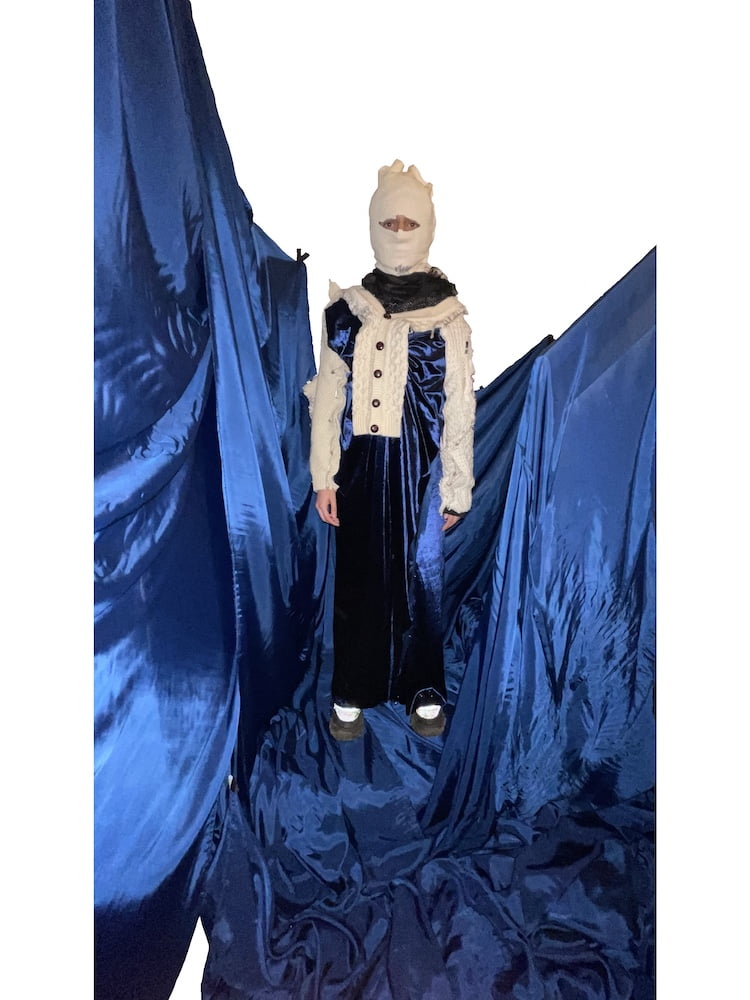 In a year of total fashion flux, where the pressure on young designers to conform in order to survive is more intense than ever, Miles George Daniel is a beacon of hope. The Middlesex University grad is a balls-to-the-wall sort of designer, experimenting with knitwear, embroidery and fabric manipulation to envision sculptural, one-off pieces which double as works of art.
Like his graduate collection, Daniel's LFW debut cost him zilch – working entirely with donated fabrics and reusing pieces from his own wardrobe. "It's all been no spend and I've absolutely loved it. I just wanna keep making more," a giddy Daniel tells me over Zoom. He's dyspraxic, and says his chaotic approach to design is a reflection of how he works. He picks threads, winds them back up and drapes them into mismatched concoctions, hand-stitching garments from his previous collections into tracksuits, ruched tops and deconstructed knitwear.
His vision this season feels claustrophobic, a visual representation of being locked in his spare room for the past two months making the collection, where he's made his own lookbook backdrops and used his landing has his own miniature catwalk. "The collection captures my world and brings the audience into my environment," he adds. There was no research put into the collection, and Daniel didn't produce any initial design sketches. Instead, he went with his gut: letting his emotions lead his hand and built each look on his own frame. Luckily, following his instinct has led to sheer brilliance.
Photography courtesy of Miles George Daniel.
The post Miles George Daniel: Ready-to-wear AW21 appeared first on 10 Magazine.