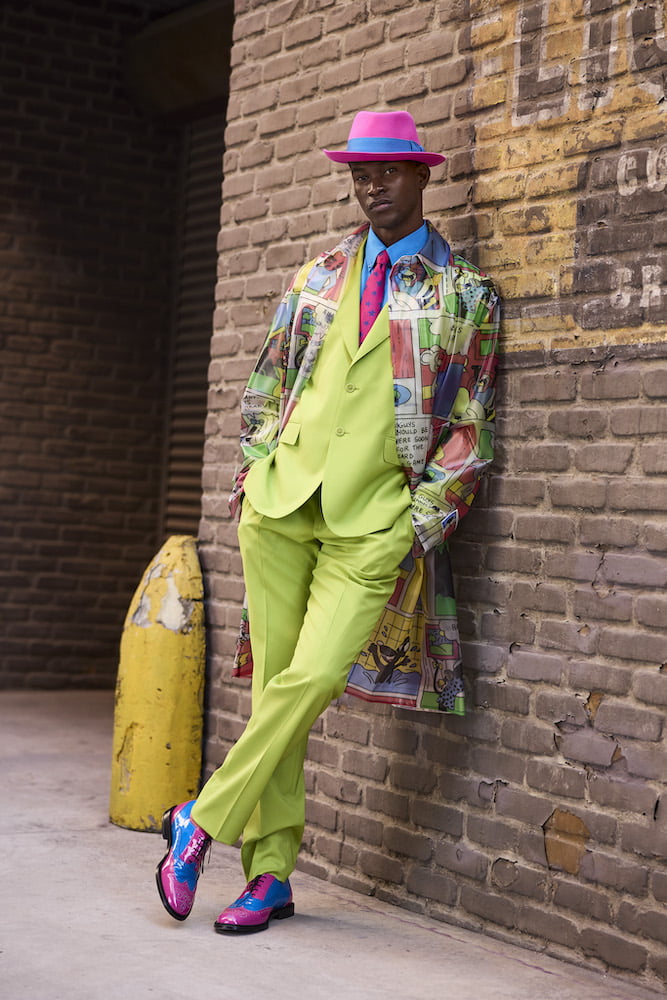 In the third of his pandemic trilogy of Moschino fashion films, Jeremy Scott pulled out all the stops, creating his own Hollywood musical, complete with elaborate song and dance numbers and a fabulously surreal 'food couture' dream sequence. The feelgood factor was off-the-scale as the designer let his imagination run wild and bathed the whole thing in his trademark, sunny optimism. "I just think of musicals as being joyful and uplifting and buoyant," said the designer on a pre-show Zoom call. "And I love that they're whimsical and they're a little absurd. That you're talking like we are right now and suddenly…." he burst into dramatic song.
Scott conceived the idea on the set of his last Moschino film, when Karen Elson made a cameo appearance. "I was just so inspired from seeing her again, we hadn't seen each other in a long time and then she had released Radio Redhead Volume One around Christmas and I've been listening to it nonstop." He couldn't get her distinctive breathy vocals out of his head and the Moschino musical idea, starring Elson, was formed.
Elson plays a beautiful chanteuse, working a dayshift in a diner but dreaming of escaping the monotony for something more glamorous. She eyes the diner's jukebox and when Chic's "Everybody Dance" comes on. Elson, dressed in a rainbow-coloured day dress, breaks into her own infectious cover version and is joined by everyone in the diner.
They dance on tables wearing a joyful fantasia of colour and eras. There are cartoonish pink and yellow chalk stripe suits, and bright pastel varsity cardigans with Moschino lettering and even a hat shaped like a stack of pancakes.  From forties shoulders to sixties flares the looks reference several decades at once. "I want to create a fantasy world, so I take little notes and brush strokes of all those eras," explained Scott.     
As if that wasn't joyful enough, Scott then amped up the fantasy with a witty dream sequence of food couture looks – a hotdog couture cape and a melting ice cream sundae bustier dress, and a burger dress. "It's actually the Katy Perry burger," says Scott, referencing the famous look Perry wore to the 2019 Met Ball. "We put it back into use one more time."
Elson also performs her new single, "Lightning Strikes" with this segment of the film doubling as her new music video.  
"Everything that I do is so instinctual. It's just natural, it comes from the heart," said Scott, but his latest mini-movie is just the jolt of joy that pandemic weary punters crave. With the success of The Heights and planned film versions of West End smashes Everyone's Talking About Jamie and Dear Evan Hansen as well as a West Side Story remake from Steven Spielberg, Scott's Moschino's mini-musical cleverly taps into a revival of the musical genre in the wider culture.
Trust Jeremy Scott to wrap his creative head around the challenges of pandemic filmmaking and come out on top. The fact that he lives in La La Land, and grew up on an aesthetic informed by Hollywood's dream factory, has given him an edge. He's one of fashion's great communicators and if pandemic has taught us anything about him, it's that his creativity and aesthetic wit can translate across many genres.
He's rightly proud of his output but says, "it's a lot of work, because, I am conceptualizing these films, and bringing them to life and helping to produce them as well as doing the fashion designer side of my normal job of it too." He wears his many hats well. 
He hopes to return to live shows in September, but Scott has enjoyed making his Moschino fashion movies so much that he plans to direct a full-length movie, joining Tom Ford in the fashion-designer-turned-director club. "This has been a launching pad for me," he says, "there's no way I can let go of it because I enjoy it so much."  
Photography courtesy of Moschino. 
The post Moschino: Resort 2022 appeared first on 10 Magazine.