Sam Hughes has a busy lockdown 3.0. By day, he's the assistant manager at Supreme's store in Soho, but with all the shops still shut, he's had time to knuckle down on making a new Nancy collection. Named after Nancy Sinatra (of course), Hughes launched the London-based label two years ago as an "art project dedicated to all the like-minded little weirdos out there," he says, adding, "I was starting to do a bunch of different things; draw, collage, tattoo, so I thought the best way to tie it all together would be to do this."
Looking at sci-fi and psychedelic films (and the occasional episode of RuPaul's Drag Race UK) for inspiration, Hughes creates tees, long sleeves, tracksuits and blankets adorned in explosive graphics. "These things visually stimulate me so when I close my eyes I can create a little world and I usually base my collections around something that happens in there," he says, explaining that he also listens to a lot of noise music to get himself amped up to create.
Nancy's latest drop is a trip into Hughes' headspace: "I've been doing a lot of meditating and work on myself this past year," he says. "Sometimes there can be dark stuff in there too but we have to embrace that to let the love in." Heart-laden sweats stamped with 'I Am Loved', come alongside a series of hippy-inspired graphics on tees, pin badges and an ace blanket with frayed edges. Hughes offered photographer Sarah Hollamby free reign to shoot the collection, who chose Steve and Charlie, seen here, to model the looks – "[they've] been best friends forever, it was perfect," adds Hughes.
The seasoned gents also wears mohair jumpers and matching beanies, which will come out later this year, alongside a very exciting project Hughes is currently tight-lipped about. "I enjoy Nancy and I want to keep it that way by continuing to collaborate with friends and creatives I love," he says. If he carries on the way he's going, soon enough, everyone will be wearing his clobber.
Photography by Sarah Hollamby. You can shop the latest pieces from Nancy here.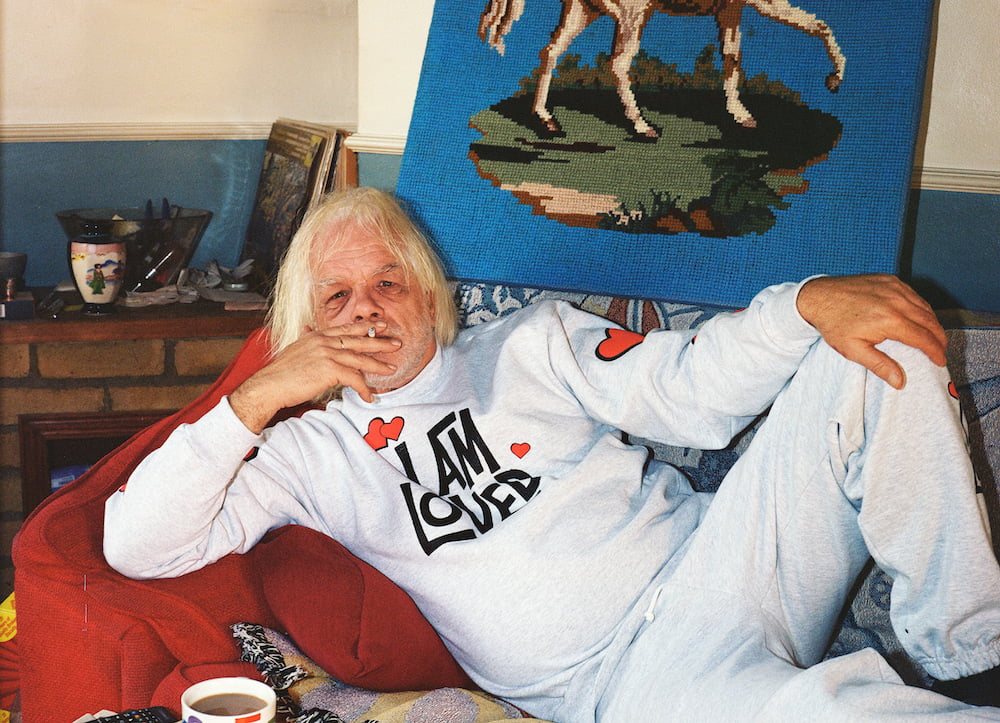 The post Nancy's Latest Collection Is All Loved Up appeared first on 10 Magazine.