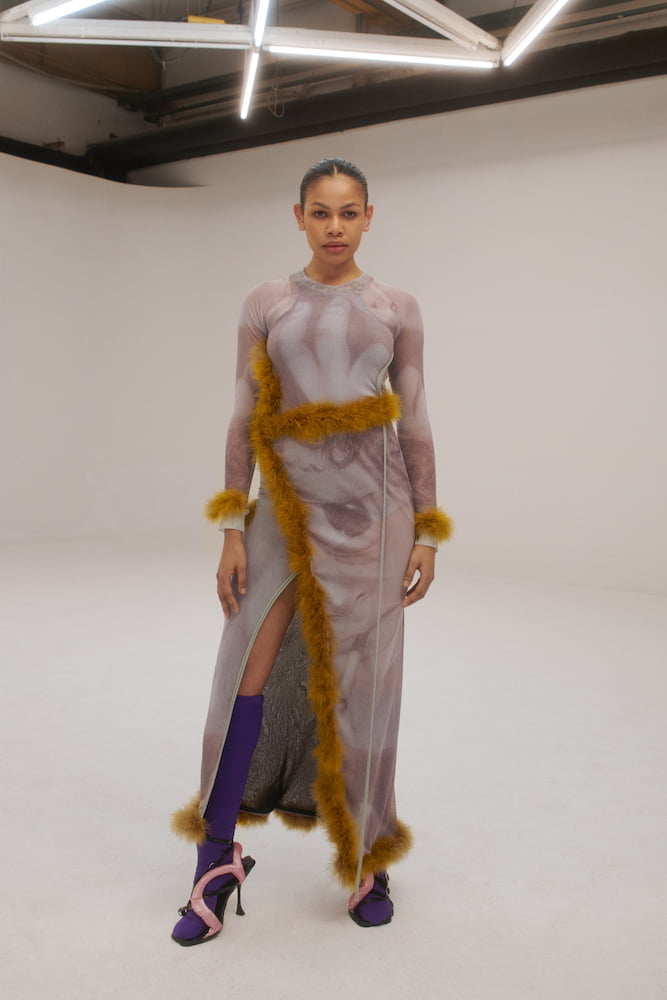 Cosima Gradient and Christa Bösch, the brains behind Berlin label Ottolinger, are fed up with reality. Like the UK, the German capital is currently stuck in lockdown, and the creative duo has been wearing their deconstructed frocks, expressive knits and cobwebby fashions to go about life's simplest pleasures (nipping down the offie of an evening, included).
"Lockdown has offered us more time to structure the collection and question where we are and where we are going," says Gradient. "It feels like we live in another world compared to a year ago so we're proposing a new future." Whilst the planet has seemingly adopted sweats and joggers to brave this "new normal", Ottolinger proposes fantasy; a "future elf" wardrobe, made of twisted puffas, patchworked woolly bodysuits, 3D torso harnesses and cracking, faux fur-trimmed leather coats which are tied together like straitjackets.
The outlandish uniform is completed with wacky moon boots in Mad Max proportions and incredible prints created with New York-based artist Cheyenne Julien – whose work addresses environmental racism and celebrates her community in the nocturnal city. "What's really nice about [Julien's] work is that she draws a lot of her friends, it's very personal and has a closeness to it," says Gradient. It's the first time the pair have collaborated with an artist outside their social circle, so in turn, asked Julien to model the collection amongst the people who inspired her work in the first place. "The artist becomes the canvas," adds Bösch.
Photography by Mark Peckmezian (lookbook) and Shotti NYC (artist portraits).
The post Ottolinger: Ready-to-wear AW21 appeared first on 10 Magazine.