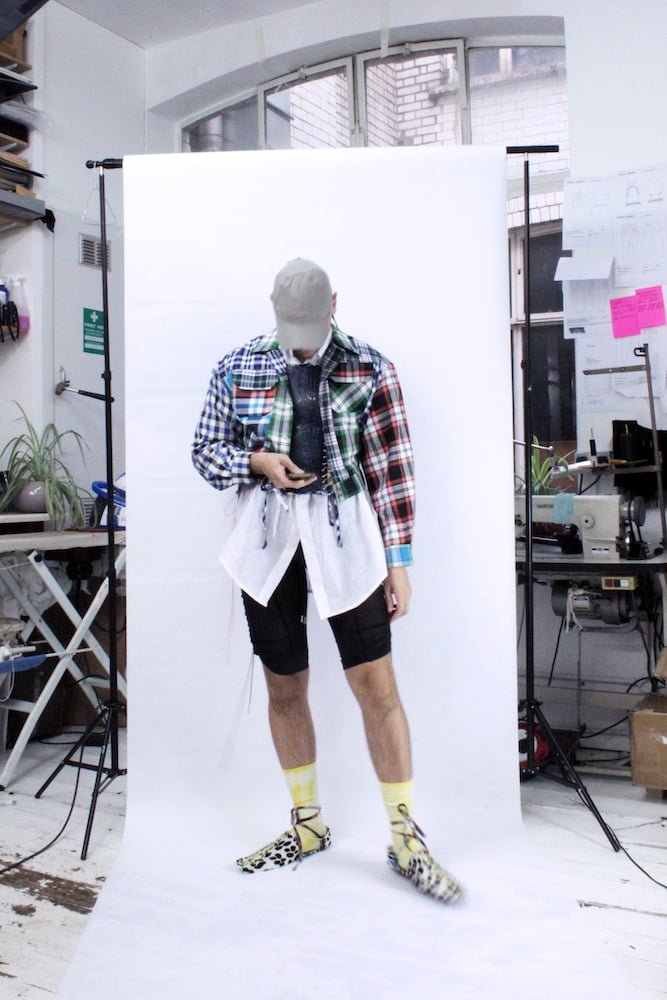 Amidst all the digitalised fashion week madness, one collection that may have fallen under your radar (you should be disappointed if so) is that of the brilliant Parnell Mooney. After taking a hiatus from his eponymous label which he launched back in 2015, the Irish designer made his triumphant return to the industry last June – swapping out his slouched, gothic oeuvre for something a little sexier.
The designer's spring/summer 2021 offering – his third collection since returning – was made entirely in isolation during lockdown. Each piece was fit on the Mooney's body and photographed in a series of self-portraits inside his Stratford studio. This process gave the designer a more personal connection to the clothes, evoking a deeper understanding of the cut and how his garments feel against the skin. Classic menswear pieces are "dressed up and turned on" reads the press release – including bleached denim, ruched jackets and see-through rugby shirts in skin-tight proportions.
After watching Céline Sciamma's 2019 film Portrait of a Lady on Fire, the designer began experimenting with the corset. "I became a bit obsessed with working out different ways of lacing other garments that feel like modern versions of clothing of that time," Mooney explains. More interested in the lacing up aspect rather than the restrictive element of corsetry, the designer produced PVC trousers that are tied-up right to the crotch and new interpretations of his signature vest top, now "with a much more complex way of getting in and out."
There's a definite club element to these pieces, which the designer says comes from missing the process of getting dressed up and going out; peacocking in the queue for the club or in the smoking area once inside. "There is a performance to that which I think a lot of people are missing," he says. "If you can make clothes that make people feel good, powerful and confident that's an amazing thing, right?"
Photography by Rory Parnell Mooney.
The post Parnell Mooney: Menswear SS21 appeared first on 10 Magazine.