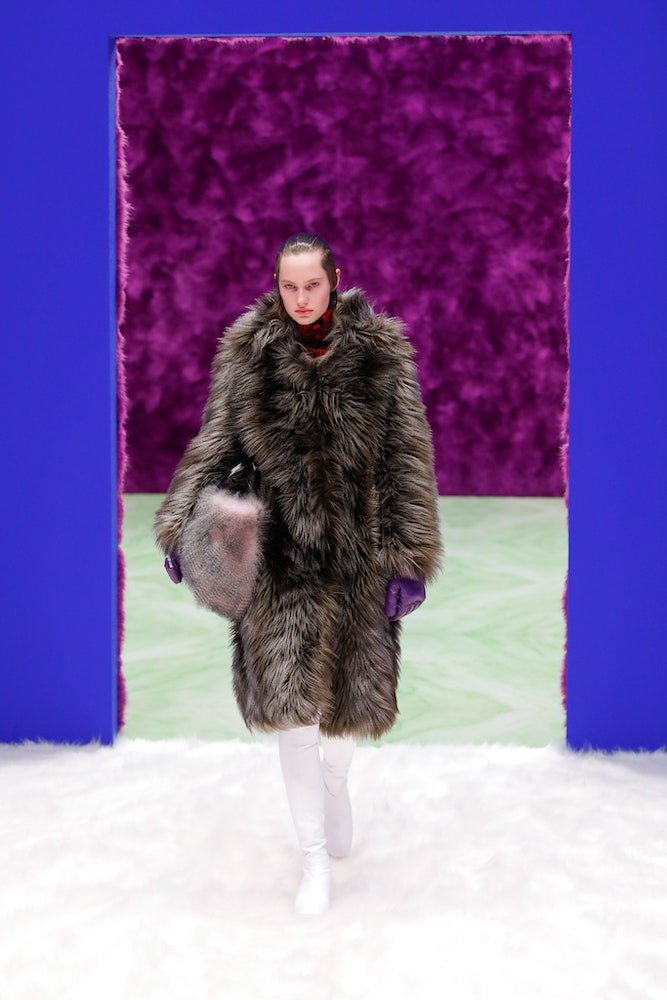 One of the most interesting things about the new Raf x Mrs Prada partnership is how easily ideas slide between the men's and women's collections. The pair introduced their second women's show by stating a belief in the fact, "that men and women each hold the masculine and feminine within themselves." Conventional binaries are only useful to these two designers if they can be cross-examined and transcended.
Using Rem Koolhaas-designed room sets, similar to the ones used for the menswear they showed in January, the co-designers took a matching approach. As with the men's show, a vivid, patterned knitted onesie, formed a vibrant base layer. On top were added clothes that moved with the body. The floaty tunics, fluttering, spilt-thigh midi skirts, and thirties-inspired gowns were a romantic visualisation of kinetic energy.
There was more colour and decoration than in their first women's collection – a sign that they were relaxing into their unique partnership. The designers said in a joint statement that they were interested in flipping meanings and expectations. "This collection explores the space that exists between conventional polar opposites – the point between simplicity and complexity, elegance and practicality, limitation and release, transmuted." That meant the decorative became useful, with little logo purses attached to the back of coats and wraps, or strapped to wrists.
The coats were undoubtedly the stars of the show. There were so many great options: from full-sleeved and feminine, to oversized nylon flight jackets, fake fur chubbies and sequin-lined oblong stoles. In this symphony of opposites, day could also be evening and vice versa. The show ended with a parade of fully sequin, tailored coats. They were cut man-size and worn over tailored jumpsuits, with not a gown in sight.
Photography courtesy of Prada.
The post Prada: Ready-to-wear AW21 appeared first on 10 Magazine.