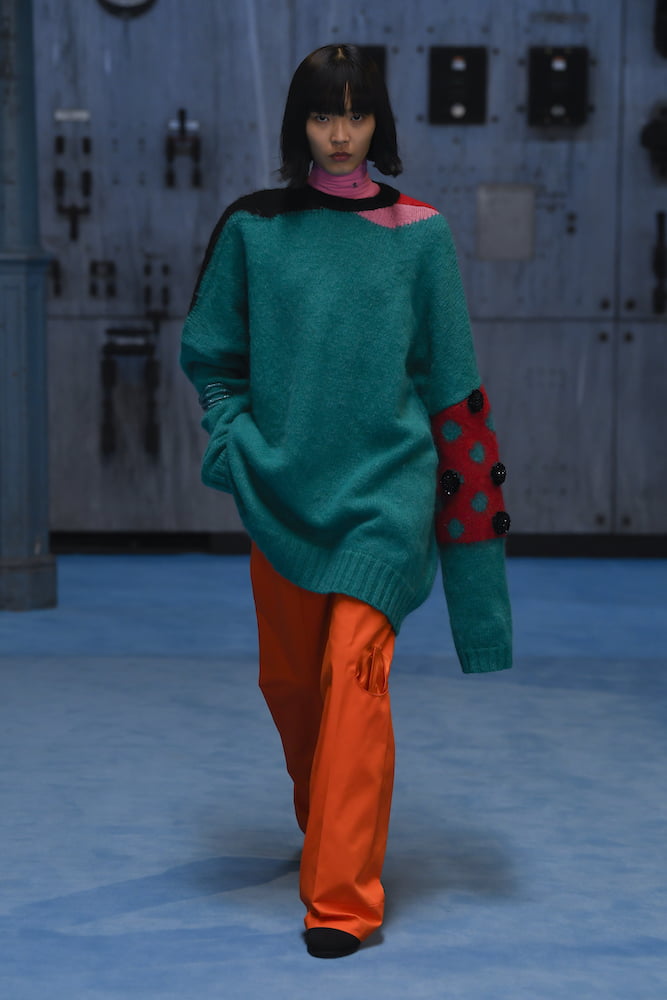 Whilst your average designer might start their collection looking at a book, or a certain art house flick from the 1930s, Raf Simons' AW21 outing was guided by six words. 'ATARAXIA', 'EQUANIMITY', 'DICHOTOMY', 'SYNCHRONICITY', 'ALLEGIANCE' and 'DEVOTION' flashed up on-screen like titles for Hollywood blockbusters, as models strode through what looked like a Marvel villain's evil lair in the brand's new collection film.
It was the second time the Belgian fashion titan showed co-ed; his oversized vision undeniably comes gender-less. The 'EQUANIMITY' was channelled via the calmness of the silhouettes. Both girls and boys wore swollen knits, slouched trousers and quilted jackets in moody hues. Simons was able to discover a 'DICHOTOMY' through a series of juxtapositions that came "with a quiet logic," as pointed out by the show notes.
The cocooned shapes felt almost couture – colour blocked in vivid yellows, blues and pinks, reminiscent of the designer's tenure at Jil Sander – yet remained grounded in youth-centricity. Whether that was open-knit mohair jumpers that were slightly dishevelled, or cartoonishly elongated silhouettes that came blotched with contrasting shades – as if a rebellious teen had taken to their mother's beloved knitwear with paint and bleach.
The 'ALLEGIANCE' and 'DEVOTION' reverberates from the designer's mighty fanbase, who will be proud to sport Simons' name across their necks as this season's tags appear front-and-centre, on a large chunk of the collection. They will also be pleased to know that Simons looked to his own archive to form this season's vision. 'ATARAXIA', the collection's official title means "a state of freedom from emotional disturbance and anxiety, peace of mind, emotional tranquillity." In hellish times, people seek comfort in familiarity, and as pointed out by the press release, "References to history are reassuring." In that department, Simons succeeds with flying colours, simultaneously taking his namesake label to tremendous new heights.
Photography courtesy of Raf Simons. 
The post Raf Simons: Menswear AW21 appeared first on 10 Magazine.