Alber Elbaz had the biggest heart in fashion. His warmth and kindness were legendary and seeped into everything he did. Love and humanity were at the core of his creativity. His beautifully crafted clothes made you feel better. Not just better dressed but and more confident and more yourself.
A great storyteller, his shows thrilled with emotion. He designed with both power and extreme sensitivity. His wit and intelligence made every interaction a pleasure. We would always come away enlightened and armed with a memorable quote. He honed his craft at Geoffrey Beene, the esteemed American couturier and Yves Saint Laurent personally chose him as his ready-to-wear successor in 1998.
His Lanvin years, (2001-2015), brought raw zippers and a couture-infused elegance to the fore but his starting point was always the needs of the women who wore his clothes. He was generous with his wisdom, and was keen to pass it on to the next generation, frequently lecturing at St Martins. His latest project, AZ Factory – inclusive, forward-thinking and designed for women of all shapes and sizes – was a joyful reimagining of the fashion system.
Whatever the house, his mission in fashion was always the same: "To make women feel and look beautiful." The news of his death from Covid, at just 59, has shocked the fashion world. We have lost a soaring talent and a beloved figure. Here is a look back to 2010. Marking his first decade at Lanvin, Elbaz graced the cover of this magazine's 10th anniversary, 'Fashion Gods' issue, and talked to the (equally) legendary journalist, Colin McDowell. Claudia Croft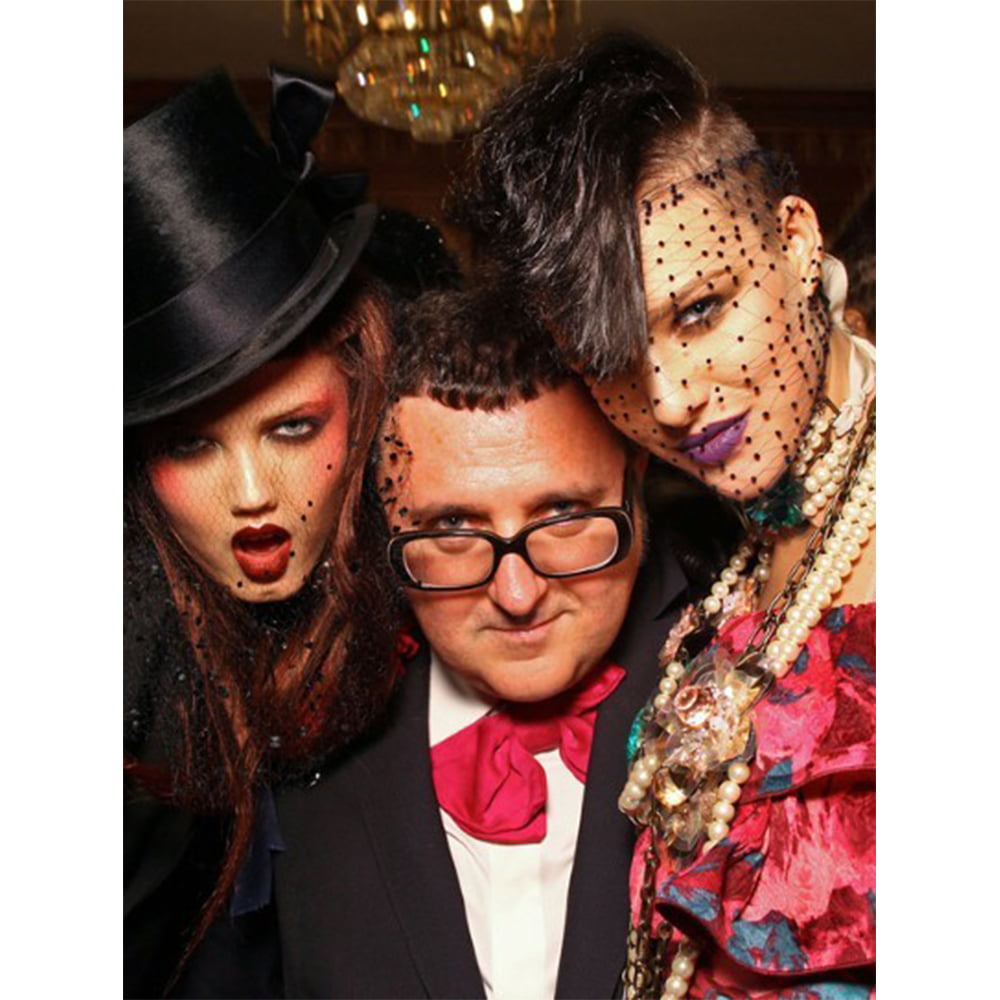 How many designers are actually loved by colleagues, as opposed to being merely admired or respected? Very few, I would suggest. But one whom there can be no doubt that both attitudes fit is Alber Elbaz. And the reason is not hard to find. Elbaz is surely the most modest designer in the world, despite the fact that his creativity burns with a powerful light that makes him a leader of style, beauty and femininity. But for all that, he knows his worth because he knows himself. He loves women and he loves the fabric with which he drapes and cuts the most elegantly dégagé clothes in Paris, and indeed the world. Truly sophisticated fashion followers from teens to those in their sixties fall for everything he creates, aware of the skills that make them feel like a supermodel from the 1950s the moment they slip a Lanvin dress on.
This is because Elbaz understands how to create seductive clothes that honour both the cloth and the wearer without ever sacrificing modernity. The elegance that comes naturally the moment his expressive hands pick up a pair of scissors is a reflection of his deep thinking on a variety of subjects and his passion for love, life and liberty – in dress as in everything else in life. There are many fairy tales about magic tailors who created perfect gowns that turned a scullery maid into a princess, and Elbaz is their descendant, a modern alchemist whose legerdemain is inspired – and inspires women the moment they try on one of his perfect creations. They know immediately that they are in the hands of a maestro who will never let them down.
The Elbaz woman is refined and of the highest taste. She knows her worth, but never overstates it in her appearance. For her, two perfect Elbaz creations each season are enough to keep her wardrobe fresh and her feeling young. She never needs to be flashy and turns again and again to Elbaz because she shares his constancy of outlook, in life as well as clothes.
What were you doing 10 years ago?
"Just arrived at Lanvin with the mission to 'wake up the sleeping beauty'."
How has your approach to fashion changed over the past 10 years?
"It has always been the same: to make women feel and look beautiful."
In what ways are personal appearance and lifestyle important to you?
"Women and men have to feel confident and comfortable in what they are wearing, whatever lifestyle they lead."
Ten is considered a talismanic number. What does it mean to you?
"Perfection, the perfect 10."
Fashion is changing rapidly. How will it affect you in how you present your clothes in order to reach the maximum audience – and how will that audience differ from the traditional one?
"It's not just about how big an audience you reach, but more importantly, how to be unique and different. And only then will the audience reach you."

Lanvin AW21.
When you were young – say 10, or a teenager – what were your ambitions?
"When I was young, I dreamed of being a fashion designer. Now, my dream is to be a doctor, to make people feel good."
Outside of fashion, what are things that make you happy or sad?
"People around me who I share my life with make me happy and sad."
What are the true inspirations for you – in your life and in your designing?
"Imaginary travelling to fantasy places in my head."
If you could spend 10 days totally away from fashion and your present life, how would you spend them?
"To go and see my sisters to just sit and do nothing."
In 10 years time what sort of life do you expect to be living?
"I hope I'll be retired from fashion! I miss you, Colin! Love, Alber."
Taken from Issue 35 of 10 Magazine. Top image by Julio Pattui and Tom De Ruitter. 
The post Remembering Alber Elbaz: We Look Back at Colin McDowell's Interview with the Spellbinding Designer Inside Our 10th Anniversary Issue appeared first on 10 Magazine.