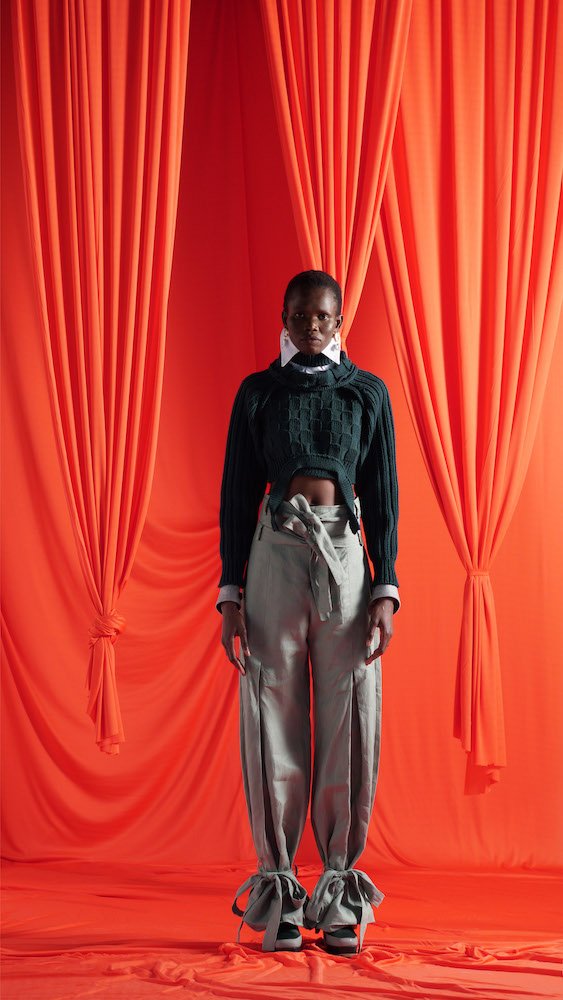 For Richard Malone, the starting point to a collection always feeds off the wants and desires of his trusted clientele. He describes his signature sculptural pieces as the "bread and butter" of his business, and most of the women who buy from him each season come directly to Malone's Seven Sisters studio to have their orders tailored to them. "We have quite open conversations about costs, form and colour," says Malone over Zoom. "It always feels more like a dialogue as opposed to me trying to define what the customer, whoever that is, wants to buy."
Whilst the pandemic may have pushed a gaggle of Malone's London-based contemporaries to put their direct-to-consumer hats on, it's a way of managing his business that's worked for the Irish designer since founding his label in 2014. "When I worked at bigger luxury brands in Paris, there would always be some CEO, who is inevitably a white European straight man, telling us who this 'Imagined woman' is," he sighs. "It's so patronising to be like 'Oh all she does is buy clothes' – does she fuck!"
Longevity to Malone means being able to develop a language across seasons, looking out for those who support your brand over jumping on whatever's zeitgeisty at the time. Instead, his hand is guided by those who wear his pieces and informed by the women who make up his team. This season, the Wexford-born designer wanted to evoke "a distinct sense of place," where his community of craftspeople across the country – from Mourne Textiles in Newry who makes his handwoven Irish wools, to Wexford's Emblem Weavers who specialise in handwoven Irish linen – have the space to excel at what they're good at. And be paid properly for it, also. (Each person in Malone's supply chain is paid above London living wage.)
"No one ever talks about that it's always called 'craft' as a derogatory thing, it's never called a fine art," he says. Growing up surrounded by nurses and carpenters, to this day, Malone considers those who work with their hands the most skilled in the country. "It's really important to centre craftspeople in what we do," he says.
The silhouettes and cuts this season nod to working-class uniforms – without self-fetishising Malone's own backstory – whether that's trousers that come with detachable pannier-hip aprons, or a woollen coat that resembles that of a medical uniform. Whilst rushed pencil skirts and dresses appear prim and proper, their jersey construction allows for free movement. "Malone's sensitivity to colour, structure, volume and form was built not in the hallowed halls of university libraries or during his years within the ateliers of French luxury houses, but nurtured on building sites and observed in his grandmother's kitchen," reads the show notes. 
There's a transparency to Malone that is missing from the wider industry. Working with recycled yarns, hand-dying techniques and sourcing domestically since the jump, it's vital to the designer that he has an open dialogue with his customers about how his brand is future-proofing itself with every collection. And if that means having to jump on a waiting list before you can splash out on your own Richard Malone leather coat – which are made-to-order, using deadstock off-cuts – so be it.
Photography by Isabel Amelia Garrett.
The post Richard Malone: Ready-to-wear AW21 appeared first on 10 Magazine.