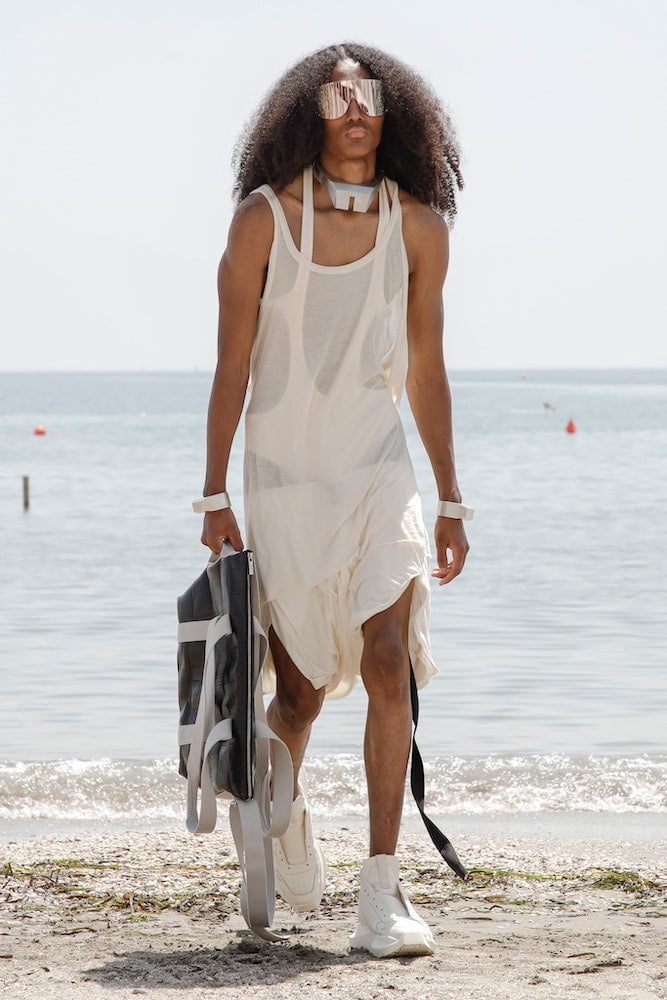 Perhaps it was the mini fog machines integrated into the outfits, but Rick Owens' models had the heroic countenance of mythic figures – equal parts shaman and showman, they exuded rebel glamour and rock-god masculinity.
This was the last of Owens' pandemic shows in Venice and it was terrific.  As bewildered tourists, sunbathing outside the Excelsior Hotel, looked on, his models stalked the shore of the Venice Lido wearing platform boots, cut-away bodysuits and pagoda-shouldered jackets, eyes hidden behind impenetrable visors, leaving a trail of fog in their wake. The silhouettes – giant shoulders, slender torsos and puddling trousers in off-white shades – were a signature Owens combination of the extreme and extraordinary. They were, he said, his version of an "elegant hippie'.
The designer has a sixth sense for things and he's anticipating a huge outpouring of pleasure-seeking, post-pandemic. He's all for setting one's desires, "but I didn't want entitled hedonism. I wanted grateful hedonism". He's expressing that with his own unique flamboyance, doubling down on craft and working with specialist ateliers, including the silversmith Goossens and French feather workshop Maison Février, which made Josephine Baker's stage plumes.
Explaining his approach, he said: "All my career I've tried to gently introduce a little bit of excess into everyday wear. Like even with a T-shirt that's a little bit longer and has a little bit more drape and that takes up a little bit more space. It has a little bit more pageantry to it. I mean, it can happen with T-shirts, it can happen with black shorts, it can happen with sneakers. I think my main motivation is to exoticize the mundane." 
Photography courtesy of Rick Owens.
The post Rick Owens: Menswear SS22 appeared first on 10 Magazine.