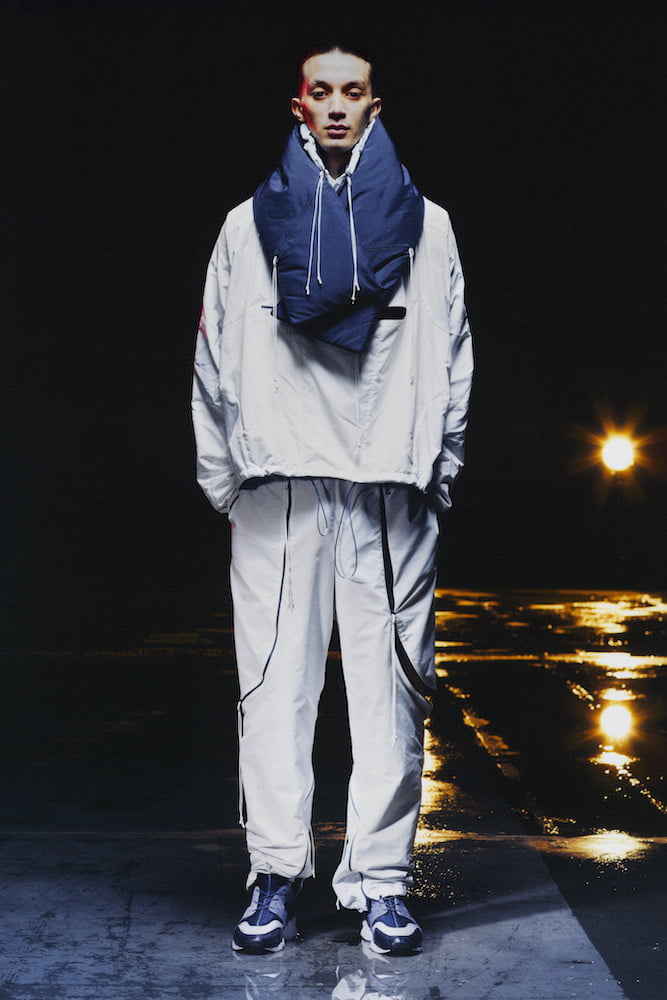 A common theme threaded throughout Saul Nash's work is self-liberation. For the past three seasons, showing as part of Fashion East, the Royal College of Art alum has specialised in technical sportswear. Spurred by his training as a dancer, Nash's garments are built for performance – cut with kinetic movement and engineered with zips and drawstrings which allow the wearer to expose breathable, mesh lining for maximum comfortability.
Though, the interchangeable nature of Nash's designs serves a second purpose. He presents his collections via emotive performances centred around this idea of freeing oneself from the shackles of rigid masculinity – channelled through the unzipping and peeling away of garments. "There are layers to how you put yourself together as a man; what you choose to show and what you choose to hide," says Nash. "I want to represent a spectrum of men."
His latest collection – his first since graduating from Fashion East – once more looks to the story behind man, in particular, himself. In a film called Twist, directed by Nash's partner and on-going collaborator, FX Goby, the designer aims to shatter preconceived assumptions around lads who are commonly associated with sportswear, underlined by his own struggles coming to terms with being gay whilst growing up in London. "There's always been these kinds of ideologies of what builds a man around me. I remember being in school and getting laughed at for wearing skinny jeans one day. Sportswear, I guess out of necessity, became an integral part of my wardrobe," he explains.
In what appears to be two men squaring up to one another, a group quickly gathers around, egging them on. Much to their surprise, the two men begin to kiss, leading the unit to become conjoined – with a sense of relief suspended in the air as each begins to unveil their vulnerable side.
The silhouettes they wear are bolder and the fabrics are heavier than we're used to from Nash, such as padded coats and Primaloft-insulated gilets, as well as fleece-backed jersey tops. "Where before you had this kind of sensation of air in the garments, this season it's almost like warmth, or creating layers around the body, which then can be stripped back or built up," says Nash. Softshell anoraks are directly inspired by one Nash wore as a teenager, stamped with patches of the designer which are about to embrace into a kiss – a symbol of self-acceptance. "There's no space for prejudice in my world," he says.
Photography by Scandebergs.
The post Saul Nash: Menswear AW21 appeared first on 10 Magazine.