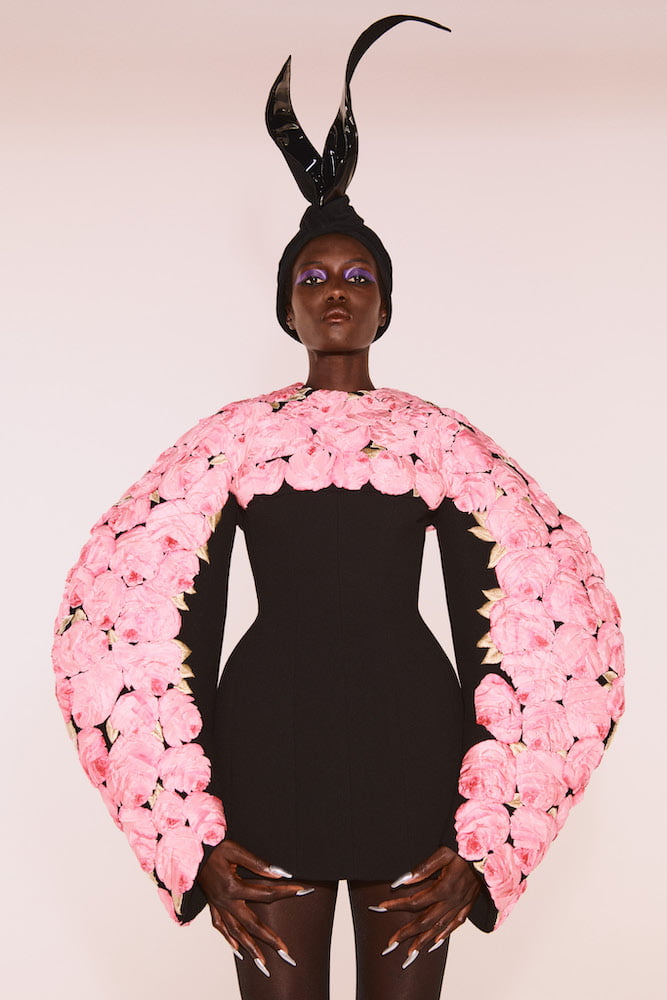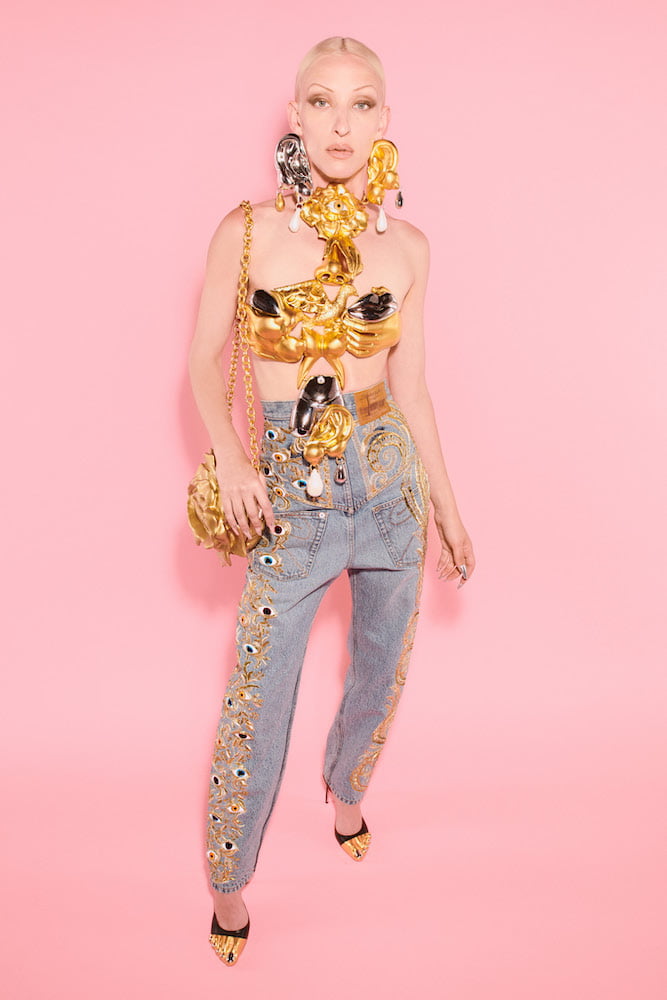 "This collection is a total surrender to the iconic codes of couture, to the point of fetishisation," says Schiaparelli's Daniel Roseberry, who is carving himself as one of fashion's true showmen. Through the pandemic, the American designer has propelled himself to be one of the industry's buzziest designers, pushing the surrealist codes of the Schiaparelli house to wacky, new heights.
"Elsa Schiaparelli's work influenced some of the greatest couturiers in fashion. Yves Saint Laurent even did an entire collection dedicated to her," explains Roseberry, who used his latest collection to connect with Elsa's contribution to couture. "You can find a lot of references in couture collections to other iconic moments in couture, I wanted to participate actively in that conversation."
Whilst in previous collections Roseberry has purposely set out to defy the meaning of couture – pairing chiseled bodices alongside boxers and gold-plated toe boots – this season, he "felt the freedom to make something fiercely, undeniably, unapologetically pretty".
The collection is split into three parts. The first is dedicated to iconic Schiaparelli tailoring, "the world of the embroidered tailleur". The collection's standout is a matador-inspired cropped jacket with a gold breast, black silk tassels and embellished barrel sleeves, using embroidery skills and crystals from 1938. Through the collection, Roseberry references Saint Laurent's referencing of Schiaparelli, and pays homage to Jean Cocteau x Schiaparelli's seminal 1973 rose-laden collaboration with a black wool crepe which is heavily embroidered with dozens of shell-pink silk roses.
Despite shifting his gaze to the ethereal qualities of couture, that's not to say Roseberry hasn't had his disruptive hat on. For the collection's second chapter, which focuses on the body and its relationship to bijoux, Roseberry's layers a delicate pair of human lungs over a stole which is made from black shredded bin bags that are knit together in pure silk. He pairs a bustier of gold body parts with embroidered jeans made from upcycled denim, and perforates lavish evening gowns with even more accentuated body parts.
Although these pieces won't be for everyone, you have to applaud Roseberry's sheer determination to create fashion that causes a stir. Like the Lacroix's, Saint Laurent's and Schiaparelli's before him, this designer is shaping up to be one great couturier.
Photography courtesy of Schiaparelli.
The post Schiaparelli: Couture AW21 appeared first on 10 Magazine.