A Dividend Aristocrat is a company in the S&P 500 index that has paid and increased its dividend payout every year for at least 25 consecutive years. You're looking at companies that have had such reliable profits over multiple economic cycles that they can just keep sending checks to their shareholders every quarter while still not only maintaining but growing their business. Visual Capitalist just created a Dividend Aristocrat infographic that shows all 65 companies on the 2021 list, charted by current dividend yield and years of consecutive dividend growth.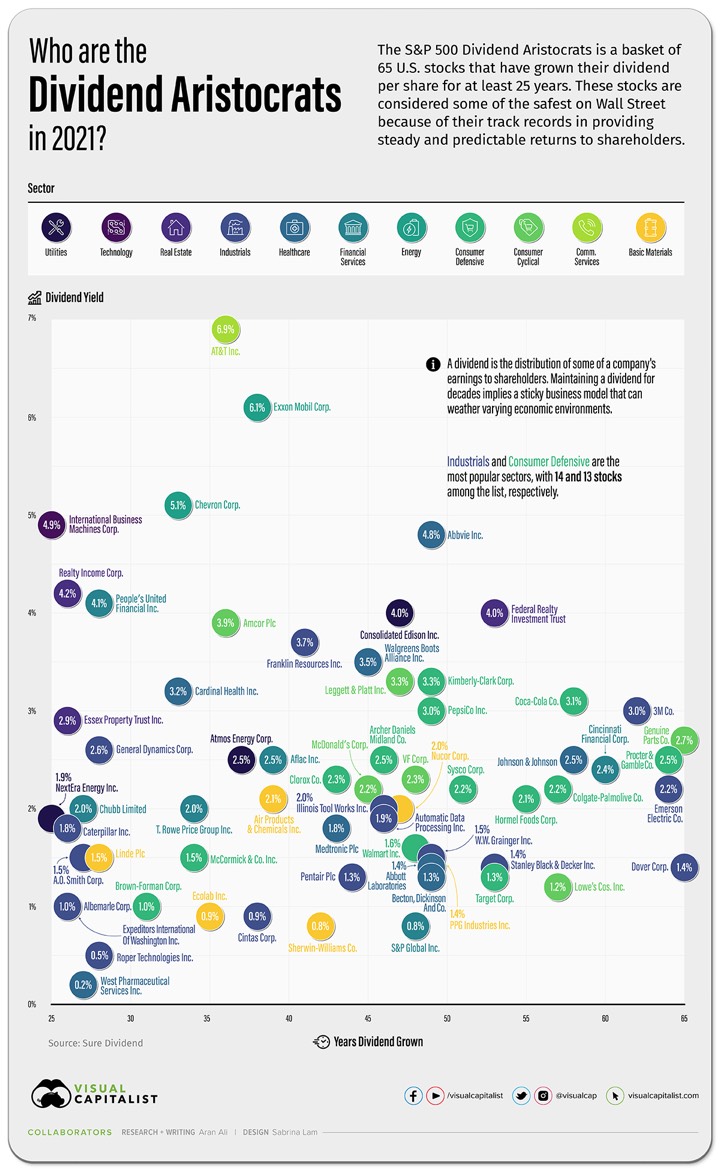 Genuine Parts (GPC) and Dover Corp (DOV) have increased their dividend payout for 65 consecutive years!
Each year, some companies may be added or removed. For example, new in 2021 are IBM (IBM), NextEra Energy (NEE) and West Pharmaceutical Services (WST). Removed in 2021 are Raytheon (RTX), Carrier Global (CARR), Otis Worldwide (OTIS), Church and Dwight (CHD), and Stryker Corporation (SYK). Note that companies are sometimes removed because they were acquired by another company without the same dividend history.
I've always maintained a small side account where I own individual stocks and alternative investments. "Play Money", "Mad Money", "Fun Money", whatever you want to call it. Even though it is only a small percentage of my net worth, I have enjoyed growing it over time and learning from the process. For example, I have found that in times of crisis, I am actually more comfortable buying more of the individual companies inside my self-directed account than buying my trusty broad index funds. I'm also a very low turnover investor, and usually make fewer trades per year than fingers on my hands.
I don't solely buy companies on this list, but many of the companies are good research ideas if you like to learn about history. I prefer the idea of reliable and growing dividend income, not just momentarily "high" dividend yield. Of course, there are many solid companies that don't satisfy the requirements for this list, and even list includes questionable companies will be eventually cut (like AT&T, which has already announced a future dividend cut even though still on this chart).
"The editorial content here is not provided by any of the companies mentioned, and has not been reviewed, approved or otherwise endorsed by any of these entities. Opinions expressed here are the author's alone. This email may contain links through which we are compensated when you click on or are approved for offers."
S&P 500 Dividend Aristocrats Infographic: Current Dividend Yield vs. Years of Consecutive Dividend Growth from My Money Blog.
---
Copyright © 2004-2021 MyMoneyBlog.com. All Rights Reserved. Do not re-syndicate without permission.