As a rule of thumb, the absolute worst-case scenario you could encounter while being hosted by Chanel for a Métiers d'art show is still pretty fabulous. That's how Chanel rolls. Allow me to set the scene. An early-December lunchtime, the Place Vendôme, Paris. Outside, all is blue sky and sunshine; inside, it's red velvet and twinkling lights.
A flock of fashion editors has commandeered all the best seats in the Ritz's Bar Vendôme restaurant – the circular banquettes for six, obviously – and we are nibbling on smoked salmon canapés while whipping ourselves up into a panic. We may, it seems, be stranded here at the Ritz.
A mile westward at the Grand Palais, final preparations are abuzz for Virginie Viard's first Métiers d'art show as sole creative director, which is to be staged that evening, but for now the only topic of conversation is the general strike that is scheduled to hit the city the following morning. Eurostar is in chaos and flights are being cancelled by the second as the scale of the looming protest becomes clear. There is an air of borderline hysteria. Will anyone be able to get home to London tomorrow? Our Chanel hosts are very concerned and pulling all possible strings to alleviate the inconvenience. For now, there's nothing for it but to order lunch. (The go-to order, in case you were wondering: a chicken caesar salad with the anchovies and dressing on the side, a Coke Zero and a glass of champagne.) The worst-case scenario? We will have to stay an extra night or two at the Ritz, until Chanel can organise a jet to take us home. Like I say: as nightmare scenarios go, it could certainly be worse.
If you take a left out of the Bar Vendôme, follow the line of chandeliers all the way to the end of the plushly carpeted lobby and then past the gallery of extremely smart gift shops that runs alongside the hotel's lush inner courtyard to the cocktail bar, you will find yourself at the back entrance to the hotel. Exit here, onto the Rue Cambon, and you find yourself facing the exact address from which this Métiers d'art show takes its name: 31 Rue Cambon, the birthplace of the Chanel legend, where Coco lived in a private apartment, where Karl Lagerfeld presided for many years, and where Viard is now installed in the high-command room on the top floor. Inside, a mirrored staircase runs from the haute couture salon on the first floor, past Gabrielle Chanel's apartment on the second floor, to the third- floor studio. The staircase was installed by the founder in the early 1920s – she liked to perch on a high tread, out of sight of the audience, while her shows were being staged in the salon, and observe without being seen. With its cubist faceted mirrors and beige carpet trimmed with white, it has become an icon in its own right. Nearly a century later, it plays a central role in the creative process of Chanel's second female designer, Viard. "I think about the staircase first – I imagine a girl walking down it," she says. "Wearing which dress? Which shoes?" And today, it is to be recreated as the stage set for the show.
This Métiers d'art show being a Parisian homecoming home for Chanel, this expedition began for us fashion travellers not with a long journey to Rome or New York – where Lagerfeld's final, ancient-Egyptian-themed Métiers d'art was held at the end of 2018 – but at the Eurostar terminal at St Pancras station. Spotting the distinctive, Alaïa-booted silhouette of 10's very own Sophia Neophitou ahead of me, I gave her a wink – much to the surprise of the guard who, stepping forward to security-check me at that moment, caught my eye and thought the wink was directed at him. If you're reading this, sir, my apologies – I didn't mean to be frisky, I was just in a good mood. A mood that was only improved by checking into the Ritz on arrival in Paris. It was almost time for lunch, so I only just had time to coo over the welcome gifts left next to the camellia-embossed show invitation: a quintet of five lemon-zest-spiked madeleines from the Ritz boulangerie, and a bouquet of wheat, sprayed gold – a nod to the wheat sheaves that Gabrielle Chanel, believing them to be a lucky charm, had sculpted as the foot of a gilded table by Goossens, the goldsmith that, today, will be one of the artisan ateliers honoured by Chanel with the Métiers d'art.
After lunch, four of our gang of Brits – Anders Christian Madsen from British Vogue, Harry Walker from The Times, Charlie Gowans-Eglinton from The Telegraph and me – drive through the twinkling lights of Paris to the Grand Palais, for a pre-show interview with Chanel's president of fashion, Bruno Pavlovsky. Today is the first Chanel show since professional gate-crasher Marie Benoliel cast herself in the finale of the SS20 show, racing from her back-row seat to join the model line-up, and security has been amped up to a degree that suggests Chanel, despite having graciously seen the funny side of the prank on the day, would rather not see a repeat, so it takes 20 minutes of iPad swiping, ID checking and bag scanning to get in. Eventually, we are ushered through to the entrance hall, which is lined with Christmas trees bedecked with hundreds of white silk camellias (fairy lights, but make it Chanel).
The sky above the soaring glass roof is darkening from blue to navy as the final hours count down to this evening's show. In the centre of the giant space, the choreography of the show is being rehearsed with the models, who are in their civilian clothes, wrapped up warm against the December chill. Gigi Hadid is in a wool coat, baggy jeans and chunky boots. Lineisy Montero has her specs on. The staircase made for the show is a larger-than-life reproduction, its sweeping curves supersized from the bijou scale of the Rue Cambon townhouse to one that can accommodate a blockbuster cast of models. The mirrored panels gleam and sparkle, crisp as a snowscape under vast chandeliers, and the plush carpet is snow white. The blue plastic shoe covers being worn by everyone on set to ensure perfection lasts un- til showtime are a jarring but necessary accessory at this point.
Pavlovsky's show-day war room is on the far side of the set, so to avoid causing a Benoliel-style gate-crashing of the rehearsal, we hang in the shadows by the snack station, which consists of two coffee machines and an enormous bowl of Haribos. (It is a little-known fact that fashion people, like hummingbirds, snack on titbits of sugar all day.) The models are being coached in how they will elegantly vacate the staircase after they have gathered around Viard for a group shot at the end of tonight's show. "Not too slow! No gaps please! Go, go, go! Follow her!" comes a booming voice over the microphone."Not like that! Not too fast! Not all at once! OK, break. Come back in five minutes, please." We take our opportunity to tiptoe across the set and find Pavlovsky, who is dressed, as ever, in a dark suit and tie, as smiling and kind as the choreographer is brusque.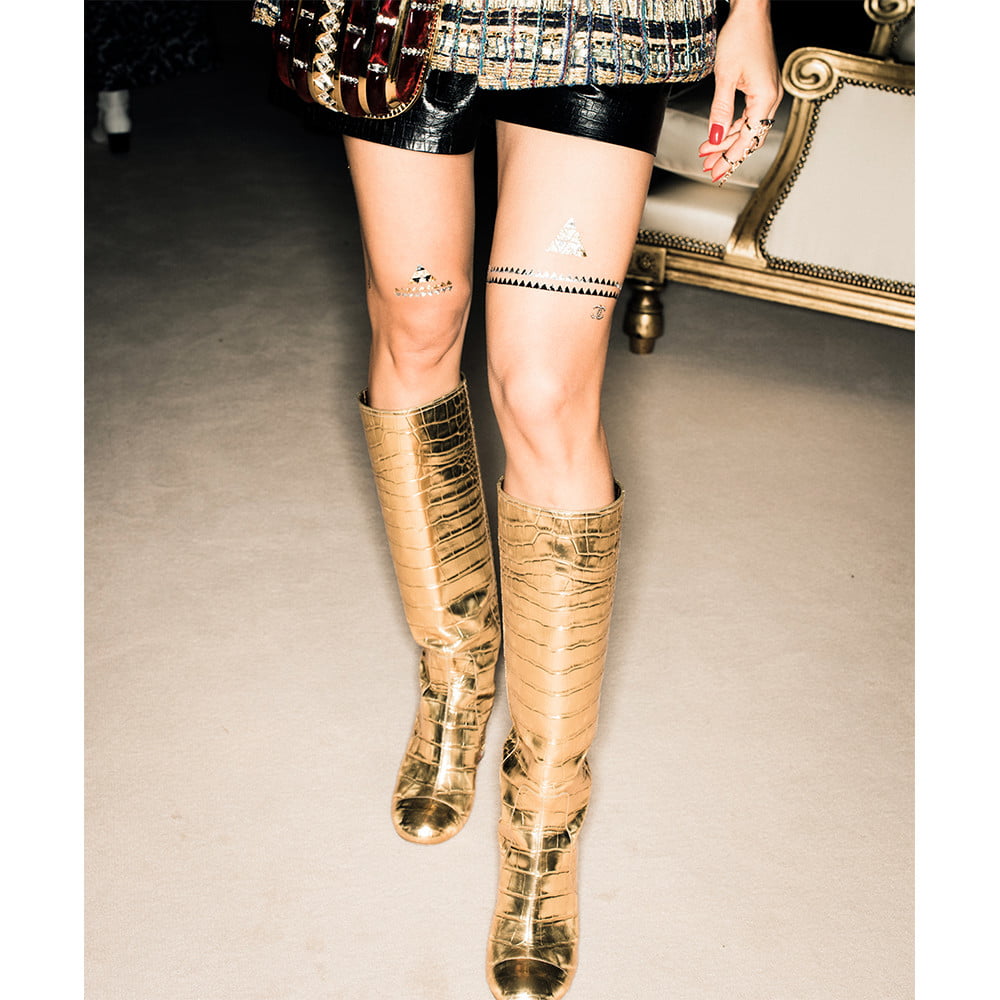 He is lavish with his praise for Viard, reporting that the sales of her cruise looks – the first collection on which she worked with no input from Lagerfeld – are brisk. "One of our most successful cruise collections ever, in fact," he says. Today's celebration of the Rue Cambon is "Virginie's contribution to the next step of the brand", he says. "Now, we have her vision. Everything that Virginie knows comes from Karl, so there is no rupture. It's very natural, a continuation. But still, being number one is a very different job from being number two to Kaiser Karl." As they were in Coco's day, women are in the Chanel driving seat. Viard has collaborated for this show with the filmmaker Sofia Coppola. "They have been friends for a long time," says Pavlovsky. "It is interesting to see the conversation between them."
Unique is an overused word in luxury, but Métiers d'art is genuinely unique to Chanel. With Viard so recently installed, the focus is trained on the designer, but the real stars of this annual show are the embroiderers, feather makers, pleaters, shoemakers, milliners, silk-flower artists and glove makers who breathe life into the designs. This is to be a landmark year for the ateliers, with the opening of a custom-built five-storey headquarters in Aubervilliers, designed by the award-winning, Marseilles-based architect Rudy Ricciotti, which will provide a 21st-century workspace for these traditional crafts – and therefore, Pavlov- sky hopes, enable the ateliers to attract the best youthful talent. "Every year we recruit about 60 people across the ateliers. We need to propose something that is interesting and exciting for these young people."
After the speediest change back in our rooms, we return to the Grand Palais, clutching our show invitations, to find the transformation into Rue Cambon complete. Kristen Stewart in a black playsuit is lounging against a coromandel screen, reproduced from those in Mademoiselle's apartment. Vanessa Paradis and her daughter Lily-Rose Depp perch on silk sofas in one of the vignette-sized room sets that surround the catwalk space. The show is peppered with Chanel icons: fistfuls of pearls, No 5 bottles and a birdcage minaudiere that recalls the iconic 1992 fragrance campaign for which Paradis posed as a tiny Chanel songbird in a giant cage. There are tweed suits with a slice of bare skin at the waistband, and icily elegant white satin columns for evening. And then the girls pose on the staircase and disperse perfectly, all that practice having paid off, making their exit just as liveried waiters with trays of cubed smoked salmon glide out from behind unseen doors, bringing cocktails and canapés to fortify the audience for the drive across the river for the after-show dinner.
To walk through the doors of La Coupole is to be transported to Paris in the jazz age. The legendary brasserie opened in 1927, the height of the Roaring Twenties in the City of Lights, when Coco herself was sketching little black dresses just across the Seine, and the city thrummed with artistic and literary life. The decor is a shrine to art deco, unchanged in almost a century. There are wall-length mirrors and a phalanx of waiter stations, each piled with white linens and gleaming glass. There are spacious booths topped by polished brass rails and backed by wall-length mirrors, so that every member of the party can see and be seen. There are glowing lamps, aproned staff, leather-backed menus.
Actors Penélope Cruz, Marion Cotillard, Isabelle Adjani, Carole Bouquet and Margaret Qualley are all squeezed onto the banquettes tonight. But then, La Coupole is accustomed to famous faces. Simone de Beauvoir and Jean-Paul Sartre liked to eat here (they argued a lot; he was a good tipper). Josephine Baker and Édith Piaf were regulars. Table 149 was Albert Camus' usual choice, and was where he celebrated winning the Nobel prize for literature in 1957; table 73 was Marc Cha- gall's spot for a birthday dinner; table 82 was often reserved for François Mitterrand, and was where he ate his last meal – the lamb curry, a house speciality, fashionably exotic when the restaurant opened.
Tonight we start with coupes of Louis Roederer champagne, followed by devilled eggs with truffle, and old-fashioned braised beef with mashed potatoes. Chat ranges from how many calories are burned by having a bath – the same number as a vigorous 30-minute walk, it seems, go figure – to the awkwardness of sharing a lift with Anna Wintour from the hotel spa back to one's room after a facial that has left your hair an oily halo of frizz. And then, with Hadid leading from the front, the models are the first downstairs and onto the dancefloor at La Coupole's famous subterranean nightclub.
With Eurostar cancelled and flights in disarray, our call time for the only flight out of Paris is 4.30am, a little earlier than one would ideally rise from a dreamily comfortable Ritz bed. But the Chanel magic holds, and our flight takes off in heavy fog and despite a strike crippling much of the city. In the baggage compartment above rows 1 to 3 is a line of stiff white hatboxes, each holding a spray of gold wheat sheaves, brought home as a festive keepsake. And beside those, a stack of Ritz-embossed boxes of lemon-zest madeleines. Like Proust said, madeleines can bring back memories. Not that a Chanel trip can ever be forgotten.
Photography by Bastian Thiery. Taken from Issue 65 of 10 Magazine – FAMILY, FOREVER, LOVE – available to purchase here.
The post Staircase to Heaven: Jess Cartner-Moorley Reports from the Chanel Métiers d'art 2020 show appeared first on 10 Magazine.