New York, here I come and all the omens are good. I touch down and sail though security. I don't feel tired and, despite the Christmas decorations festooning Manhattan's avenues, it's not cold. Things go from good to great. The Bowery Hotel is dark and cosy. It's like staying in a marsupial's pouch, with perfect martinis on tap.
This is the ultimate New York safe space, and the incredibly flattering light in the bathrooms is a bonus. Good lighting is the equivalent of taking an antidepressant with no side effects. It lifts your mood like nothing else. After taking several "10 years younger" selfies in my bathroom mirror, I head down to dinner with Sugar, Dylan, and Isabella from Love. We eat braised sprouts and drink nutty red wine with ice cubes in it. Isabella swears by this as a way of avoiding hangovers and I believe her. She's one of those lucky girls who never looks like the night before has got the better of her. I dream of MGM musicals, a lost handbag and bacon bagels.
I love New York mornings. I wake up early and head to the gym, which is in the enamel-tiled basement of the hotel, with a Persian rug for doing weights on. Then it's breakfast – another New York ritual that never gets old. I've got time on my hands and I'm feeling indulgent so I over-order and eat it all. The Moschino pre-fall show isn't until this evening, so I have my fill of roasted heritage tomatoes, crispy bacon (dreams can come true) and runny eggs.
I walk it off, exploring the Lower East Side. I come across Tokio 7. This vintage store has racks of amazing Junya, Comme and Romeo Gigli. There are Marc Jacobs show pieces (how did a SS19 sparkly black lamé babydoll dress end up here?). There's also a fabulous Marc halter frock from SS02 that was worn by Tasha Tilberg in the show. It's teeny-tiny but good to see. I remember that New York show era. I stayed in beige splendour at Morgans and ordered excessive amounts of Asia de Cuba and room-service sushi on The Sunday Times' dime. Ha! I come away from the bunker-like store with a fabulous 1990s Donna Karan cross-over-strap sundress.
It's raining hard as we head through the New York night to a former subway station that's now the city's Transit Museum. This is the setting for Jeremy Scott's Moschino pre-fall show. It's the first time he's brought Moschino to the US and he's keen to give us an authentic NYC experience. As a wide-eyed kid from Kansas City, Missouri, Scott made his first stop on his journey to the top of international fashion the Pratt Institute's fashion course. In his formative student years, he would whizz all over the city on the subway and found that there was no better place to witness New York's melting-pot individualism than the heavily graffitied carriages of its trains.
Street style goes to the very soul of this city. In LA, where Scott now lives, nobody walks and people use cars to telegraph their status and identity. "But in New York, it's you," he says, gesturing from top to toe. He remembers revelling in the fashion freedom that city life afforded him. "It was a different fashion show every day – everything from the 1800s to the 1980s," he says of his student looks. "In Kansas I was hated on for how I dressed, but in New York, people would say, 'Wow! I love your parasol.'"
Unfettered, celebratory, affirmative and joyful – self-expression is at the core of Scott's approach to life. It's also part of New York's DNA, so this was always going to be a memorable Moschino show. Scott's mantra? Take the commute but make it fashion. The museum's line-up of vintage subway carriages became his catwalk, with the audience sitting on passenger seats as his Moschino models swished past. "I love this idea because it's everything about New York. We always talk about high and low and the subway goes literally high and low – Uptown and Downtown – and that mix is something that is quintessential to my aesthetic," says Scott, just minutes before the show was due to start.
Cara Taylor butts in to show Jeremy her manicure (by Mei) – jet black to match her oversized leather jacket and edged in gold chains, like the oversized ones she has slung around her neck. "I don't like it," she says, wiggling her fingers around with a dramatic flourish. "I love it!" The other models are clearly thrilled with their looks, too. Clusters of boys speaking Spanish (the casting was authentic melting-pot New York) break off from their chat to show off tracksuits edged in heavy gold chains and coats covered in boombox prints.
Scott took the elements of the hip-hop-infused street style that loomed large over his NYC youth – baseball caps, chains, logos, oversized down-filled jackets – and interbred them with Uptown tropes. Stella Maxwell, her hair rippling with marcel waves, vamped it up in an outfit that was a cross between a sassy tracksuit and a tweedy Uptown skirt suit. It felt like New York on a cocktail of steroids and happy pills.
As if that wasn't a giddy enough potion, Scott pumped some pieces up to XXL, meme-worthy proportions – supersize baseball caps and down jackets, as well as a backpack as big as the boy carrying it. Toting clutches shaped like Bic lighters and Slurpee cups, the diverse cast played every kind of New Yorker, from the chichi lady in her Upper East Side tweeds to the career woman wearing a belted mac and high pumps, and the boombox kids in their exaggerated streetwear with supersize gold chains and bedazzled macro Moschino nameplates hanging from their necks.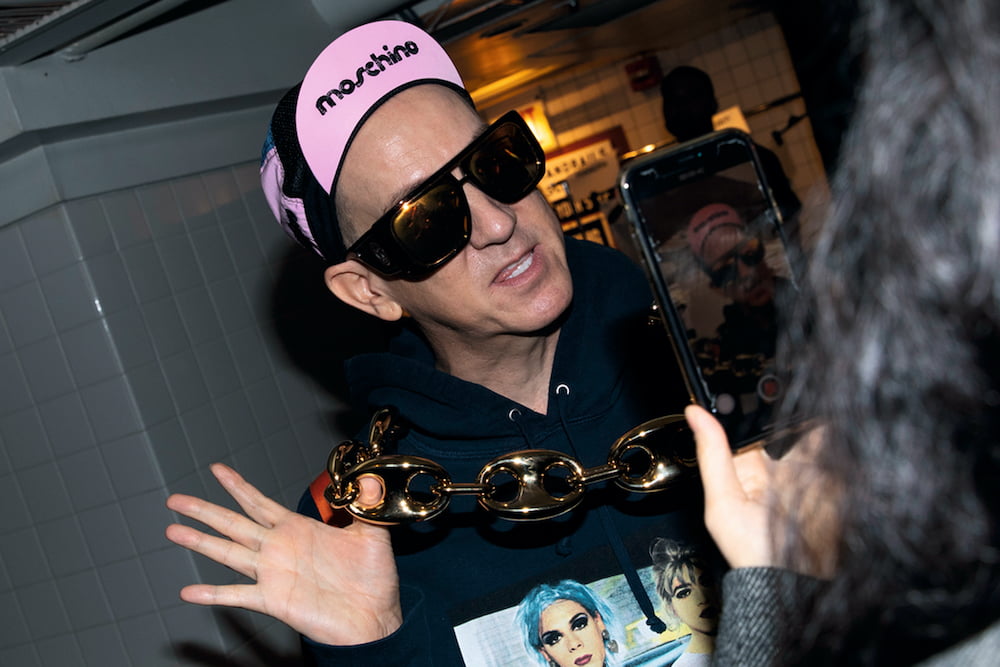 "Fashion has to be fun. There is enough stuff in the world – it has to bring joy. Oh my God, I sound like Marie Kondo," says Scott of his feelgood fashion philosophy. The reaction he's aiming for? "I want that! I've never seen it like that! It speaks to me! With everything I design, I want to put a smile on people's faces and make people dream."
The lols don't stop with the show. Everyone heads down to a humble dollar-a-slice Downtown pizza parlour for the after-party. The place is tiny but we all cram in. I share a pizza with Moschino super-client @therealfashionblogger. A major fashion collector (Hermès and Chanel are her favourites), her day job as a barrister fits round her show-going schedule. She's carrying the slot machine clutch from Moschino's game-show- themed AW19 collection and says, "Jeremy brings so much fun to my wardrobe."
Michel Gaubert is surrounded by a trail of hungry supermodels queuing for pizza. Amanda Lepore, delicate and cartoonish at the same time, graciously poses for pics with her adoring fans. Scott's mum and sister, who come to all his shows, push their way through the crowd to the back of the restaurant where he is hanging out. It's all very down to earth but determinedly fabulous. In other words, very Scott. Several slices later, we head back to the hotel for a nightcap and bed.
I dream I'm being chased through Central Park by a giant baseball hat while dressed as the Chrysler Building. I heart New York.
Photography Jessica Craig-Martin. Taken from Issue 65 of 10 Magazine – FAMILY, FOREVER, LOVE – available to purchase here.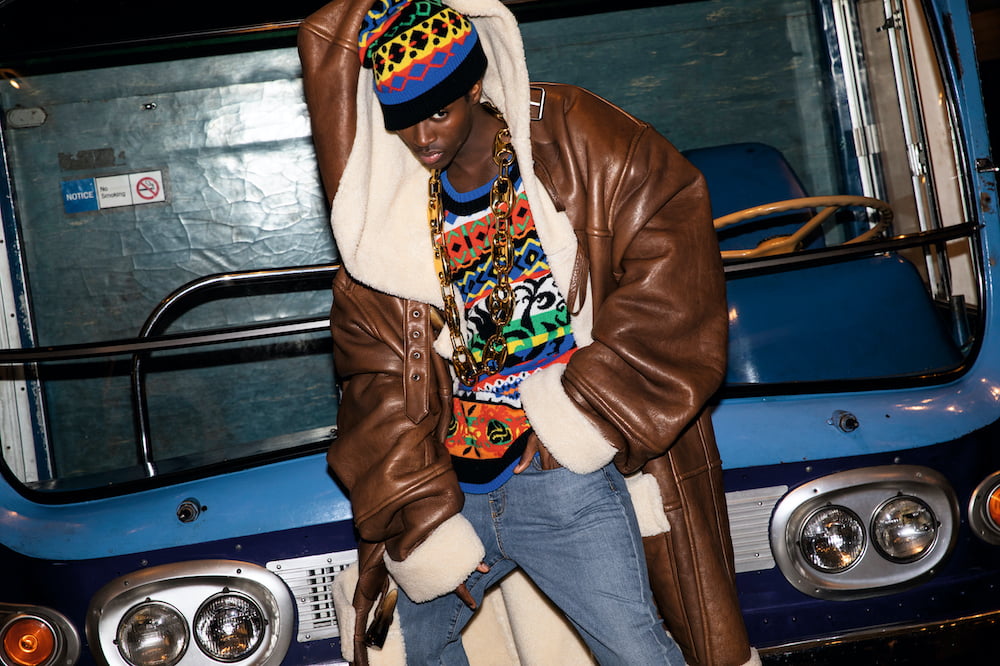 The post "Take the commute but make it fashion," Claudia Croft Rides The Subway to Moschino's Pre-Fall 2020 Show appeared first on 10 Magazine.