Ten Craves is our online series that rounds up all the best product launches and must-know fashion happenings week in, week out. 
Corr, it's been a scorcher, hasn't it? Well, we're about to crank up the heat even more with all this hot-off-the-press fashion news. Grab a fan, this is gonna be a sizzler.
LVMH acquires a majority stake in Off-White
Big news this week for Virgil Abloh. In a deal that supposedly took five minutes to make, LVMH announced on Tuesday that it is set to acquire a 60 per cent stake in Off-White. The world's richest luxury conglomerate, which also announced last week it was taking a minority stake in Phoebe Philo's new namesake brand, has also given Abloh a bigger role within LVMH. As well as remaining at the helm of both Off-White and Louis Vuitton menswear, Abloh will work across a range of categories within LVMH, including wine and spirits and hospitality. Paul Toner
Rick Owens unveils his DRKSHDW Converse collab
Rick Owens – AKA the dark lord – is channelling his edgy energy into the world of sneakers by unveiling his new DRKSHDW Converse collaboration. The designer has translated his design approach into a Chuck 70 that he calls "The TURBODARK". The shoe has been reimagined with an elongated tongue and squared toe box, replacing the classic round tip with a sharper version. The duo will continue to transform classic converse silhouettes throughout 2021. Shop the Rick Owens Chuck 70 on July 27 at select retailers worldwide. Andrea Sacal
Photography courtesy of Rick Owens
Giorgio Armani steps back in time for a new line of sunglasses
Looking to iconic sunglasses styles of the 1930s and '40s, Giorgio Amani's new eyewear collection is a modern rendition of the first styles both created and worn by the designer. Made from a finely crafted titanium frame, the oval-shaped sunnies are available in select Armani boutiques worldwide. PT
Photography courtesy of Giorgio Armani
Indya Moore partners with Tommy Hilfiger on a new capsule collection 
American actor and model Indya Moore believes that unique style has no bounds, and Tommy Hilfiger couldn't agree more. The pair have collaborated on a capsule collection that digs into Tommy's archive and reimagines its pieces in order to respect multiple gender expressions. With a range of LGBTQIA+ talent captured in the Bronx, New York, the collection shows no limits. Shop here. AS
Photography courtesy of Tommy Hilfiger
Kiko Kostadinov and Asics launch the GEL-QUANTUM LEVITRACK
Back, back, back again with another team-up, London-based designer Kiko Kostadinov and Asics present the GEL-QUANTUM LEVITRACK. Two years in the making, Kostadinov was given free rein to completely retool Asics silhouettes, with this sporty new addition representing the evident trust between both parties. Already sold out on Kostadinov's website, the full release will come later this year. Keep your eyes peeled. PT
Photography by Frank Lebon
Louis Vuitton heightens everyday life with its new AW21 accessories
Celebrating art and open-mindedness is something that we all wish to commemorate, but Louis Vuitton is taking it one step further with a new playful accessory line. Landing midway between fantasy and elegance, LV has created a variety of colourful pendants and chains accompanied by matching engraved rings. That's not all. The brand has also revealed a new 1:1 sunglasses design coming in gold and transparent frames and an array of colourful lenses. Explore here. AS
Photography courtesy of Louis Vuitton
The BFC announces the nominees for the changemakers prize
In partnership with Swarovski, today the British Fashion Council announced the launch of a new prize. Set up to "discover and celebrate the unsung stars of the fashion industry who have the ability to ignite dreams", the Changemakers Prize will award three individuals a mentorship package and a cash prize of £7,500. The inaugural nine nominees include creative and cultural polymath Cozette McCreery, sustainable designers Rahemur Rahman and Patrick McDowell, and hairstylist and maker Cyndia Harvey. The winners will be announced on September 2. PT
Dior brings Ultra-Gloss to the Lady Dior 
We all need a bit of extra shine sometimes, and Dior is making it easy with a new ultra glossy Lady Dior bag. It comes in a shine-tastic, all-black monogram colour scheme and a patent calfskin leather design. Maria Grazia Chiuri has said that it is "the most elegant of colours", embodying the maison's savoir-faire with a touch of audacity and shine. Shop here. AS
Photography courtesy of Dior
Designers near and far mark the re-opening of Antwerp's MoMu fashion museum
Antwerp's MoMu fashion museum is back in buisness, baby. After closing in 2018 for renovation works, which were ultimately delayed because of the pandemic, the newly decorated institution re-opens its doors on September 4. To mark the momentous date, Isabella Burley has creatively directed a series of billboards that will be plastered across Antwerp through September. Shot by Hannah Moon, with styling from Agata Belcen, the series sees the likes of Raf Simons, Supriya Lele, Botter, Marine Serre, Glenn Martens and Walter Van Beirendonck all pay tribute to their muses. PT
Photography by Hannah Moon
Carhartt WIP unveils its AW21 collection.

 
Carhartt's utilitarian quest isn't over, and this autumn/winter 2021 collection proves it. Both men's and women's collections combine the brand's classic muted colour scheme with diverse fabrics like textured corduroy, treated canvas, wool and flannel. In true Carharrt fashion, the collection takes inspiration from outdoor life including hunting, rock-climbing, and the great outdoors. Go outdoors with Carharrt. AS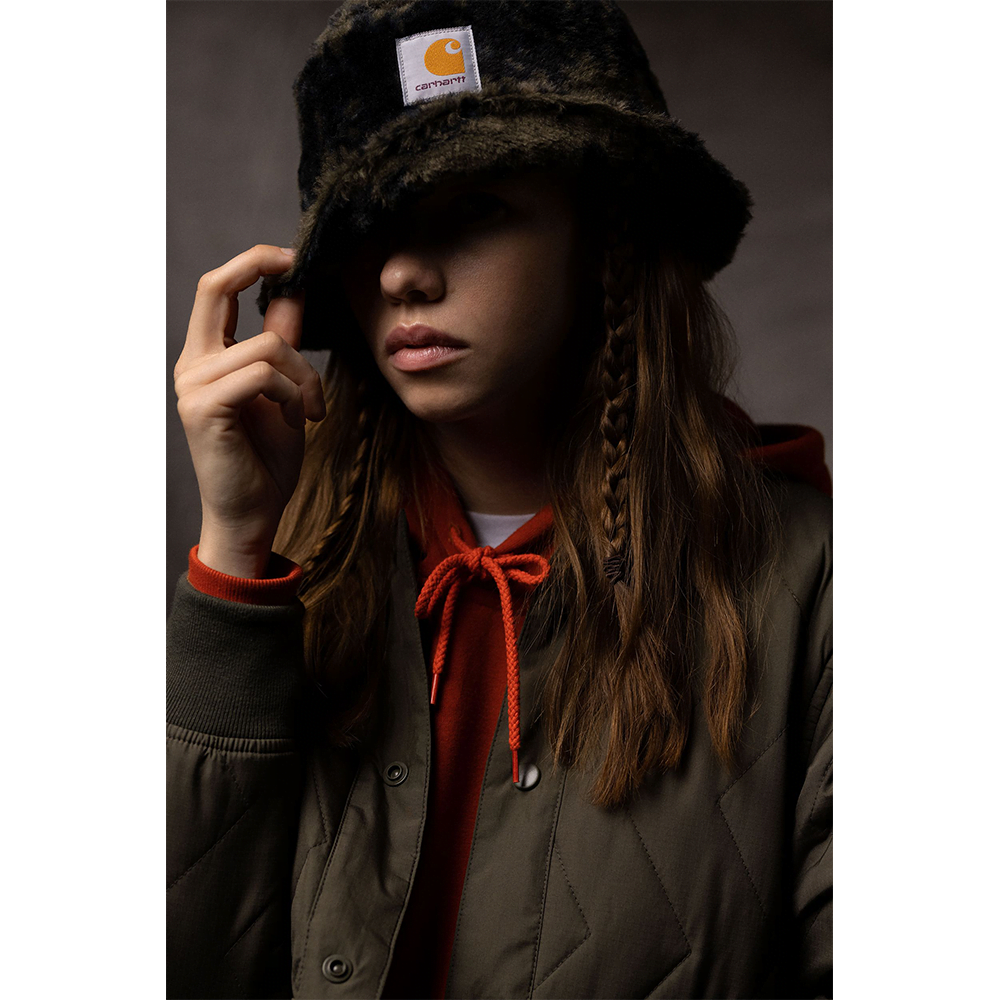 Photography courtesy of Carhartt
Chanel plots innovation with the house's Culture Fund film
Continuing its commitment to freedom of creation and artistic human potential, Chanel has partnered with art galleries around the world to give daring artists the opportunity to thrive. A new film showcases Chanel bringing together museums and galleries from London, New York, Paris, Moscow and Shanghai, offering diverse mentorships for artists and creatives. Watch below and read about the fund here. AS 
Browns Fashion ventures into kidswear
Honey, I shrunk the fashion! Yes, that's right, Browns Fashion has launched kidswear. Featuring miniature fashions from everyone from Fendi to Versace, the retailer will also be stocking a series of exclusives from Hunza G, Zimmermann, Off-White and Palm Angels. Shop here. PT
Photography courtesy of Browns
Emma Corrin is the face of Miu Miu's Brave Heart campaign
Fresh off the ski slopes and straight into Steven Meisel's studio, Miu Miu's blizzard-ready AW21 collection is modelled by The Crown's Emma Corrin. Styled by Lotta Volkova, the Brave Heart campaign sees the young actor channel her inner Chalet Girl in crocheted jackets, oversized cargo trousers and puffa bras and mini-skirts. PT
Photography by Steven Meisel
Rafael Pavarotti photographs Dior's AW21 campaign
Team work makes the dream work. Teaming up with photographer Rafael Pavarotti once more, Kim Jones' AW21 Dior campaign sees the designer's collaborations with Peter Doig encased in painterly-like portraits Styled by Melanie Ward, the campaign focuses on key looks from the collection such mohair knits and military-inspired jackets, as well as the Saddle bag and headwear by Stephen Jones. PT
Photography by Rafael Pavarotti
Fiorucci launches a community-driven Summer Series

Located in the brand's London flagship store, Fiorucci welcomes anyone and everyone to its Summer Series, a community-driven lifestyle pop-up. Set up for the next eight weeks, the space will be home to a series of exclusive drops and collaborations with the likes of Mimi Wade and Les Boys Les Girls, as well as super glam parties that will be thrown by nightlife veterans like Jodie Harsh. PT
Photography courtesy of Fiorucci
Top image by Kristy Sparow
The post Ten Craves: BFC Changemakers, Virgil's New Venture, (Pretend) Royals in Miu Miu and More! appeared first on 10 Magazine.