We think we speak for everyone when we say a one-way ticket straight out of Earth sounds pretty good right now. Whilst it may be quite some time till we can jet off to Mars for our holibobs, most of us have found crafty ways to escape – even if only momentarily – from this shitty planet we reside.
For many, this has involved immersing oneself into the world of Studio Ghibli. Classic animations like Spirited Away (2001), Howl's Moving Castle (2004) and My Neighbor Totoro (1988) have brought luscious green landscapes to endless days trapped indoors and told moving stories of unlikely friendships at a time the world feels rife with anger. The latter film has been particularly soothing for Jonathan Anderson, who has teamed up with Studio Ghibli to create an entire Loewe capsule collection based on the characters that make up this fantasy universe.
"There is a natural longing for heartwarming feelings right now. When I think of a movie that affords me that kind of solace, speaking just as directly to a child as it does to an adult, that movie is My Neighbor Totoro," explains the designer. "Anyone who has seen Hayao Miyazaki's 1988 masterpiece cannot possibly forget it. The story of Mei and Satsuki's friendship with the magical Totoro and his cohorts, the mischievous dust bunnies, who can't be seen by adults but only by the children who love them, is truly touching."
The film's protagonists find new life across leather Loewe staples – such as the Puzzle and Balloon bags – as well as mohair knits, cutesy hoodies and a bunch of all-over print tees in playful colourways. And the collection is as much a love letter to the work that went into making the film as it is a homage to its characters, with both Loewe and Studio Ghibli sharing a total commitment to craft. "The message is one of dreamy serenity and hands-on creativity – of being at one with nature and with one's own inner child – which is especially important right now," says Anderson. You could say movie merch has never looked so good.
Photography by Gray Sorrenti. You can shop the Loewe x My Neighbor Totoro collection here.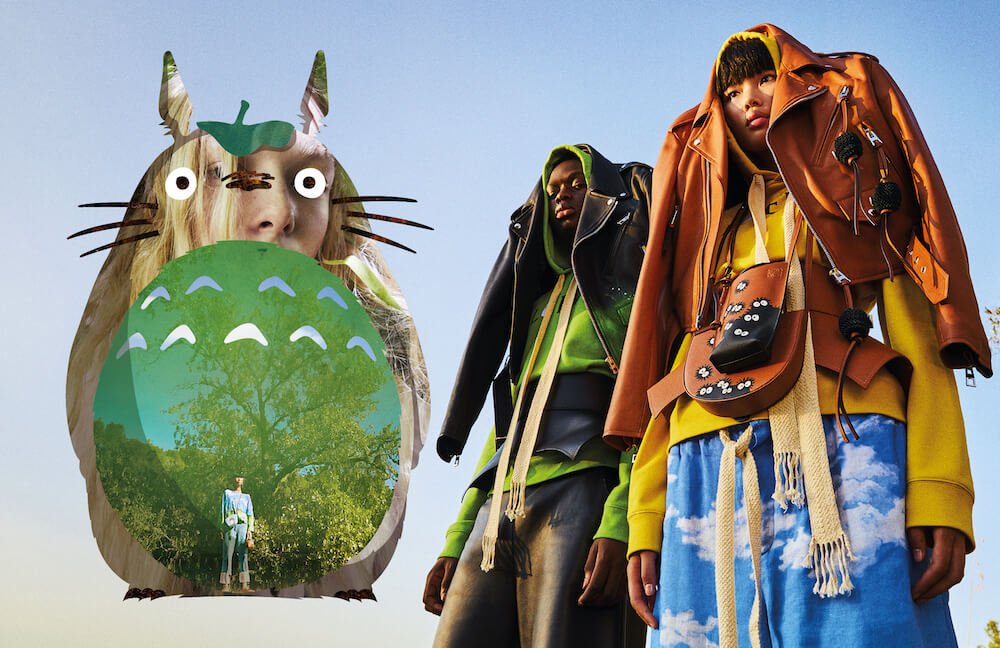 The post Ten Loves: Loewe x My Neighbor Totoro appeared first on 10 Magazine.