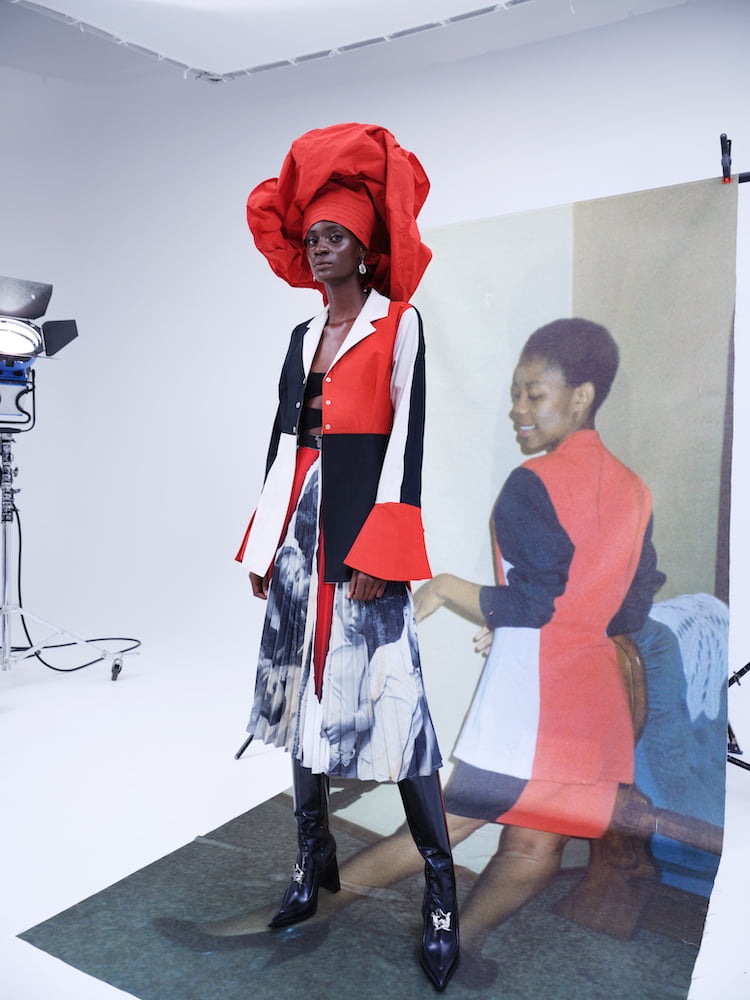 Thebe Magugu's collections have always been built on observations of his life in South Africa, both in Johannesburg (where he's based) and Kimberley (where he's from) – bringing tales of the two cities to an international audience. Yet the designer's latest collection happens to be his most personal yet. "It feels like there has been a crescendo of negativity happening, I wanted to look more inwards into this idea of memory, which is what I always refer back to, to take me out of that mood when I feel that things are a bit too heavy," explains the designer over a Zoom call. "Ideas of memory and family are always the things that get me through."
It all began when Magugu took a trip back to his family home after a year of lockdowns and long distanced WhatsApp calls with his beloved mother. He stumbled upon a box of old family photographs and began piecing together how the outfits his relatives wore subconsciously became the blueprint for his strong, ultra-feminine design lexicon of today.
He presented the collection via a special screening of his latest fashion film at Palais de Tokyo, which sees Magugu joined by his mother and aunt at a roundtable, piecing together memories associated with each of the photos. In the space, mannequins stood against blown-up versions of those very same photos, illustrating how each has been webbed into Thebe Magugu's brand identity.
Some of the connections are more literal, like a colour-blocked suit his mother wore, which has been transformed into a flared-sleeved shirt. Or a white shirt, tie and trouser; a womanly replica of a get-up his uncle wore as a choir boy. Though the collection reaches peak emotive when Magugu is at his most introspective, echoing a faint paisley-printed frock of a late family friend across a series of colourful bandana print twin sets with matching doek headwraps, or a re-contextualized wax print which was interwoven with family portraits that appear like royalty. "I loved the idea of paying homage to my family in that sense, to put them in fabric which is something that is permanent," says Magugu. "This is a necessary collection to do, I want to lead with optimism."
Photography courtesy of Thebe Magugu.
The post Thebe Magugu: Ready-To-Wear SS22 appeared first on 10 Magazine.