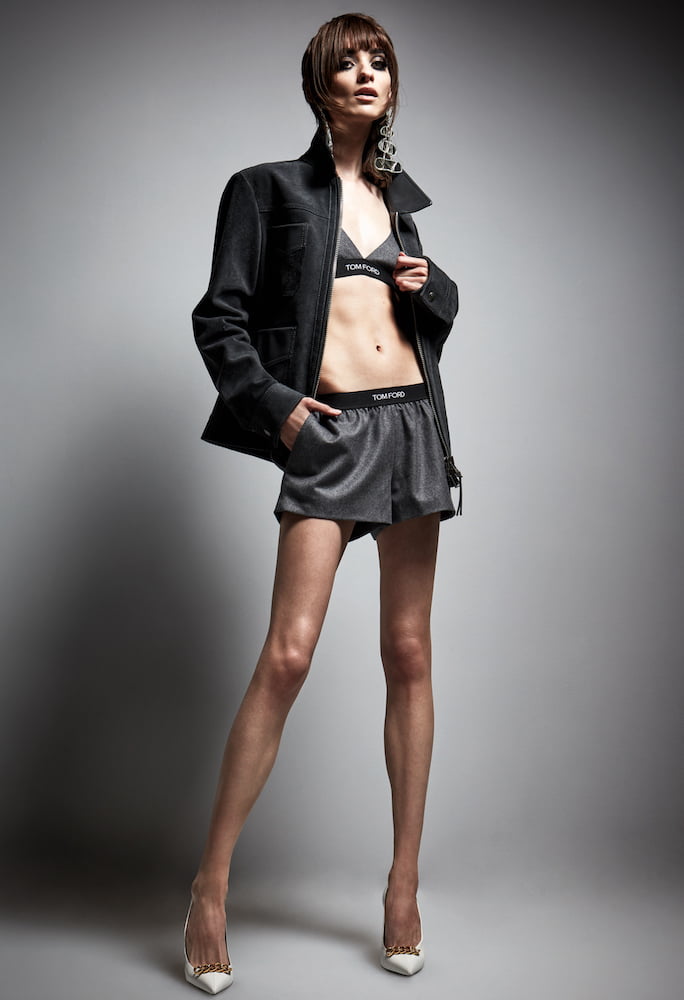 Tom Ford has come up with a post-pandemic dressing-up formula that we can all get behind: a party top and jeans. His AW21 collection blended casual pieces with couture-level glamour. On the bottom, a comfy pair of jeans in bleach spattered denim or stretch leather. Above the waist, it's a party. High neck Edwardian tops in gathered tulle came with sheer leg-o-mutton sleeves were swoonsome. Satin jeans jackets, or a gold buttoned tuxedo jacket worn as a dress, answered the call to party.
His favourite 2021 proportion is volume on the top, tight and skinny down below. Most of the looks were leggy. "I love short skirts. I always have. Being a child in the 60s did that to me," said the designer of his 'dangerously short" black leather minis and hot pants. "I suppose a bit of Edie Sedgewick worked her way into the collection," he said. Ford also paid attention to outerwear because the streets are the new social club and the park has replaced the pub. He proposed ultra-sharp tailored coats or oversized down jackets in tactile fabrics including black, silk velvet or white leather. This was five-star comfort dressing.
His lace and silk evening slips were hand-made and as supple and delicate as lingerie – indeed an underwear ad from the seventies featuring a woman leaving the house in her pants, with just an oversized coat over the top, was inspiration. It was all part of his desire to explore, "a more casual way to be extravagant."
For men, the AW21 story reflects Ford's desire to put his suit back on, after spending most of the past year in "the same dirty jeans and tee." He declared: "It is time to get dressed again. Not in a flamboyant over the top way, but in a slightly more casual yet luxurious way." So, sharp streamlined tailoring was mixed with sweats. "This mix of causal and dressed pieces will be a legacy of the pandemic for a few seasons," said the designer.
Photography courtesy of Tom Ford. 
The post Tom Ford: Ready-to-wear AW21 appeared first on 10 Magazine.