After taking place purely online last year, The Fashion Awards returns to the Royal Albert Hall next month for a night of glitz, glam and champagne by the plentiful. Set to take place November 29, the British Fashion Council has today announced its first big awardee. Tommy Hilfiger will take home this year's outstanding achievement award, honoured for his global contribution to fashion and "his continued commitment to creating an inclusive brand that champions people from all backgrounds and experiences". In celebration of the big announcement, we've pulled an exclusive interview with the American fashion titan from our archives for your viewing pleasure. God bless America, God bless Tommy!
When you walk through the streets of New York, the word "Tommy" is inescapable. Tommy Hilfiger is the red, white and blue beating heart of the city, of the country. This is Hilfiger's kingdom and it's where he continues to reign. This is the good side of America. I'm on Madison Avenue, heading into the hub that is the red-and-blue-stamped Tommy Hilfiger headquarters. It's the day before the show for the label's second collection with actress and singer Zendaya. Inside, a surprisingly calm team is fitting a crisp white suit on 67-year-old model JoAni Johnson. Behind them towers a mood board that is a collage of images of Aretha Franklin, Princess Diana, Lauren Hutton and Brooke Shields, as well as a sneaky photograph of Hilfiger himself in 1974 wearing a fabulous fur-collared coat, standing in front of the second store he opened for his first big venture, People's Place. The business went bankrupt the following year, leading Hilfiger to buckle down for a few years to learn about the business of fashion, a time in his life he has since said provided the best lesson he ever learnt. From there, Hilfiger set up several design teams and companies, going on to found Tommy Hilfiger Corporation in 1985. We like a boss.
Since then, the Tommy takeover has accelerated, full speed ahead. Perhaps it's Hilfiger's ability to involve the hottest celebrities – often musicians – of the moment with his brand that has kept it relevant. Snoop Dogg famously wore a Tommy Hilfiger rugby top on Saturday Night Live in 1994 that was re-released earlier this year as part of the Tommy Jeans Archive capsule collection. There are iconic photographs of Aaliyah DJing and rocking red, white and blue in a 1996 campaign. And the brand sponsored tours for the Rolling Stones and Britney Spears in the late 1990s. And then, the ultimate 2000s get: in 2004, not long after Beyoncé released her debut solo album, Tommy Hilfiger launched a fragrance collaboration with her titled True Star.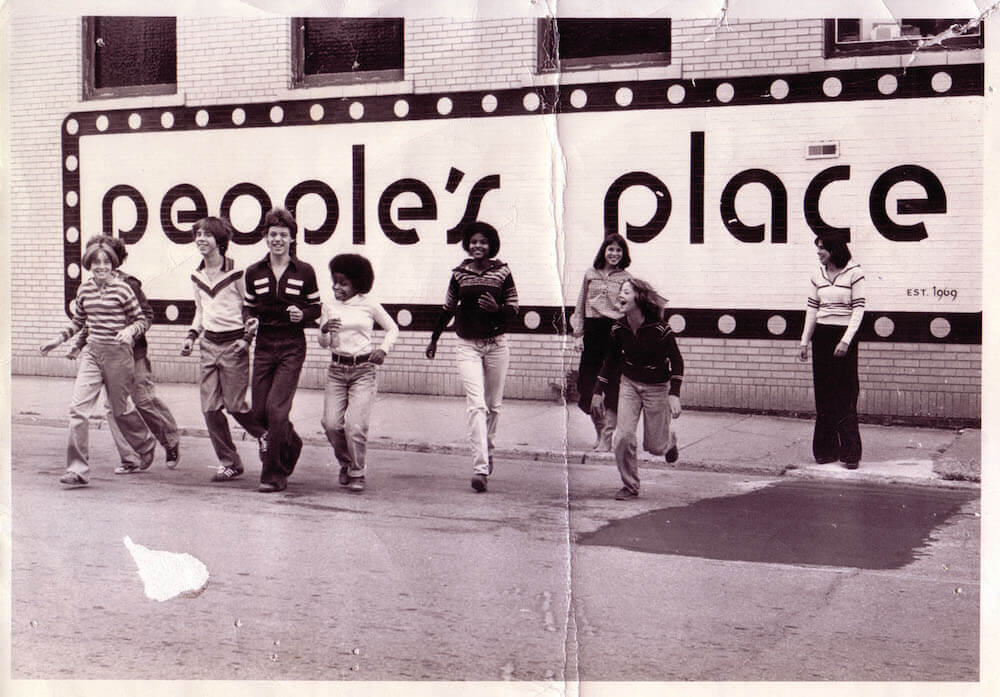 People's Place ad-campaign material, 1975, courtesy of Tommy Hilfiger Archives
It makes sense, then, that in a time when a whole generation has intimate access to their favourite celebrities at their fingertips, Hilfiger would collaborate on whole collections with some of the most adored women and men in the world right now. In 2016, Hilfiger tapped the American sweetheart Gigi Hadid for four seasons of collections under the name TommyNow, the "see now buy now" arm of his brand that allows consumers to shop the pieces online minutes after they've come down the runway. It's a business model that Hilfiger championed before it was considered clever, and now successfully dominates. Hadid and Hilfiger took over the world – quite literally – travelling from New York to Los Angeles to London and finishing the collaboration in Milan. The following season, Hilfiger showed a race-car-ready collection inspired by Formula 1 champion Lewis Hamilton. Zendaya's second collection marks the homecoming show for Tommy Hilfiger after last season's takeover in Paris.
The partnership with Zendaya has undoubtedly brought a new sense of swag and sass to the label. When I meet her and Hilfiger at the brand's HQ, they're ready for business. Upstairs, above the fittings, they sit together, legs crossed, overseeing the whole operation. The room is buzzing with their high-powered energy. Hilfiger is dressed in a classic Tommy look: red trousers, navy blue blazer and white shirt. Zendaya is sleek in a black, knee-length, double-breasted leather jacket and a soft, buttoned-up and belted shirtdress; later, she towers over everyone in leather boots. Slick. "I've grown up seeing the logo my whole life," she says when we talk about the Tommy Hilfiger domination of the city. "[The collaboration] was right for me because the brand has always been a staple in pop culture. Tommy told me, 'I want you to be able to be as involved as you want. If you want to pick everything down to the logos and the wrapping paper and whatever, then you're completely welcome to do whatever you want and we're going to create whatever vision you have. And that's what he's done, and I've been able to be creative and explore what it means to make clothes. It's been really special."

Hilfiger with Larry Stemerman and a friend c1974, courtesy of Tommy Hilfiger Archives
This second collection is an ode to the 1970s and the people who performed at the Apollo Theatre in Harlem, where the show is taking place – a sweet, full-circle moment for Hilfiger. "Zendaya brought a lot of photographs and inspiration boards to me," he says. "I didn't know what to expect. I was a little nervous, but when I saw the inspiration, I was like, 'Thank God, oh my God!' If there was a target on the wall, it was like, 'Bull's- eye.' I was getting chills. My era, the '70s that I understand so well and love so much. And we haven't done it in an entirety before. There have been pieces but we've never done an entire collection that is '70s." It's an era that Zendaya and her creative partner Law Roach are "heavily inspired by", often for hair and make-up ideas. "When we were given the opportunity to actually make our own clothes, it just felt like that was the right place to go," says Zendaya. "Most of what I do is inspired by then anyway. I don't know why, I'm just drawn to it."
The collaboration is happening in what seems to be a whirlwind year for Zendaya, who has continued her role as the new-generation MJ in Marvel's Spider-Man saga and, most notably, is the star of the brilliant Drake-executive produced HBO series Euphoria, a raw depiction of addiction and mental-health issues among teens that has taken over the world. "I am very inspired by my peers," she says. "I think a lot of them are doing incredible work and opening doors and making a lot of changes. I want to be a platform to support people my own age and younger who are showing me how to do it. I am proud to be part of this generation. I think we're doing a lot of great things. No better time to be or exist."

Kate Moss and Treach at the Tommy Hilfiger SS97 show, courtesy of Getty
Being a young woman in America right now sees fashion fit into Zendaya's world as a source of empowerment and escape. "Fashion has been a tool that I've used to find my own voice and self-confidence," she says. "I've been able to become more fearless, figure out who I am and what I like and what I don't like. I think clothes are more than just clothes. They're memories, moments and very much a part of you and who you are. Sometimes I go on red carpets and I create these different characters. It's empowering because I get to explore these different facets of who I am already. All these different versions of myself exist within myself anyway, I just get to find out who they are. So, to me, it is a form of acting, like any other art form that I love. It allows me to escape into something but also empowers me to be more creative and care less about what other people think."
Her involvement in each collection – Zendaya calls it "overbearing", Hilfiger calls it "perfectionism" and "professionalism" – has brought a new freshness to the label. It is, as he describes it, a "real, true-blood collaboration that has enhanced my brand". It feels free and new-generation cool, cementing another epic moment in Hilfiger's history. "I've learnt from Tommy [how] he has [built] this incredible, massive brand," says Zendaya. "It has outlived so many others because of his ability to stay relevant. He does it by always uplifting and encouraging young voices that are coming up and giving them a space to be creative, to have a voice, and he gives them the resources they need to be creative. So when you're able to do that and you don't have an ego, that's how you're able to continue to grow and be successful. That's what I want. I want to always be able to have the capacity to reach and learn at the same time."

Hilfiger with Law Roach and Zendaya at the AW19 show, courtesy of Getty
The AW19 show is, of course, a successful extravaganza. Held at the back of the Apollo in a set that recreated a New York street scene, complete with brownstone stoops, it had trumpets vibrating through the air, girl groups singing loud and proud, and a slew of women and men in all that 1970s get-up, swaggering down the runway to Franklin's Respect. What we want, baby, they've got it.
It is the natural evolution of the brand, from sponsoring tours, to dressing musicians to giving over complete creative control of collections and touring the world. "The best part has been having someone's ideas come into our kitchen and allowing the brand to go to yet another level," says Hilfiger, reflecting on the collaborations. "Some brands get stuck doing what they do and sometimes they can be myopic. They don't look out, and if they do, they bring ideas back they're comfortable with. I wanted to say, 'OK, bring new ideas and help us move the needle.' It worked. It's working in such a great way. Beyond what I expected – way beyond." This is Tommy, now.
Cover image for 10+ Issue 3 by Anna Stokland. The Fashion Awards take place Monday, November 29 at the Royal Albert Hall. 
The post Tommy Hilfiger to be Honoured at This Year's Fashion Awards: Read Back on our Interview with the Fashion Titan appeared first on 10 Magazine.