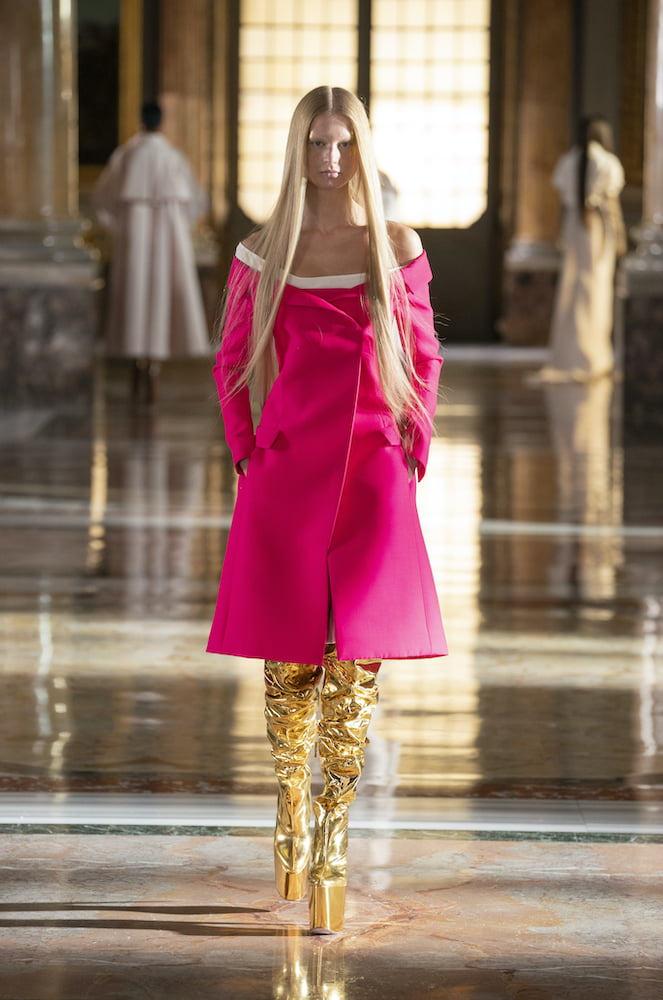 What will you wear to the party at the end of the universe? Valentino's Pierpaolo Piccioli has some thoughts. His Couture is a reckoning of life, the universe and everything. He calls it the temporal code and sees it a powerful coming together of human ingenuity and digital dynamism, all dipped in gold dust.
Appropriately, he called upon Massive Attack's Robert del Naja to soundtrack his experience. His look? An almost academic purity of line, bedazzled with fluro iridescence and seasoned with the heroic grandeur of a rock-opera, in space. Models, their faces painted golden, walked the full length of Rome's Galleria Colonna's Salla Grande a gilded, marble interior that is impossibly rich with art, craft and history. Valentino's model's balanced on metallic platform boots, wearing tinsel capes, silver sequin turtlenecks and devastatingly simple columns. It's a look Piccioli described as "Vibrant simplicity," not just because of the piquant colours, but the fact that the intimate, up-close experience of these pieces and their vivid-hand made textures tells a richer story than the far away optics.
Alongside the glorious gowns and plentiful daywear (dashing, Couture culottes) Piccioli also introduced Couture for men which translates as simple pieces, in sumptuous fabrics – a silk trench came with a secret moiré lining and why have conventional knitwear when you can have an emerald green silk lamé turtleneck instead? The rituals and processes of Couture are age-old, but Piccioli strives to make his, "A Couture of today", where the aim is pure, human, self-expression.
Photography courtesy of Valentino. 
The post Valentino: Couture SS21 appeared first on 10 Magazine.