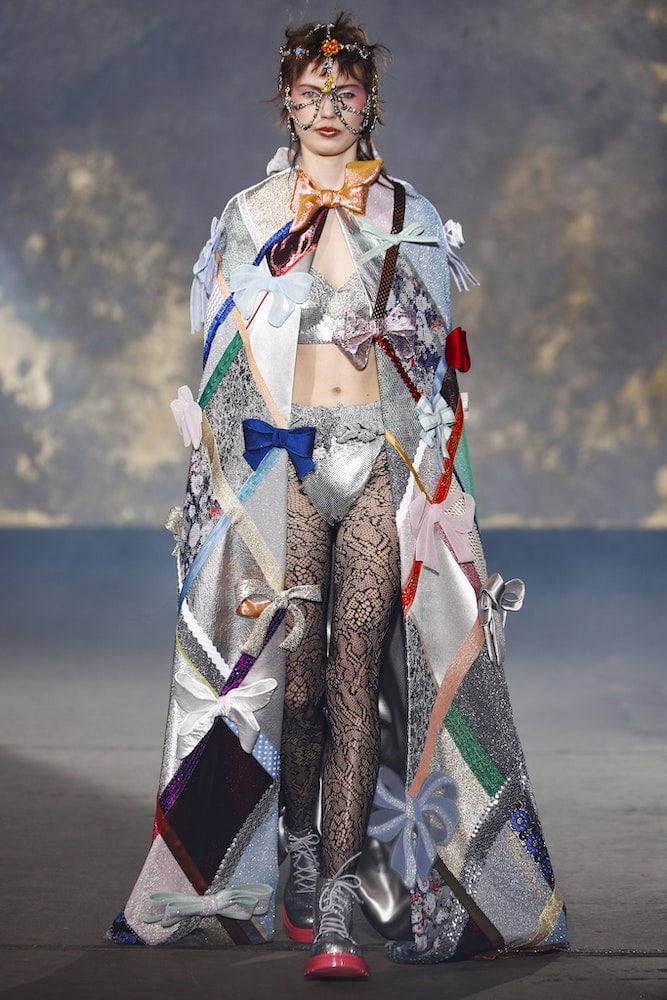 Ever wanted to go to a rave in a Couture dress? In the universe of Viktor & Rolf, anything goes. The design duo wanted to dedicate their latest collection to the better times ahead; when 'lockdown' is a bygone word and partying is back to being the norm.
The audience-less catwalk was held inside a Cold War munitions factory that's been transformed into a contemporary art space. (If you've ever been to Warehouse Project in Manchester, the vast concrete space wouldn't look too dissimilar.) The clothes were youth-centric and unapologetically hedonistic. Crafty, too. They were upcycled, purposefully mashed together, as if a teen raver was sat at home compiling the most bonkers outfit she could imagine that'll stay bright and shiny till 4am the next day.
At this party, opulent tulle skirts are paired with metallic bras and clusters of costume jewellery. The girls wear lavish trains with fishnets and chunky boots with hot pink and electric blue soles. The designers pulled together pieces from their archive, as well as fabric leftover in their studio, to create sweatshirt-dresses bustling with scraps of tulle, glitter and iridescent material, as well as patchworked, bow-adorned capes. If you're wanting to stand out on the dancefloor when the clubs re-open, look no further.
Photography courtesy of Viktor & Rolf. 
The post Viktor & Rolf: Couture SS21 appeared first on 10 Magazine.