This is a series about the Ballantine's x RZA partnership. Click here to explore the rest of the stories and find out more.
We have seen Wu-Tang legend RZA cover almost all corners of culture through his multi-layered partnership with Scottish whisky makers Ballantine's. From a music collaboration with Crosley Radio to a fashion capsule collection with NEIGHBORHOOD, it's only right that the musical maestro dives into the world of food for the last drop of the series — and let me tell you, it's a pretty spicy ending.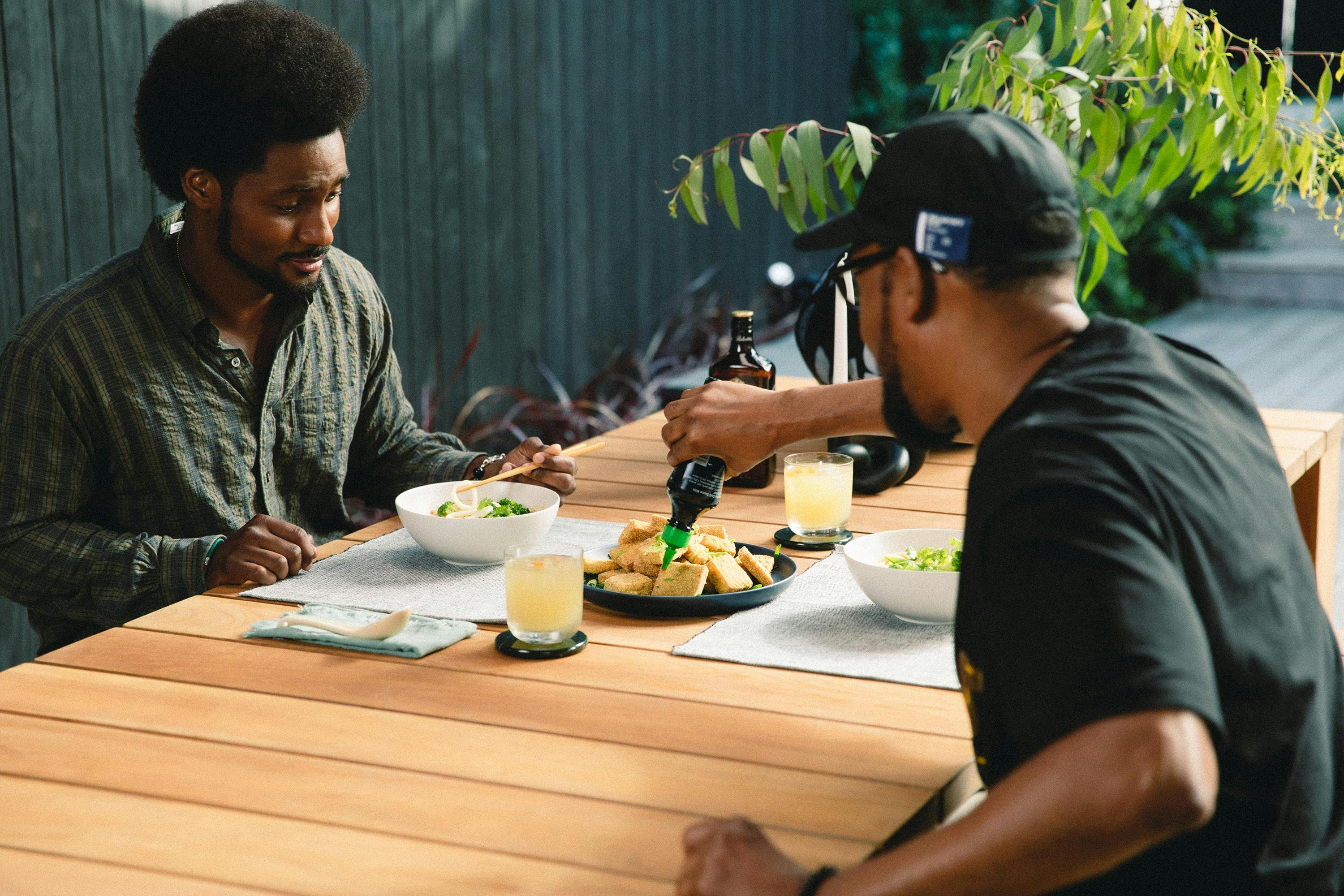 We all love Sriracha, right? Well, so does RZA (you can see where this is going), so naturally, he and Ballantine's have teamed up with the OG sauce brand Flying Goose to deliver a tongue-tingling whisky-inspired hot sauce that's like nothing you've tasted before. From the get-go, the partnership between Ballantine's and RZA has been about celebrating doing things your own way, going against the grain, and pushing the boundaries of what creativity can look like — and a collaborative hot sauce definitely ticks all those boxes.
I'm vegan, and I like to get extra creative with how I make and cook food, experimenting with bold flavors, textures, and ingredients. I'm bringing Ballantine's and Flying Goose together to break the mold of what incredible flavor should taste like and to bring something truly original, surprising, and unexpected to the world. – RZA
Hot sauces are really having their moment, especially across social media. From creative competitions to online hot sauce-tasting shows, everyone is talking about adding spice to their life (and their food). Whether you're squirting it in your dishes or infusing your cocktail with it, the unexpected Ballantine's x RZA condiment is the perfect pairing for all you fiery foodies. Flying Goose took inspiration for the flavor notes from Ballantine's 7 American Barrel, a blended Scotch whisky that has been aged for seven years — the sauce is both alcohol-free and vegan. Add RZA's passion for Asian food and culture into the mix, and what you're left with is a bright and bold Sriracha sauce to tantalize your taste buds.
There's no wrong way to eat or season your food, so for tastemaker RZA, it was all about experimentation, having fun, and fusing his favorite flavors. When you stay true to what you love, it always tastes good, and long-time vegan RZA knows it — he's even been adding the sauce to his creamy tofu ramen for an extra kick.
From professional chefs to at-home cooks and takeaway lovers, this Sriracha is guaranteed to level up your dishes. To take a peep at RZA's secret spicy ramen recipe as well as exclusive Ballantine's sriracha cocktail recipe, head over to Ballantine's. 
As a fan of Scotch whisky, I was delighted to have the opportunity to work with Ballantine's and RZA. Try it in your favorite recipes to discover a unique flavor inspired by Ballantine's Scotch Whisky — all with a spicy kick! – Jittiporn Jantarach , CEO of Flying Goose
The limited-edition Ballantine's x Flying Goose sauce will be available to purchase from Sous Chef.