Imagine a bespoke, artisanal, no two the same light fixture, unrestricted by proximity to electrical plugs and powered in the absence of wiring; all without compromising design aesthetics. Sounds like an interior connoisseur and lighting fanatic's dream, which now, thanks to the design and manufacturing company Bocci, does not just exist in a dream world but the real world.
Dubbed 14p – 'p' as in Portable, the new pendant is, in simple terms, quite literally that – a portable rendition of Bocci's iconic 14 series, wherein the original fixture was re-imagined and ultimately, set free to live out a prosperous life as a portable, candle-like table light.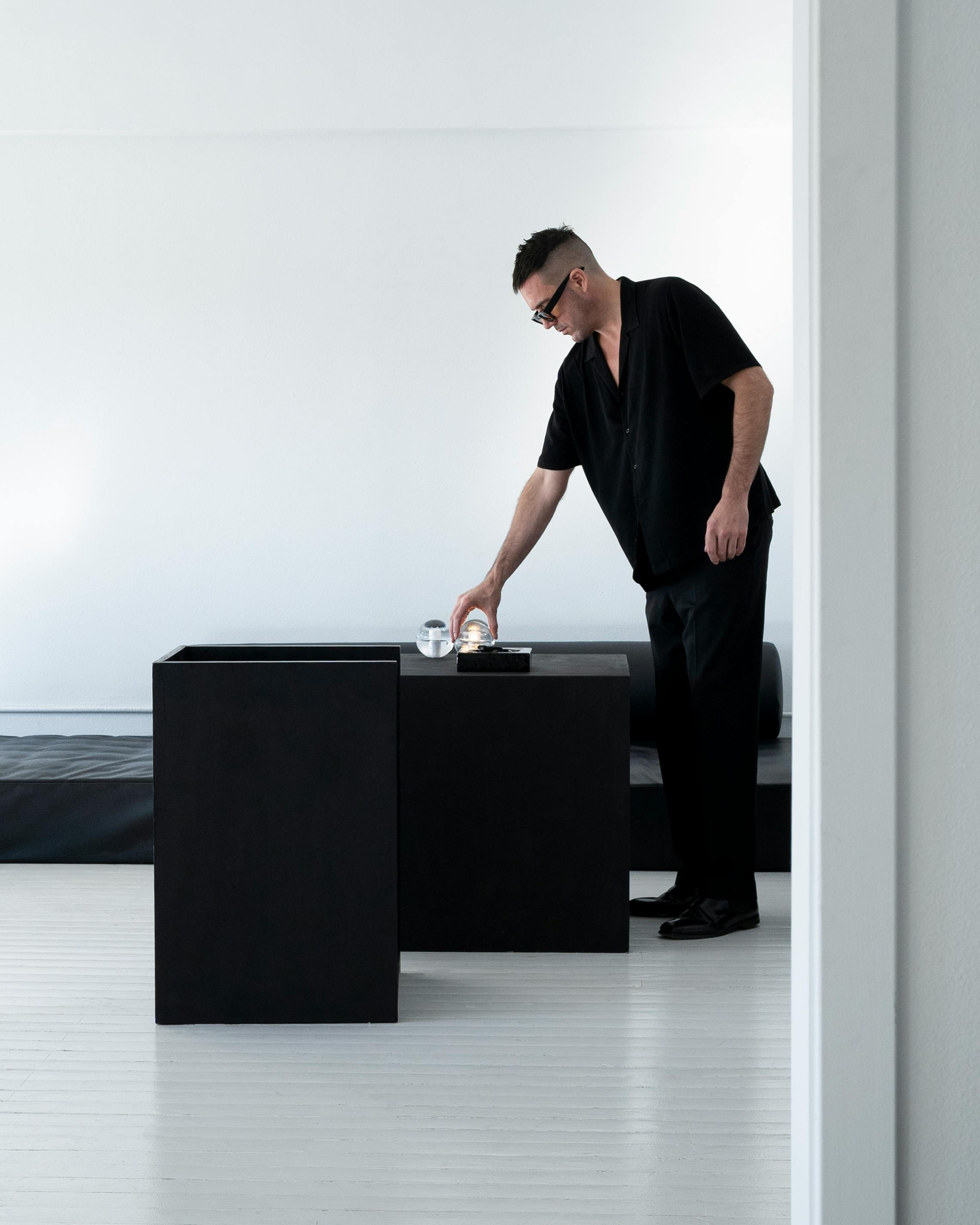 The new innovation is the first portable piece from the multidisciplinary design studio, research lab, and factory that was founded in 2005 under the creative directorship of Omer Arbel. Headquartered in Vancouver, Canada, Bocci intends to foster an environment where creativity, craft, and experimentation can thrive.
Sculptural in essence, the 14 series, from which the 14p is derived, boasts the fact no two pendants are alike. This uniqueness proves to be a byproduct of Bocci's emphasis on craftsmanship, describing the design as two poured-glass hemispheres that meet at deliberately imprecise edges. For them, every design follows a set of guidelines, not a rulebook, allowing for space in which mistakes are made and iterations welcomed. For the 14p, imperfections are appreciated, with each pendant hosting air bubbles trapped under the glass, which in turn produces its signature rippled, watery light.
The 14p is more than just a lighting solution. Instead, consider the pendant as functional art; a sculptural piece, with artistic integrity that illuminates your home into a gallery of your own. The campaign directed and produced by SIZED and shot by David William Baum illustrates the 14p's iconic design status, integrating the latest innovation from BOCCI amongst iconic design works throughout history. The pendant was shot within and around a renowned R.M. Schindler residence, leveraging indoor and outdoor environments to communicate its emphasis on portability.
The 14 series was Bocci's first piece to market hitting the scene back in 2005, bringing with it an air of clarity that defined the brand's design practice to date; one captained by curiosity, tenacity, and unconventionality. Its existence, an accident one could say, birthed from an unexpected process where two novice glassworkers attempted to craft a perfect sphere but instead were met with what's known and loved as series 14. 
Living room to bedroom, inside to outside, or cross-country the 14p has no bounds; a feat made possible by its rechargeable feature that clocks a shelf-life of 8 hours at its brightest setting and 80 hours at its lowest – offering hours of gentle illumination for all. Further, the pendant features touch-controlled LED dimming with three levels to cater to all ambient lighting needs. 
Who knew luxury could be so functional? Place it on the outdoor table of your barely there balcony to light up a wine night, or throw it in your bag and take it on the go to combat an unforeseeable fluorescent light crisis; either or, the 14p will add a little light to your life, no matter where and when you might need to.