Chunky sneakers, baggy slacks, tucked-in T-shirts: Over the past year, fashion has begun reconsidering hallmarks of "dad style." But long before Gen Z'ers began pairing New Balances with belted trousers, Dylan Cao and Jin Kay recognized the timeless appeal of the older gentleman's wardrobe.
The design duo — who founded Commission, a New York City-based fashion label, in 2018 — have always used the wardrobes of their parents in the '80s and '90s as a jumping-off point for their work. Their latest project, a collaboration with Paul Smith, is no different. Drawing from their respective archives and aesthetics, the two brands perfected the art of generational dressing.
Commission and Paul Smith might, at first glance, seem like an odd pairing. The former's sensibility is deeply rooted in New York, as well as Cao and Kay's experiences as first-generation immigrants from Vietnam and Korea, respectively. Smith, on the other hand, is a bastion of British style and tailoring.
Nevertheless, there was a natural synergy between both parties when they first met. "Paul Smith resonates with us in several ways," Cao and Kay told Highsnobiety. "There's a subversive sense of irreverence, mundanity, and functionality that greatly overlaps with how we approach Commission menswear."
Thus, it was official: Paul Smith enlisted Commission to spearhead the second iteration of the &PaulSmith collaboration series, an initiative that launched in 2022 with .
"We started the collaboration with the same approach we use for Commission — looking into street and mood photography," Cao and Kay said of the design process. Specifically, the duo delved into Father & Son, a book of photographs taken by Smith and his father, Harold, that released after his death in 2000.
A narrative thread began to take hold as Cao and Kay noticed the through-line between Paul and Harold's photographs — a connection that mirrors Commission's own references to their parents.
The 22-piece collection that results is a mash-up of old and new. The youthful energy of what Cao and Kay describe as "punk-ish grunge" is juxtaposed against the austerity of classic menswear staples: Graphic tees, snakeskin print trousers, and track pants accessorized with studded grommet belts find equilibrium with beige button-downs, wool overcoats, and chocolate brown suiting.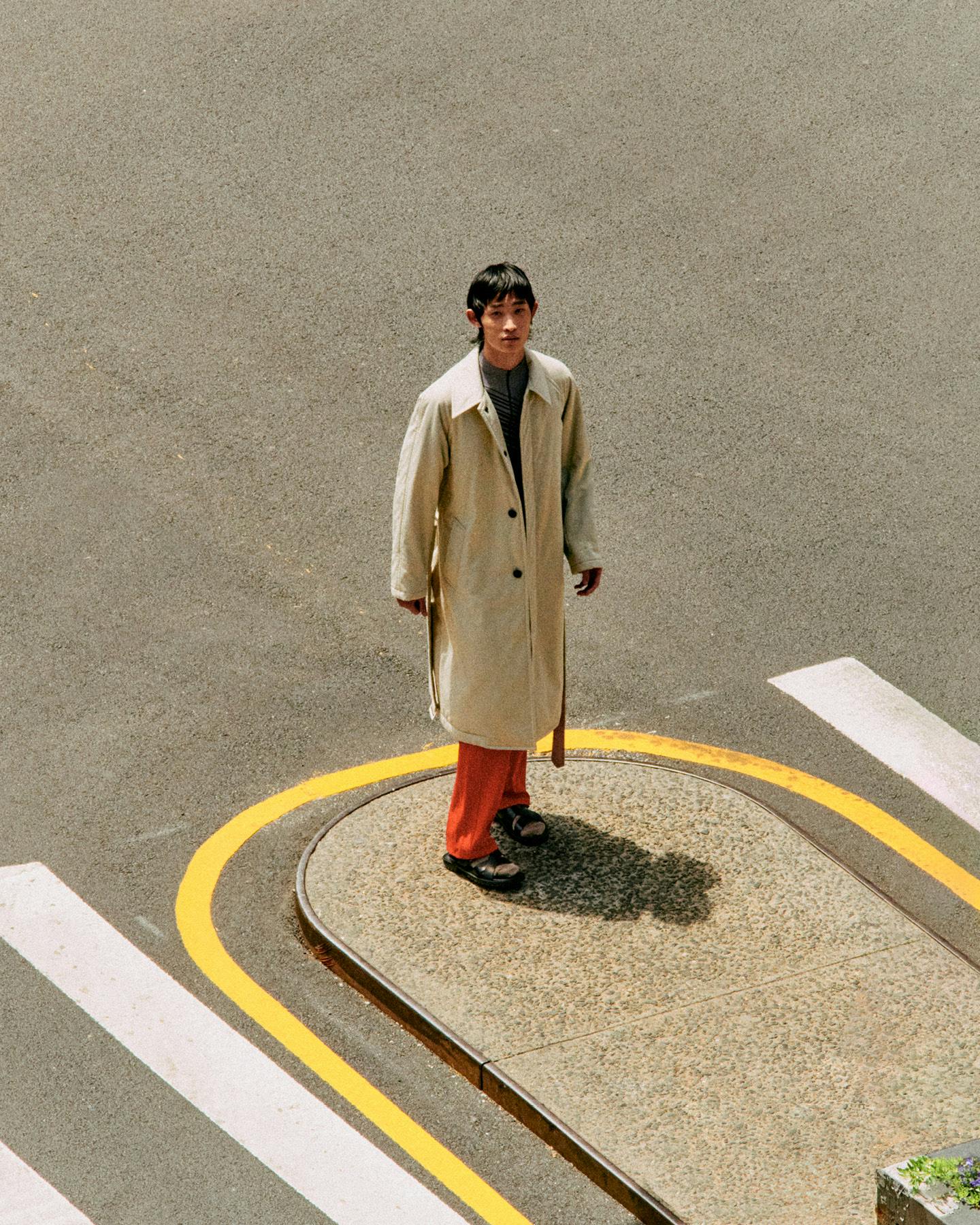 "Dadcore" (a look A$AP Rocky has been dabbling in as of late) shines through the styling of the lookbook: Criss-cross sandals are worn with socks; knit sweaters are layered over T-shirts and collared button-downs. It's as if a young fashion editor raided his dad's closet, mixing his father's favorites with his own thrifted finds — a reminder of the emotion and memories that clothing carries.
Commission &PaulSmith is available online at SSENSE.