Ahead of the release of our De La Soul x Highsnobiety collection, we deep dive into the group's enduring legacy. The collection will be available to shop on September 8 as part of Neu York.
On a clear late winter night in March 2023, alternative rap pioneers De La Soul held a show at the Manhattan venue Webster Hall that would mark the beginning of a new chapter in their 40-year story. De La rapper Dave "Trugoy the Dove" Jolicoeur had passed away only three weeks earlier, and his bandmates Kelvin "Posdunos" Mercer and Vincent "Mase" Mason took the stage at Webster surrounded by peers and fans to pay tribute to their musical brother and to celebrate the long overdue arrival of their catalog on streaming platforms — the culmination of a painful, decades-long legal battle — at midnight.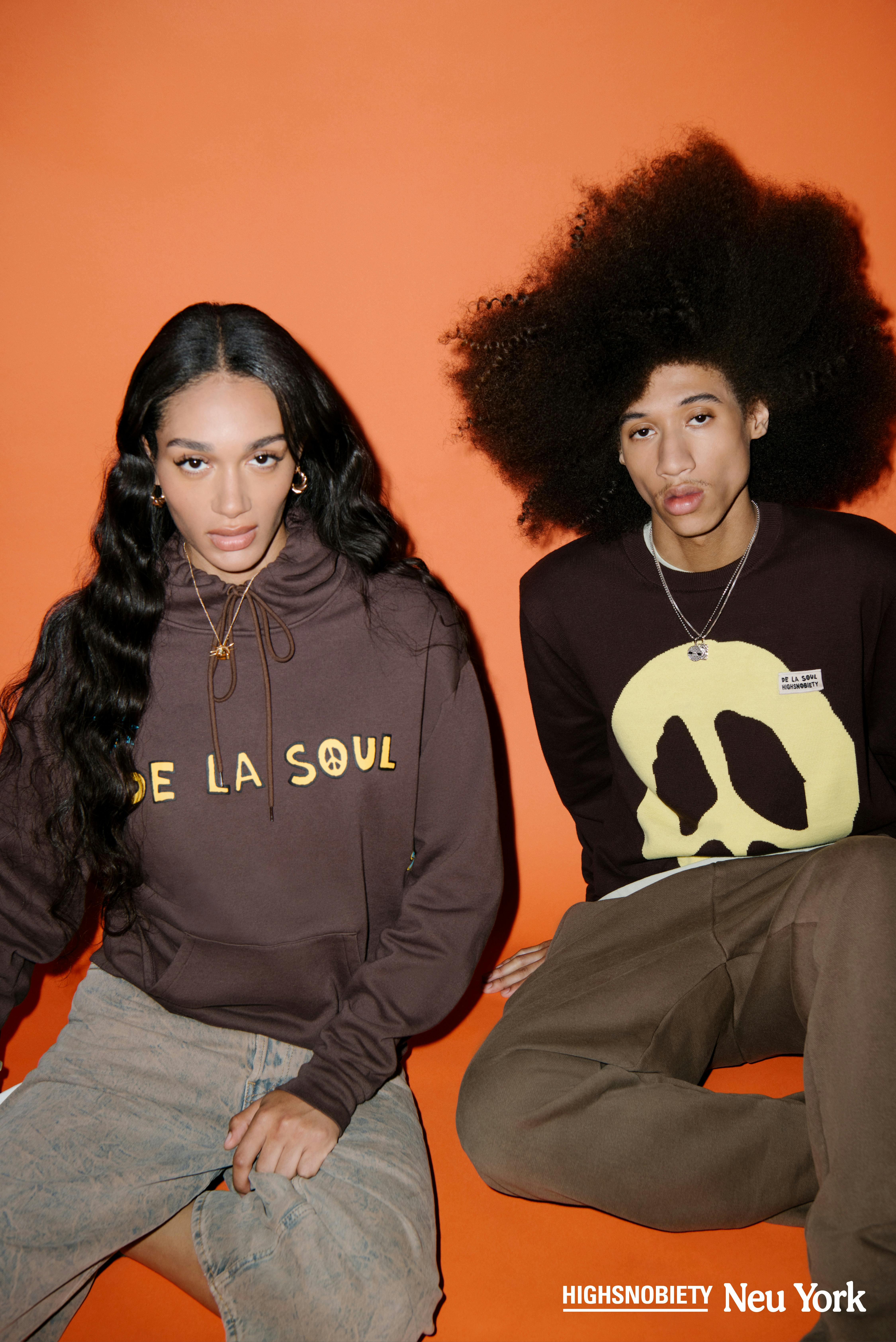 Visit Highsnobiety to view this part of the article.
As they counted down the hours and minutes to 12:00 AM, comedian and known hip-hop head Dave Chappelle snatched the mic to salute De La Soul: "These guys were the big bang for some of the most beautiful things that happened in our culture," he said.
The death of Trugoy and the addition of De La Soul's music to streaming services, in conjunction with the 50th anniversary of the spiritual birth of hip-hop (marked by DJ Kool Herc's Back to School Jam at 1520 Sedgwick Avenue in the Bronx), give occasion to revisit De La's identity, imagination, and innovations on the genre. The trio was a founding member of the influential, Afrocentric, jazz-inclined collective Native Tongues and part of a golden generation of Long Island rappers that also yielded Rakim, Public Enemy, Biz Markie, and MF Doom.
De La Soul's friendship and musical partnership blossomed in tandem, at house basements and lunch tables of suburban Amityville and its local public high school. From the very beginning, their style was eclectic in sound, theme, and form, actively working to evade stereotypes. "Being creative and evolving was easy for us," Posdunos said in a recent phone interview with Highsnobiety, "because we never separated from the fact that music is nothing but a mirror of life."
In their formative years, they plundered their parents' record collections, conducting zany experiments in the still-nascent art of sampling. They evolved their well-practiced, semi-friendly roasts of one another into full-blown skits — whimsical scenes from their shared interior life, audio cinema on a level that hip-hop hadn't yet seen. "The humor came in just on us not really practicing what we should be practicing, and we started clowning around. Then that became the skits," Pos said. Their landmark debut album, 3 Feet High and Rising (1989), released at the tail end of their teen years, was a brilliant collage that sampled broadly, from Steely Dan to Schoolhouse Rock, from Johnny Cash to James Brown.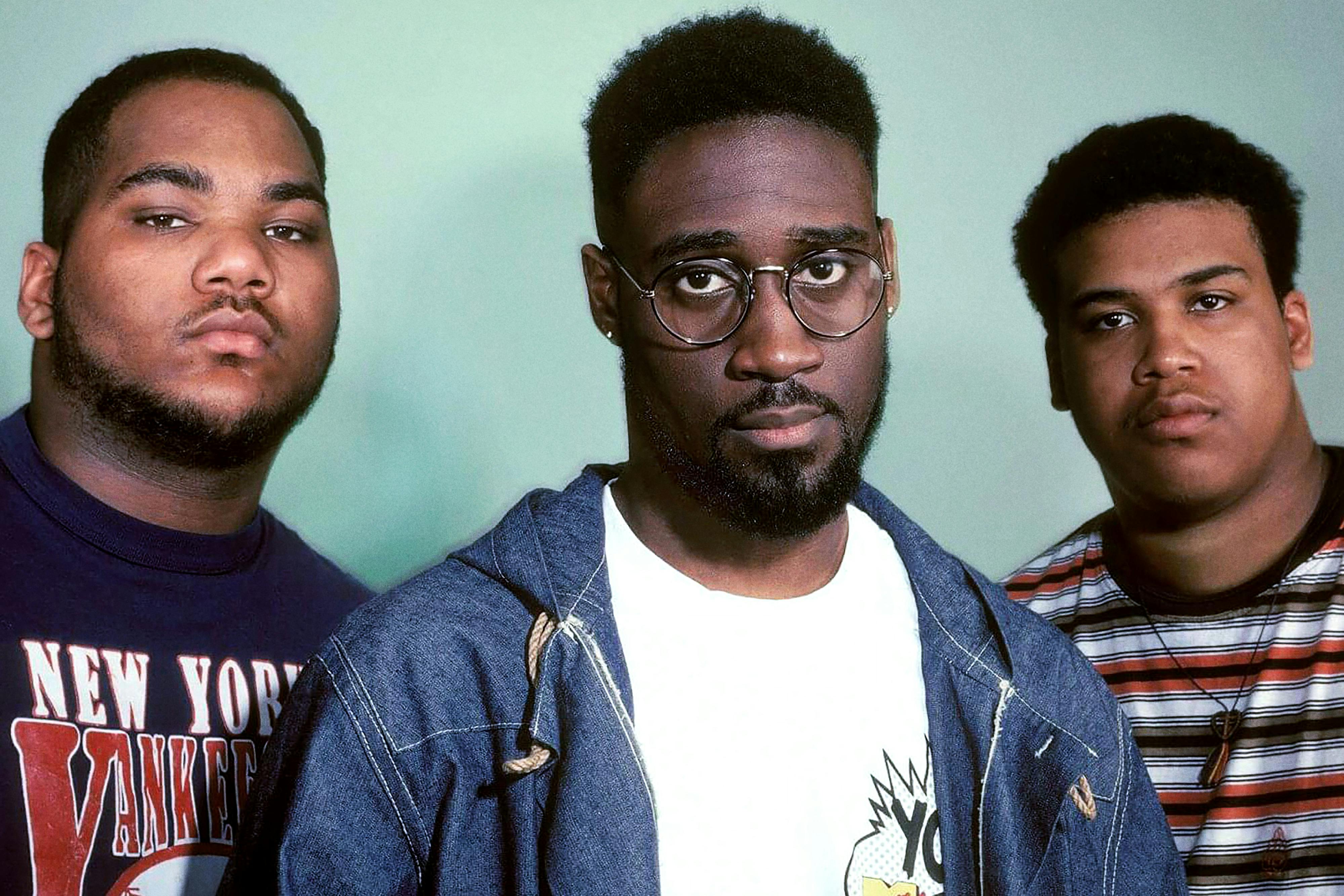 3 Feet High positioned a refreshingly irreverent De La Soul, the square opposite to prevailing aesthetic trends of hip-hop. On half-song, half-skit "Take It Off," after some banter ("You smell like Jabba!"), Pos and Trugoy rap in unison, dismissing Kangol hats, Le Tigre polos, and adidas Gazelle sneakers. The music video for "Me Myself and I" (which would be their only single ever to crack the Top 40) depicts classic high school classroom nerd-jock conflict, with the leather medallion-clad trio stoically shrugging off jeers from B-boys rocking thick gold chains, adidas tracksuits, fur hats, wraparound shades, and thick-framed Cazal glasses.
Speaking recently on the New York Times' Popcast, Questlove recalled that, prior to De La Soul's emergence, Prince was the only major popular example of alternative Blackness he saw during his high school years in the late '80s. "Once 'Me Myself and I' got a good four weeks on 'Yo! MTV Raps,' suddenly, [bullies] just looked at me like, 'Oh, you're like those De La Soul kids. You're cool," he said. "And they let me go. I was like, 'what the hell?' Literally, all bullying in my life stopped when that record came out."
The iconic 3 Feet High and Rising album cover depicts the trio amidst fluorescent Day-Glo colors, peace signs, and flowers. Photographers and marketers propped up their "D.A.I.S.Y. Age" (backronym for "Da Inner Sound, Y'all") branding and ran with it, but De La preemptively downplayed their flower children image. On "Me Myself and I," (which was released as a single opposite the B-side "Ain't Hip to Be a Hippie,") Pos rapped, "You say Plug One and Two are hippies/ No we're not, that's pure plug bull!" And as if to prove the point, during their early 3 Feet High tours, Mase, the toughest of the three, knew how to box and was known to let it be known to anyone who showed disrespect.
Deep into those tours, during a stint in Europe, Trugoy wanted to go home and his manager Russell Simmons had to beg him to stay. Trugoy agreed, but not before jokingly erasing a board of tour dates and writing out the words "De La Soul is Dead" — the phrase and corrective ethos from which their next album would bloom.
Visit Highsnobiety to view this part of the article.
De La Soul is Dead (1991), grimly titled to the chagrin of De La's label Tommy Boy Records, found the group sageing the room of any hippie whiffs and venturing into darker territory. "Millie Pulled a Gun on Santa" is about child molestation; "My Brother's a Basehead" is about Pos's experience coming face-to-face with his brother's drug issues. Pos claimed that the change of course was completely "organic," and that, while 3 Feet High was the culmination of six years of the trio being "just normal kids bonding and going through growing pains and learning pains," De La Soul is Dead represented the group simply growing up: "We had transformed from these young kids from Long Island into open-eyed young adults."
De La's creative journey is reflected in the covers of their first four albums. De La Soul is Dead depicts the daisies of the 3 Feet High cover, but wilted and lying in a knocked-over flowerpot. The flowers return on the cover of Buhloone Mindstate (1993), obscuring the crouching trio as if filtered through a lava lamp. Buhloone Mindstate, a dense psychedelic jazz-rap odyssey that heavily features saxophonist Maceo Parker and trombonist Fred Wesley, would grow to become a hipster favorite among fans. De La sum up the theme of the album succinctly in the opening song skit: "It might blow up, but it won't go pop!"
The cover of Stakes is High (1996) ditches the flowers and depicts a cluster of children, alluding to the weight of artistic responsibility De La was feeling. The group parted ways with producer Prince Paul and brought in a young buck by the name of J Dilla to produce the title track, which features Trugoy's famous, furious, clear-eyed shot across the rap industry's bow: "I'm sick of bitches shakin' asses/ I'm sick of talkin' 'bout blunts, sick of Versace glasses/ Sick of slang, sick of half-ass awards shows/ Sick of name-brand clothes/ Sick of R&B bitches over bullshit tracks/ Cocaine and crack, which brings sickness to blacks/ Sick of swoll'-head rappers with they sickening raps/ Clappers of gats, makin' the whole sick world collapse."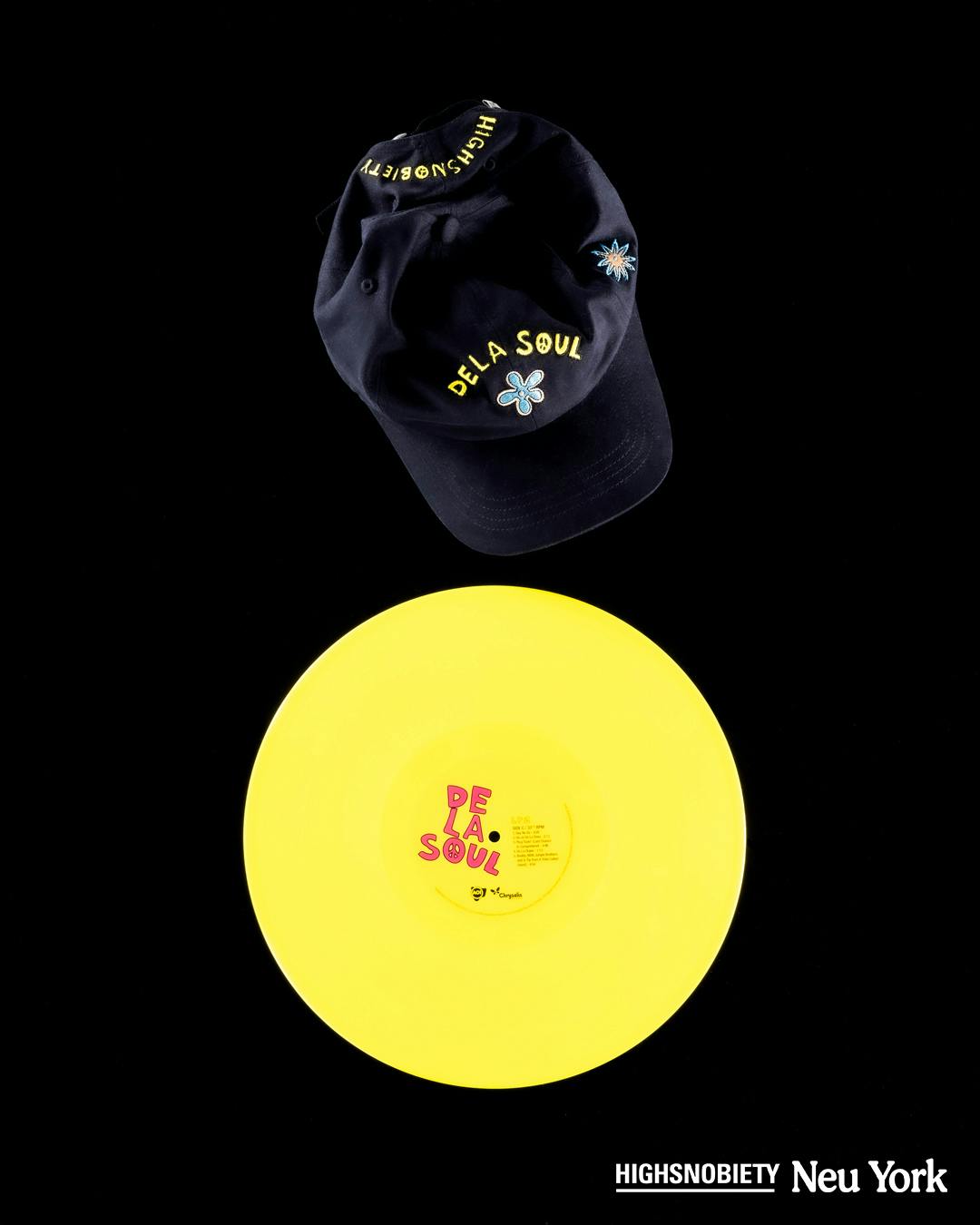 Richly layered and often dense, De La's catalog is arguably best understood through the lens of friendship — the trust that enabled unhindered creative exploration, the coded, insular web of references, jokes, and slang that inspired them to build a personal and original musical world, while still fostering deep conversation with the previous decade of hip-hop and, more broadly, the myriad traditions of Black American music. When De La Soul's early producer and mentor (and fellow Amityville Memorial High graduate) Prince Paul says the group's formation was an "act of God," he is probably referring to the pure homie factor of the trio — the human compatibility that gave De La Soul the power to consistently buck trends and expectations and to make music on their own terms throughout their career.
Pos describes Prince Paul as a "mad scientist," a technical wizard who took lessons he'd learned feeling like a bit of an outsider in his first group Stetsasonic and applied them as De La Soul's de facto godfather. "He made sure that De La was about inclusion," Pos says. Nurtured by Paul, the group held regular sessions at each other's houses where they honed both craft and direction. Pos's cerebral, verbose yin took shape vis-a-vis Trugoy's comparatively brooding, free-wheeling yang.
"What I love about us is that we've always remained brothers," Pos told Highsnobiety. Indeed, for all that De La Soul has accomplished and been through in the last quarter century — their sporadic releases, their heavy touring schedule, their occasional star turn (Gorillaz's "Feel Good Inc.), their Sisyphean legal struggles with their masters and sample clearances, the album they ingeniously funded through Kickstarter — the only thing that matches their legacy as trailblazers for all free-thinking rap weirdos who came after them is their unrivaled longevity as a hip-hop band. The vast and rich expanse of music they've created unlocks a gateway of discovery that leads both backward and forward in popular American music. The humor, intelligence, and palpable esprit de corps of De La can never grow stale.
Keep Scrolling To Shop De La Soul x Highsnobiety
Visit Highsnobiety to view this part of the article.
Visit Highsnobiety to view this part of the article.
Visit Highsnobiety to view this part of the article.
Visit Highsnobiety to view this part of the article.
Visit Highsnobiety to view this part of the article.
Visit Highsnobiety to view this part of the article.
Visit Highsnobiety to view this part of the article.
The De La Soul x Highsnobiety collection will be available to shop from September 8, online and in-store at our New York pop-up shop (located at 21 Greene Street, New York, 10013). The release is part of Neu York, Highsnobiety's multi-media celebration of the Big Apple.