Highsnobiety's Neu York is a multi-media celebration of the Big Apple. Explore everything happening here and shop the collection from September 8, online and in-store.
"It started out as a highbrow joke gone wrong — or gone right," Dae Lim, the Founder and Creative Director of Sundae School, tells me of the beginnings of his brand.
Aged 25, still in bed at noon on a Sunday, and puffing on a weed vape under his duvet, he was interrupted by his mother: "She started frantically knocking on my door being like, 'It's noon on a Sunday. Why aren't you up?' And in my head, I was just like 'Gosh, I wish she could chill. I wish she would smoke weed,'" says Lim, thinking back to the moment when his brand and its marijuana-positive message was born.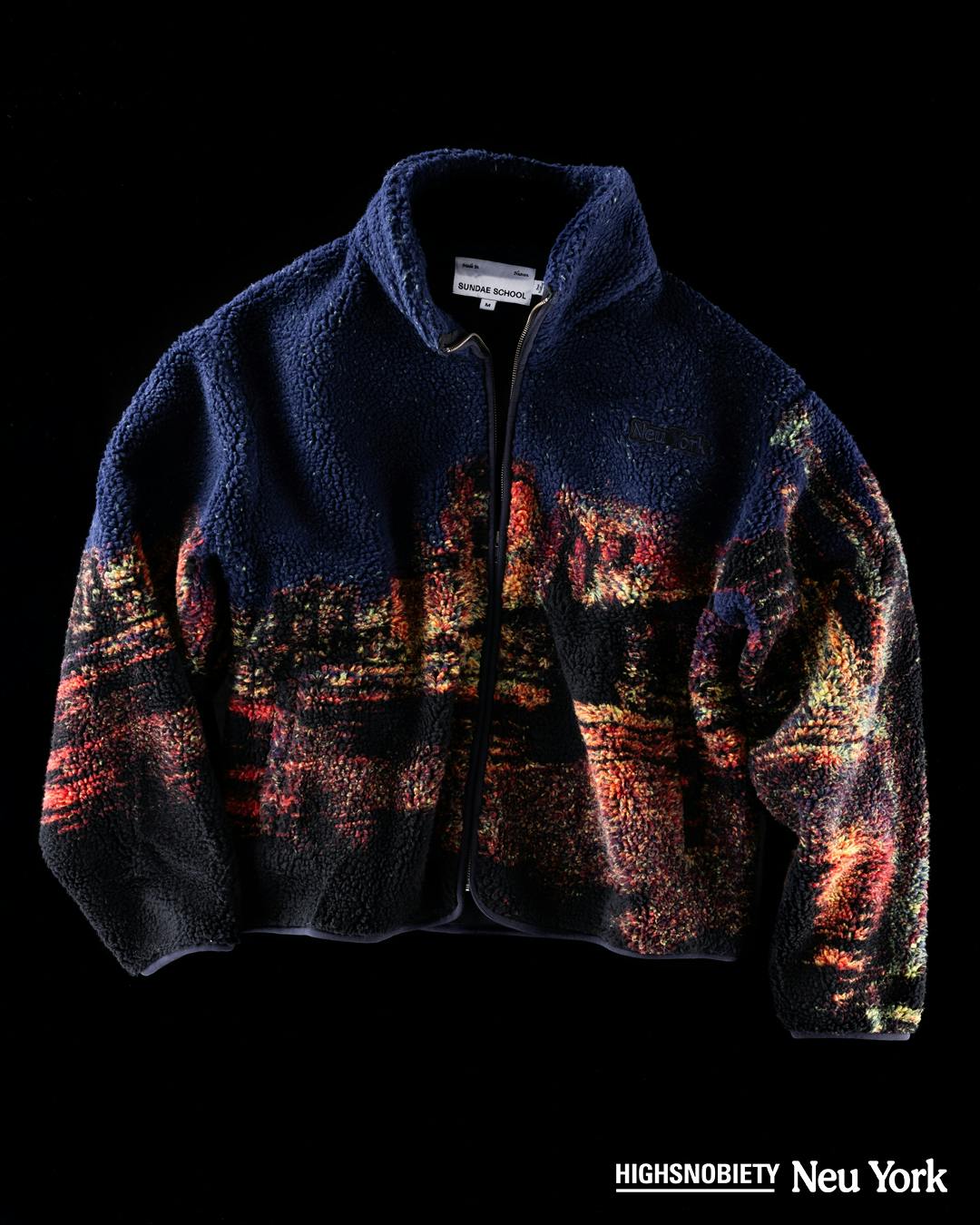 Going to take another toke on the pen and drum up a theory about God being a weed-smoking version of his Mom, the origin story of Sundae School begins at that moment. And three months later, Lim was hosting a pop-up shop in SoHo, New York on 4/20.
From then on, the brand has continued on its mission of creating the best possible smokewear. "The definition of smokewear, is your uniform for recreation," says Lim. "It can be recreational consumption or it can be anything else, like going on a hike or on a walk."
From its delicate crocheted hoodies to its sporty mesh shorts, Lim says the central aspect that makes a good piece of smokewear is that it's comfortable; and one item that encapsulates the brand's mission is its signature fleeces.
Double bonded so the inside is ultra soft (so much so that, "you could be shirtless and it would feel great," says Lim), the label's fleeces come with a small stash pocket for your roll-ups and colorful prints. We have an exclusive collaborative version releasing at our New York pop-up store on September 8, featuring the Statue of Liberty holding a cannabis leaf sign to celebrate the legalization of weed in New York.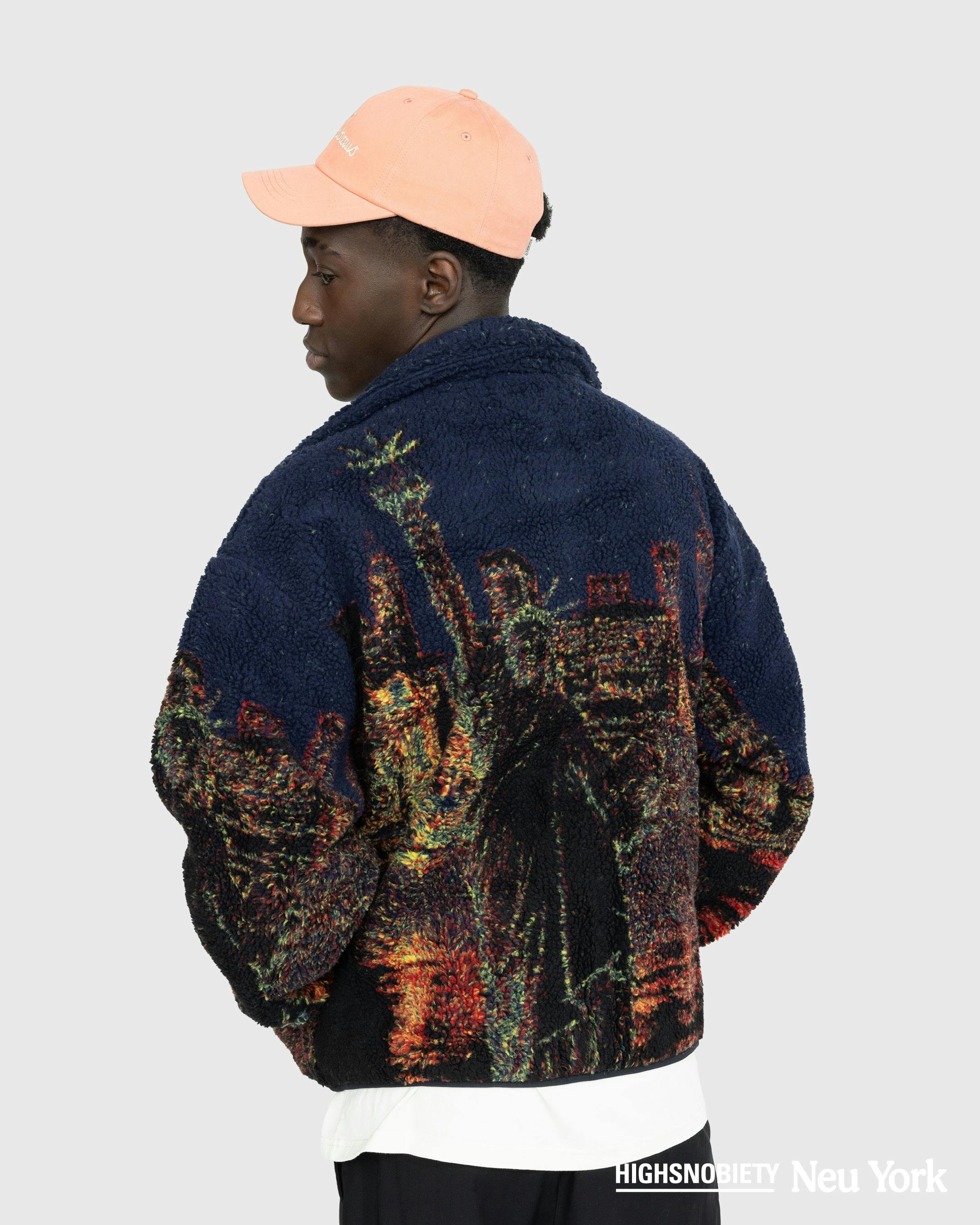 "Before [the legalization], everyone was smoking weed in their apartments, but now it's like, 'Fuck it. Let me whip it out in public.' And the whole city is so cloudy. It's hazy with the greens," says Lim, who recently held his first fashion show in New York on 4/20 to mark the historic occasion — a full circle moment for the brand that held its first pop-up on 4/20 in New York.
The final model to walk the 33-look show wore a full-length graduation gown, inspired by traditional Korean dress and adorned with small joint tassels on the caps. "I think it's one of our core thesis pieces because it mixes the two heritages that are central to the brand," says Lim. "It takes the Korean tradition that I grew up with and then mixes it with American youth culture and counterculture."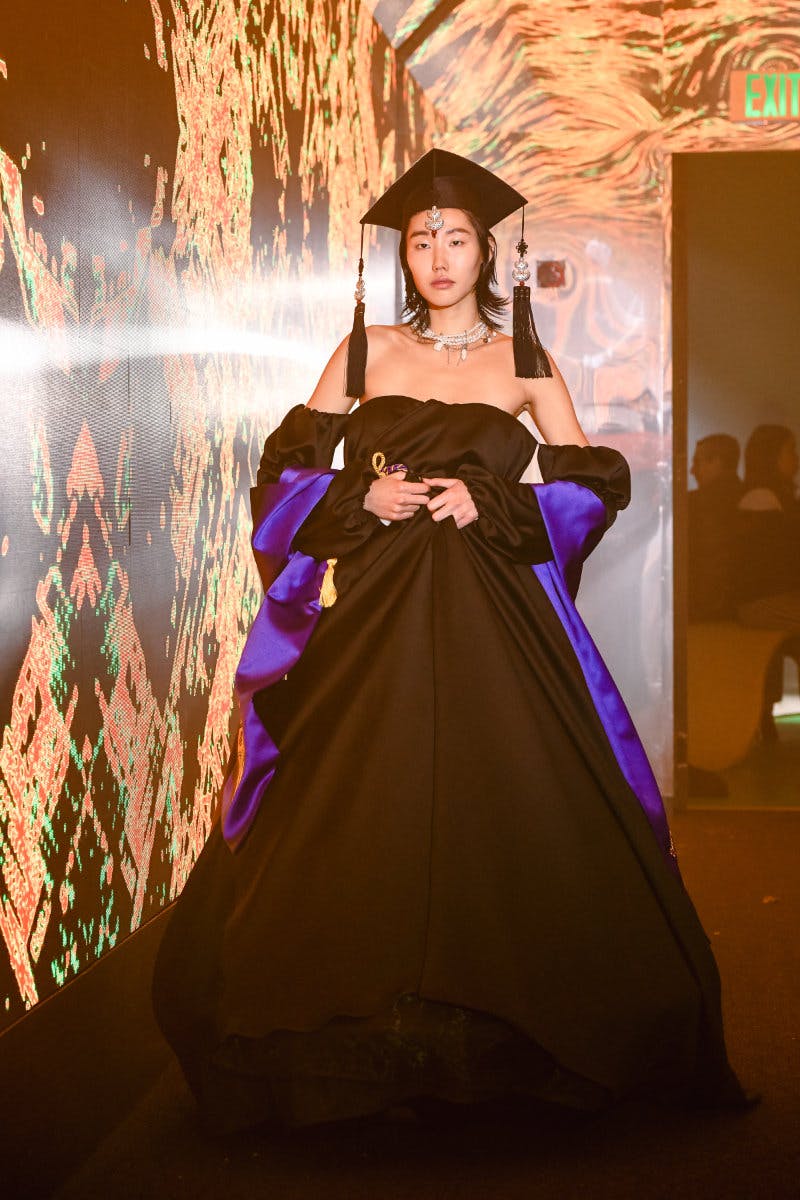 Having moved to America to study, Lim's Korean heritage is central to Sundae School: "I never meant to start a fashion brand. This was really a conceptual exercise into cannabis as a tool for creativity and a self-exploratory journey of me getting closer with my Korean identity and my identity as an Asian American," says the founder and creative director.
Despite having a rich history of weed consumption that dates back to ancient Korea, laws have been notoriously tight against the drug in South Korea. Things are looking up though, with medical cannabis being legalized and the southeastern province of Gyeongbuk being made a regulation-free zone for hemp.
"The Korea that I grew up in and the Korea that I now visit are completely different," says Lim, citing globalization and the country's increased cultural capital as driving forces for change.
The general perception of weed in Korea might still be negative but Sundae School is playing its role in changing that, shedding light on what Lim calls its "community of high-functioning people," — pun intended, I think.
Visit Highsnobiety to view this part of the article.
The Highsnobiety x Sundae School Fleece will be available to shop from September 8, online and in-store at our New York pop-up shop (located at 21 Greene Street, New York, 10013).