Gather 'round, sneakerheads. The time has finally come: A Ma Maniére's Air Jordan 5 sneaker collaboration is here.
Following a quiet tease by A Ma Maniére founder James Whitner earlier this year, we've been since swarmed with endless rumors and leaks of A Ma Maniére's Jordan 5s. But even with the months' worth of spoilers, it's nothing like that formal reveal from the brand itself. It's got fans excited for not only the shoe itself but the next chapter in the A Ma Maniére storybook.
Since 2021's Jordan 3 collab, storytelling remains the soul — and sole, in this case — of A Ma Maniére x Jordan Brand partnership. Whitner recognizes them as one big "seamless story" surrounding Black culture.
It's these impactful messages wrapped up in thoughtful designs that not only set A Ma Maniére's Jordan projects apart but emphasize a bigger picture beyond sneakers. Recall the Jordan 4 team-up, which encouraged fans to use their voice during the 2022 elections.
The latest? Titled "Still We Rise," the Jordan 5's story draws inspiration from poet Maya Angelou (Still I Rise ) and novelist James Baldwin (Go Tell It on the Mountain), who were both also renowned civil rights activists.
With the Air Jordan 5 and the accompanying short film, A Ma Maniére unpacks and celebrates Blackness, from its complexities to its strength. "The AJV brings this first chapter full circle. It was fitting to not only tell this important story of identity, unity, resilience, and resolve but also have the opportunity to see this icon through our A Ma Maniére design language and lens," Whitner said to me.
As you may have seen, A Ma Maniére's Jordan 5 arrives two colorways: black/ burgundy and grey/blue, appropriately named "Dusk" and "Dawn," respectively.
The collaborative Jordan 5 further plays on the brand's recognizable regal palette — burgundy, cream, grey, and black — and luxury-level details, as explored in past projects like the Jordan 1s with the snakeskin accents and the Jordan 2s with the quilted satin lining.
Again, it's all very intentional. These premium touches essentially reinforce the A Ma Maniere vision and ethos (classic, timeless luxury) and bring the stories together.
"Maroon is an important color, mainly for its meaning throughout history. First, it's a color synonymous with royalty, and it was important for us to reclaim it to relay our expression of luxury," Whitner explains.
"Second, it connects to bloodline and the ties that run deep within your community and environment. When you grow up, the people around you in your circle and the same circumstances become blood. It's that bond that binds us all as we go through life, expressed through these stories and moments.
"And lastly, the color name itself speaks to resistance in acknowledging the importance of Maroon communities in Black history."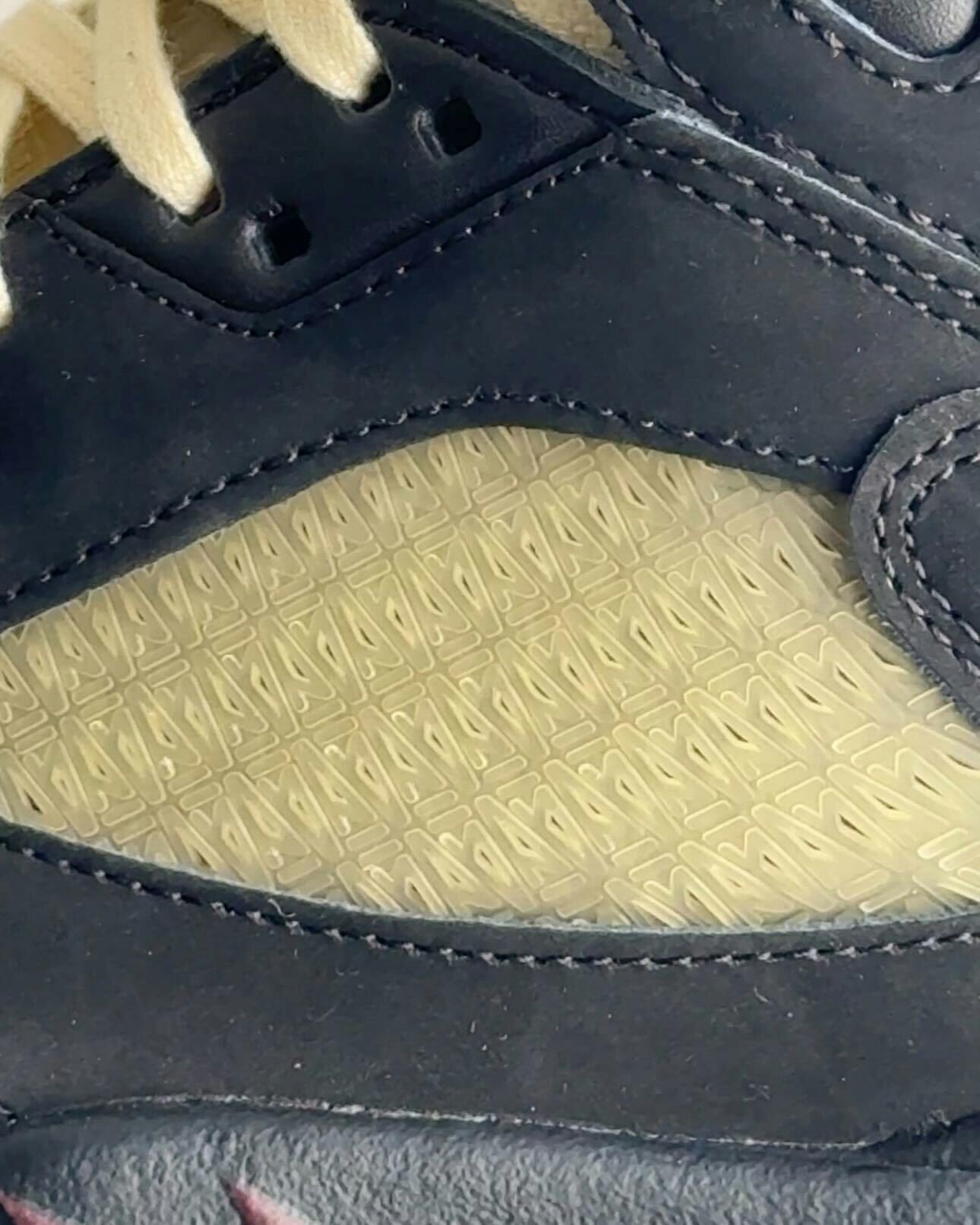 The Jordan 5 reveals itself with a delicate suede upper and gleaming silver tongue, while preserving most of the silhoutte's classic glory (i.e., the big "23" on the heel and shark teeth design). If you look closely, though, you'll notice that a unique A Ma Maniére monogram replaces the Air Jordan 5's usual cage and hides behind the lacing system.
Elsewhere, you'll catch plenty of other A Ma Maniére moments joining classic Jordan branding, reiterating the collaborative effort on the timeless Jordan 5 shoe.
Launching on November 17, A Ma Maniére's Jordan 5 "Dawn" will be available on A Ma Maniére's website in women's, preschool, and toddlers' sizing. Fans can expect "Dusk" colorway to follow exclusively at A Ma Maniére on November 24.
On why the Jordan 5 was the choice silhouette for this A Ma Maniére collaboration, Whitner says, "Everything about the AJV is epic – from its inspiration to the moments MJ had in them: he was right at the cusp of his first championship, and that's a feeling you have to do right by."
"You must do right by the icons first before you do anything else, which in our case is get to tell powerful stories and inject our DNA born from our life experiences and those of the communities we serve. So in understanding where this project would be on our shared journey with Jordan Brand, it was the perfect silhouette to transition into a pivotal year for A Ma Maniére and enter the next chapter with the brand."
Although delivered out of order, A Ma Maniére has tackled all first five Jordan shoes (plus the 12s), ticking off the Jordan 1, Jordan 2, Jordan 3, Jordan 4, and, now, the Jordan 5 off its list.
A Ma Maniére's Jordan 5 marks the end of the first chapter of the brand's Jordan Brand partnership. And before you freak out, this doesn't mean the end of A Ma Maniére x Jordan altogether. The two are prepping for the next phase of the collaboration. Honestly, A Ma Maniére is gearing up for a major new chapter altogether.
2024 marks A Ma Maniére's 10th anniversary, and the brand has loads in store. Over email, Whitner mentioned an A Ma Maniére Beach — yes, a beach! — located in Folly Beach, SC. The luxury seaside hospitality will be finished up around the holidays, hopefully launching in time for the pending spring breaks and summer vacays.
He also revealed plans to open an A Ma Maniére flagship in Atlanta, located across the street from the Martin Luther King Center (about two blocks from Dr. Martin Luther King Jr.'s birth home).
"The 5-story building will be home to all our experiences — two floors of consumer engagement, another two floors of Living suites for our boutique hotel offering, our Eats dining concept on the fifth floor, and a rooftop overlooking the Atlanta skyline." Nice.
There's also A Ma Maniére Harlem in the works alongside a JAIDE standalone women's experience for Atlanta and Charlotte.
We asked Whitner about the rumors of revisiting the Air Jordan 3 and Air Jordan 4 in 2024. He didn't confirm or deny. Obviously, the brand is thinking bigger than sneakers for its 2024 plans.
Then again, as Whitner often says, "If you know, you know."