There've been great Gunna style moments (the courtside Chanel tweed jacket). And there have been other 'fits that left some struggling to see the vision (the highly-debated shorts-n-Ricks outfit so outrageous that Rihanna wore it as a Halloween costume).
Gunna was always pretty confident in what he wears when he stepped out in (can't knock that). But, since he re-entered the public sphere, Gunna suddenly began to dress with flair we've never seen before, a constant streak of strong looks.
On September 10, Gunna took the stage at Brooklyn's Barclays Center for the first time since his release from jail in December 2022 (he took an Alford plea and pleaded guilty to one charge of conspiring to violate Atlanta's RICO Act).
For his big return, the A Gift & a Curse artist gave us two outfit changes during the sold-out concert — a "wun night only" event, as Gunna Wunna called it.
The first outfit saw Gunna in a cut-off graphic tee with sparkly bedazzled shorts layered over nude, body-hugging trousers, complete with what looks like Rick Owens' beige icy-soled Chelsea boots.
Then, Gunna went full stealth bird in an all-black custom Paradoxe x Rick Owens outfit, including a fluffy wing top and wooly trousers, pulling off a raven-level 'fit like only he could.
It was almost like witnessing Beyoncé's Renaissance outfit changes, but this was Wunna edition. Although, he did attend Bey's star-studded show in a stylish 'fit.
For Bey's birthday performance, Gunna pulled up in a KIDILL x rurumu distressed cardigan finished with shimmering twists, glittery jeans, a purple Goyard bag, and thick black boots.
Very Renaissance but also very Gunna.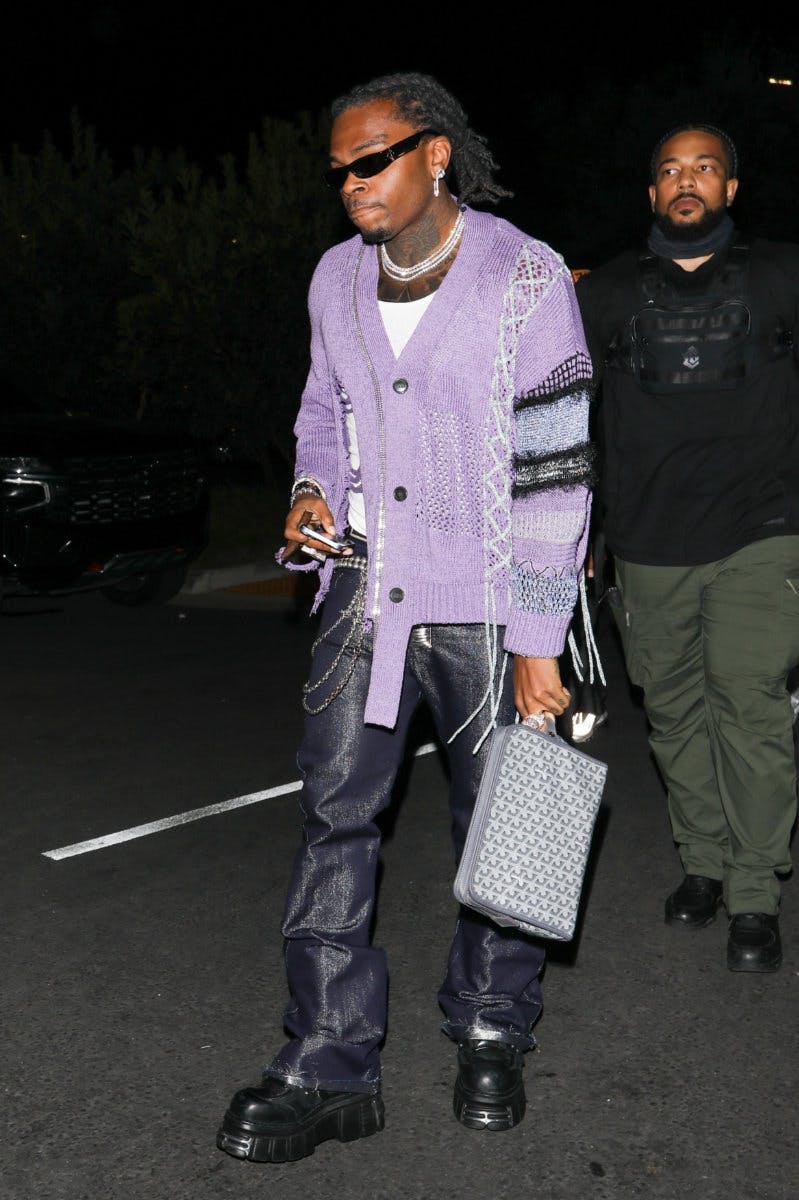 Back in the public eye, Gunna resumed his fashion guy role, that's for sure. In June, the musician gave us a solid Rick Owens moment, including a cropped green bomber jacket, white top, black wide-leg jeans, and clear-sole boots. Oh, and I can't forget the Loewe shades to shade his eyes from the pap's flashing cameras.
Meanwhile, a casual night out in the Big Apple during New York Fashion Week called for a Marine Serre tee, colorblock trousers, and platform Rick Owens sneakers.
Even the 'fits for his "Rodeo Dr" visual were plentiful and tasteful, courtesy of names like Balenciaga, Lemaire, and his assumed fave — you guessed it — Rick Owens. It's like Gunna's trying to prove that he could always pull off Rick — if so, mission accomplished.
Gunna's new era doesn't really have anything to do with his noticeable weight loss; he's always been Mr. Put It On. I mean, he even has his own BAPE STAs.
But in his return, we're definitely seeing a shift in the particular pieces that Gunna is wearing and how he's styling them. It's a series of consistent hits, whereas the outfits Gunna wore even just a few years ago were a stream of peaks and valleys.
Dare I say, we're witnessing his best-dressed era. Okay, maybe it's a little too early to say. But Gunna's latest 'fits certainly speak to an elevated sense of style.
Hey, you heard the man: it's either drip or drown. And Gunna surely ain't drowning.