Marc Jacobs' grunge-inspired Spring/Summer 1993 collection for Perry Ellis had models trudging down the runway in plaid skirts, flannel shirts, and black Dr. Martens. The show didn't go down well with Perry Ellis, which swiftly fired Jacobs. But it did forge the foundation of a powerful relationship between the insurgent designer and equally rebellious bootmaker that now enters its thirtieth year. 
Dr. Martens has once again handed over one of its most popular styles, the platform Jadon boot, to be morphed into Jacobs' vision. While most Dr. Martens collaborations swap smooth, solid-colored leather for fancy textures and prints, Jacobs honors the essence of the Jadon  —  essentially an eight-eye 1460 with a stacked heel and side zipper — by retaining the boot's classic, black upper (Jacobs' choice is perhaps  a nod to the simple  Docs featured in his famed Perry Ellis collection).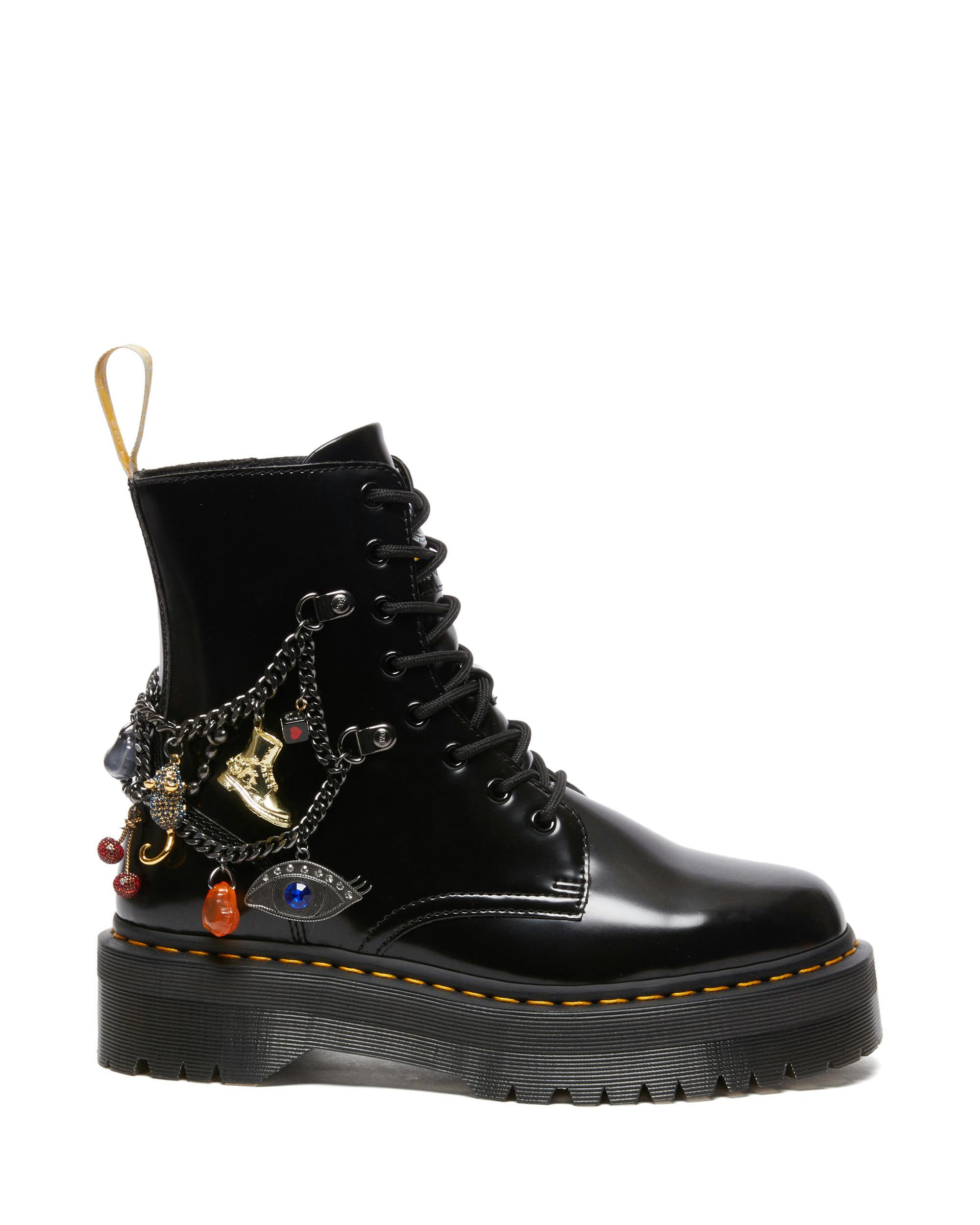 The collaborative boot isn't entirely flair-free, though. Silver chains around each ankle are adorned with whimsical charms, keys, locks, and more. If the motif looks familiar, it's because Jacobs tackled Dr. Martens' classic 1460 silhouette back in 2020 and added gold hardware outfitted with similar charms.
Most recently, Jacobs' Y2K sublabel, Heaven, made their mark on a range of Docs classics including  chunky sandals, plaid oxfords, and a classic mary jane adorned with Heaven's teddy bear logo. With the arrival of the new Jadon collab, Jacobs and Dr. Martens continue to reflect on their generation-spanning impact, from grunge to club kid.
The duo also made sure to honor the table-shaking, punk ethos that sparked their decades-long relationship by appointing musician Yves Tumor as the face of the campaign. Tumor has bent the rules of gender and genre in their own right, most recently releasing their fifth studio album, Praise a Lord Who Chews but Which Does Not Consume; (Or Simply, Hot Between Worlds). The musician is a style icon in their own right, with a particular fondness for bondage gear, antique furs, and statement footwear. 
Dr. Martens and Marc Jacobs' new collaboration is available on the Dr. Martens website.