Levi's and Crocs can't keep getting away with it. Their collaborative clogs just have no business being this consistently excellent and, yet, here we are. My only complaint is that they haven't been more readily available.
Levi's and Crocs' second collaboration is almost comically excellent and has resulted in two of the most handsome Crocs in recent memory.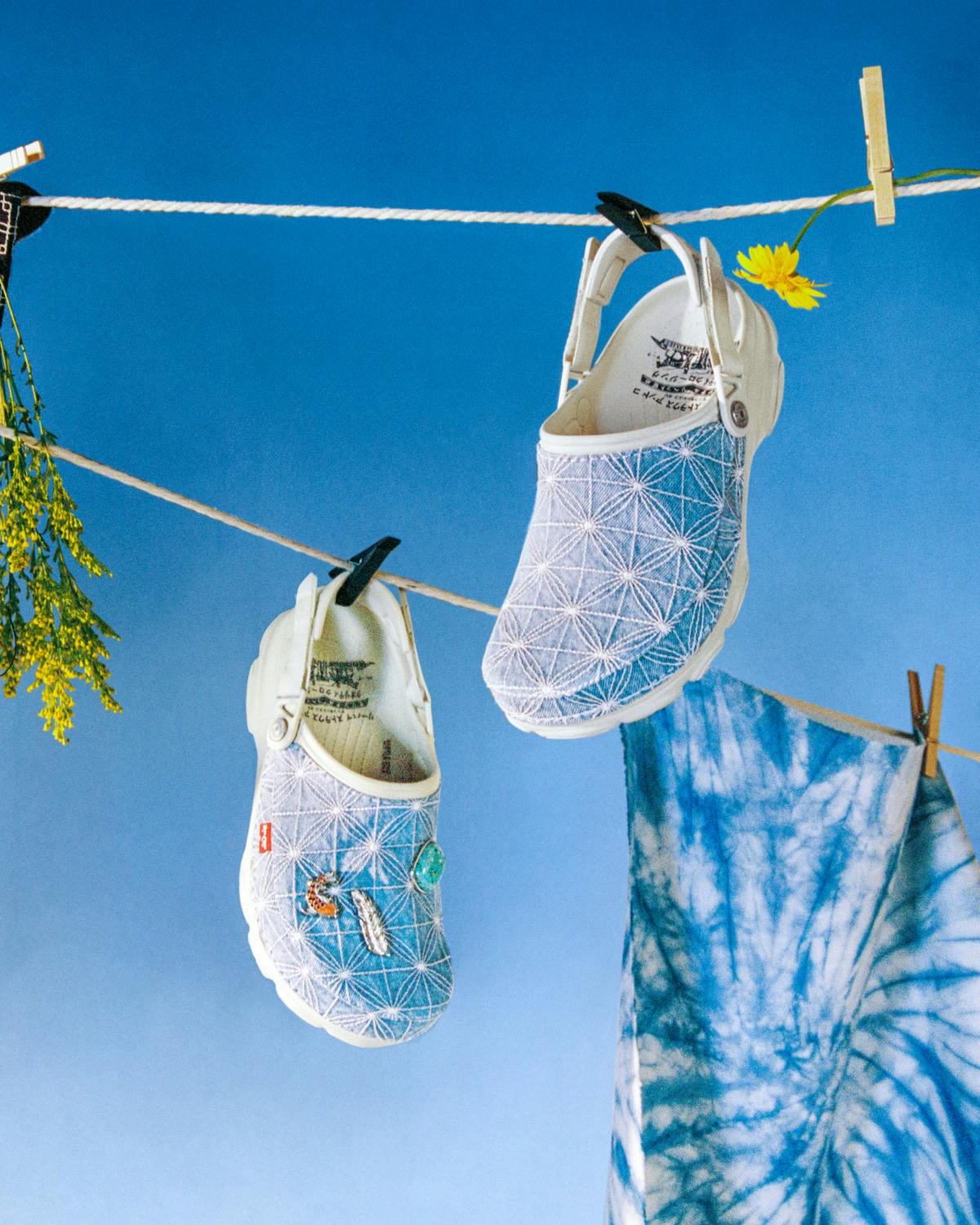 The first two, which are Levi's takes on the All-Terrain Clog, have been updated by the American label's with (yup, you guessed it) denim and completed with Sashiko stitching, a traditional Japanese embroidery technique.
Just like every pair of Levi's jeans, a Red Tab can be found on the wearer's right shoe along with Levi's button shanks on the heel strap. A Japanese Two-Horse pull logo can also be found on the footbed.
Crocs being Crocs, each pair also comes with three premium metal Jibbitz charms that have been custom made for the Levi's collaboration.
The third offering from Levi's and Crocs looks to the more traditional Classic Clog and features a tie-dye print inspired by the Japanese technique of Shibori dyeing.
The style adorns Levi's shank hinge hardware, red outsoles, and a Two Horse-Pull heel stamp on the footbed.
It also comes with no less than eight custom Levi's Jibbitz charms inspired by 60s counterculture and archival graphics.
This isn't Crocs' first Levi's collaboration after the label realised its first Levi's All-Terrain Clog earlier this summer in extremely limited supply.
Boring Crocs collabs might just put a few Jibbitz in a Classic Clogs and call it a day, but under the direction of Levi's collaborative head Leo Gamboa, Levi's instead revamped the All-Terrain Clog's upper with beautifully-faded indigo denim stitched in a sashiko-inspired pattern. Form meets function meets fashion in perfect clog harmony.
Levi's and Crocs are both riding high off of some big recent collaborations; Eli Russell Linnitz' ERL and Studio Ghibli on Levi's end, JJJJound, Feng Chen Wang, and Aries on Crocs' behalf.
All good things and it only gets better when Levi's and Crocs get together, as you can tell from the resulting clogs.